8 Real Estate Promotional Products Your Clients Will Love
When it comes to expanding your real-estate empire, real estate promotional items are a memorable way to stay top of mind with your clients. In an industry as massive, competitive and lucrative as real estate, high-quality custom promotional products are an effective tool to market your business and stand out. Not only are custom realtor giveaways a great way to promote your brand, but they're also a means to give back to your clients.
While it's good practice to mindfully tailor your swag to details like your location and target market, we've curated a collection of 8 real estate promotional products that you can't go wrong with. Whether a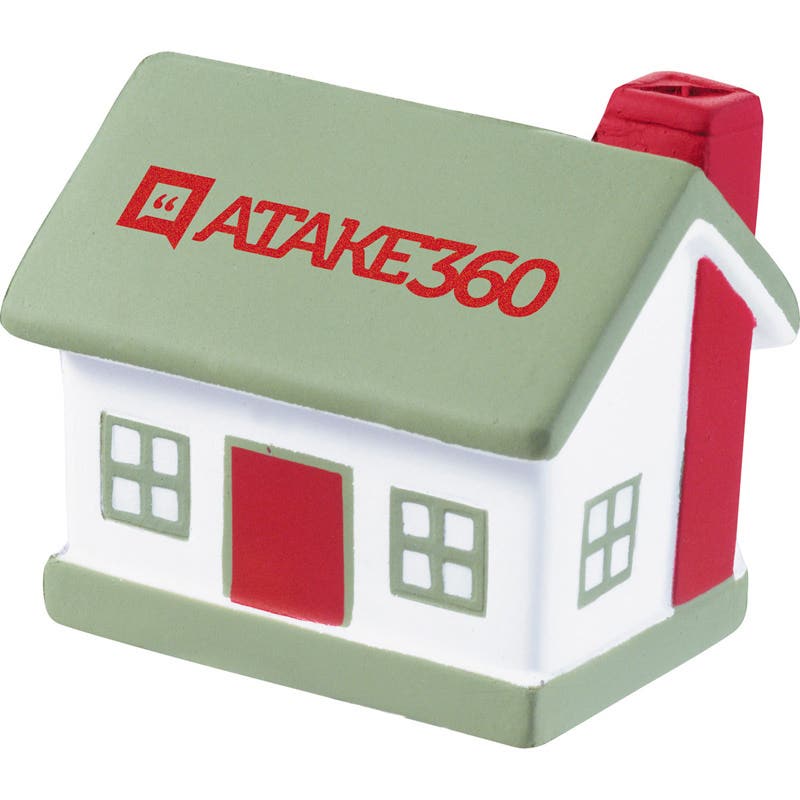 housewarming gift or a token of gratitude for your clients' business, these custom products are sure to be big hits and a reminder of your company for years to come!
House-Shaped Stress Ball
Thematically-appropriate and incredibly useful, this useful trinket can help ease the stress of real-estate shopping. No doubt your clients could use an outlet for their tension, and this whimsical gift provides a hands-on solution.
With plenty of options for customization, the House-Shaped Stress Ball a fun and memorable real estate novelty item.
---
House Memo Clip
An everyday staple, this house-shaped magnetic memo clip is a convenient accessory to help your clients keep their homes organized. Perfect for holding documents, and photos, and naturally, your business card.
Since the fridge is a hotspot in every household, this handy little magnetic clip serves as a daily reminder of your business. It's a fun yet functional real estate novelty item that is a popular marketing tool in the industry.
---
House Tag Keyholder
When your clients finally get those new house keys in hand, where better to put them then on this convenient housewarming gift? Nothing is more exciting than receiving the keys to a new house, make sure they remember the real estate company that made it possible.
Stylish, timeless, and useful, this silver key holder is perhaps the most appropriate piece of branded swag you can give out when it comes to real estate marketing.
---
Light Up Logo Wifi Smart Plug With USB Output
Never not useful, this versatile realtor giveaway is a tech-savvy way to thank your clients and a perfect housewarming gift. The functionality of this smart-plug is endless.
Clients can charge their electronics, control their smart devices from anywhere via their smartphones and tablets, and sync it up with Amazon Alexa and Google Home. Whether it's turning on the lights or turning off the stove, it's a great addition to any home. And the fact that your logo lights up whenever it's plugged in, well that's just an added bonus.
---
Phone Wallets
Phones have become an extension of ourselves. A daily essential, they're always on hand. That's why this helpful real estate promotional product is something that your clients will use every single day. Phone wallets easily attach to the back of any phone, and the expanding fabric Lycra Phone Wallet holds cash and cards.
With endless customization options, you can design it to match your company's branding. What better way to provide a constant and useful reminder of your business?
---
Marble & Bamboo Cutting Board
An elegant and useful housewarming gift, this real estate promotional product is a tasteful way to welcome clients into their new home. The beautiful combination of white marble and eco-friendly bamboo has a stainless steel cutting mechanism and is the perfect complement to any house party or dinner.
It's also an understated marketing tool, as you can subtly etch your business name into the bamboo. Definitely one of the classier real estate promotional products, this cutting board makes a great impression for your business.
---
8 oz Soy Candle in Glass Jar
A cozy addition to any home, this housewarming gift provides a warm welcome for new homeowners. Soy candles are wonderful real estate promotional items because they last 50% longer than normal candles and are eco-friendly.
They come in a variety of different scents, so between the fragrance and the label, there are plenty of opportunities for customization.
---
Coffee Mugs
What better way to get situated into your new home than with a steaming cup of coffee in the morning? A favorite real estate promotional product, these glossy ceramic mugs will be a welcome reminder of your business for years to come. Because we all know you can never have too many mugs.
---
Find the best real estate promotional product for your business
Real estate branding is so important nowadays and promotional items are essential to keep your company's name top of mind for your current and future clients. At the end of the day, the core of your business is your clients. And what better way to show them appreciation while subtly reminding them of your company than with a useful, high-quality gift that they can use every single day?
Looking for more product inspiration? Head over to iPromo's website to find the best array of real estate promotional items, and see all the different ways you can customize them for your business.