Dental Goodie Bag Ideas: Chapstick, Floss Dispenser, and Other Must-Haves
The dental goodie bag has now become an expected part of a dental office visit. In fact, most patients would be surprised if you didn't hand them a dental bag at the end of their appointment! Dental goodie bags serve several purposes. They encourage patients to pursue proper dental hygiene by giving them the tools they need to get started right away. They also influence patients to try new products and brands recommended by the dentist.
More importantly, the goodie bags also serve as ongoing brand awareness for your dental office, provided that you customize the bag and its contents with your logo and company colors. If you give your patients a toothbrush, floss, and toothpaste that is customized with your dental office name and logo, they will think of you at least twice a day when they brush their teeth! By not giving your patients a dental goodie bag, you will be missing out on this promotional opportunity big time.
A dental goodie bag will have the most marketing impact if you carefully select products to include in it, as opposed to choosing whatever is left over in your supply closet. At iPromo, we offer everything you need to either choose a dental goodie bag that has already been curated or to build your own using a la carte products. Here are 10 of our favorite items to put in dental goodie bags:
If you want an all-in-one dental goodie bag that comes ready to go — instead of taking the time to curate your own — definitely check out this deluxe kit that is perfect for travel. The kit comes with miniature versions of Crest toothpaste, dental floss, a folding toothbrush, Tylenol pain reliever, Purell hand sanitizer, a sewing kit, four adhesive bandages, three antiseptic towelettes, and a triple antibiotic ointment packet. The entire kit is packaged in a premium cotton zip tote that comes with a carabiner for handy transport. Choose from blue, red, green, or black color accents on the bag to match your branding and print a logo or graphic of your choice on the front to promote your business.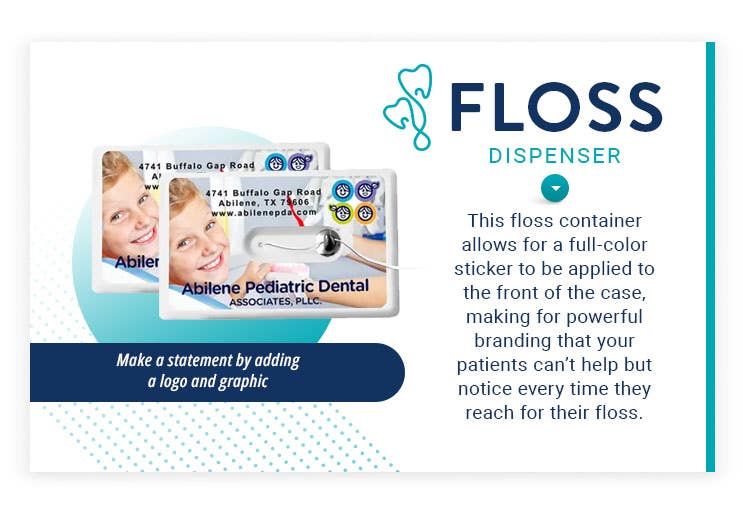 Don't just buy normal dental floss and throw it in a goodie bag — make a statement by putting a logo and graphic directly on the dispenser with a custom dental floss product like this one. This floss container allows for a full-color sticker to be applied to the entire front of the case, making for powerful branding that your patients can't help but notice every time they reach for their floss. This dispenser includes 44 yards of mint-flavored waxed floss that meets FDA standards. It also comes with a mirror on the backside, as well as a protective storage pouch for safekeeping.
No dental goodie bag is complete without a custom toothbrush with your dental office information printed on the handle. We like this Concept Curve model in particular because of its curved handle design, which fits comfortably in the hand and also offers a textured pad for the thumb to grip. This toothbrush is adult size, meets FDA requirements, and features soft bristles that are suitable for a wide variety of people. The inner bristles and the handle color match, and you can choose from five calming hues: blue, rose, silver, lavender, and sage green. Be sure to check out our other custom toothbrush offerings, which include youth toothbrushes and sustainable bamboo toothbrushes.
Speaking of toothbrushes, they can get dirty fast (especially if they aren't stored correctly) and the bristles are also hard to clean. If you want a unique useful addition to your dental goodie bag that your competitors probably won't have, consider this portable toothbrush sanitizer, which uses the power of UV-C light technology to kill germs. The germicidal LED light kills the bacteria in just 90 seconds and can be used up to 120 times on a single charge; a micro USB cable for charging is included. The sanitizer is designed to fit many different styles of toothbrush head, and it also comes with a magnetic holder that can be mounted to the wall or any smooth surface. This is one dental goodie bag gift that your patients never knew they needed, yet will use all the time if you give it to them.
iPromo can help keep your team protected and looking professional with branded nitrile gloves.
Dental sticks, sometimes called dental floss picks, are more sanitary than regular floss because they don't require you to stick your fingers in your mouth. They also make it easier to get to hard-to-reach spots and can encourage reluctant flossers to make it a more regular habit. Dental sticks are the perfect item to stick in your purse or in a drawer at the office so you can always freshen up on the go. This set features 144 dental picks that are individually wrapped for sanitary purposes. They come in a reusable, transparent plastic case with a lid that can be pad printed with a logo or graphic of your choice to advertise your dental office to recipients. 
All dental professionals know that few people, especially kids, brush their teeth for the full two minutes twice daily, as recommended by the American Dental Association. Therefore, including a dental timer in your dental goodie bag is a smart way to encourage patients to brush for a long-enough time. This model comes in four colors — red, green, blue, and white — and includes a separate suction cup that attaches to any non-porous surface to hold the hourglass. The base cost includes a pad print of your logo on the front of the hourglass itself. You can also upgrade with an optional waterproof insert that goes behind the timer and in front of the suction cup for an even bigger branding opportunity.
If you are looking for an alternative to dental floss picks, then we definitely recommend this set of dental toothpicks in a plastic case. These toothpicks remove food debris, fight gingivitis, and stimulate gums to promote periodontal health. The case holds 20 toothpicks and comes in either a clear or white plastic that can be screen printed with your dental office logo. The case's compact design makes it easy to slip into a purse, leave in a glove box, or tuck into pants pockets so that your recipients can discreetly clean their teeth after a meal out.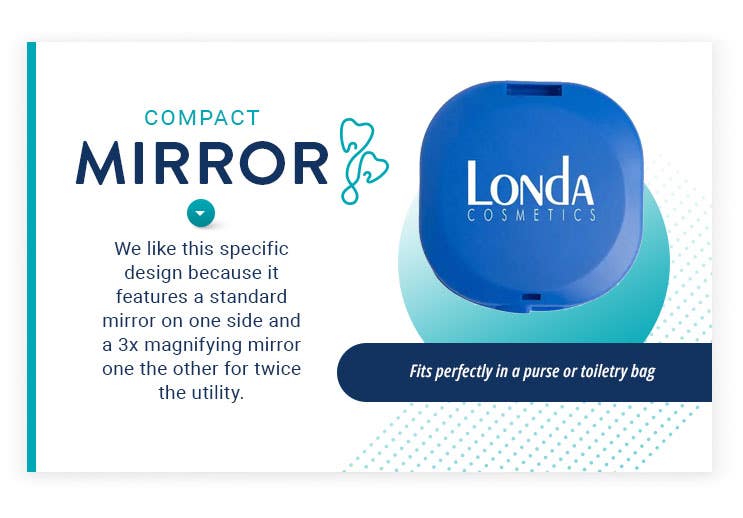 Keeping your teeth clean on the go can be tough if you don't have access to a mirror, which is why a double-sided compact mirror is an ideal product to include in your dental goodie bags. We like this specific design because it features a standard mirror on one side and a 3x magnifying mirror one the other for twice the utility. The compact case is a compact yet usable 2 ¾-inch square size, so it fits perfectly in a purse or toiletry bag. We offer eight different colors to choose from: red, dark blue, green, pink, orange, blue, black, and white. Pad print your dental office name or logo on the front for a classy addition to any dental goodie bag.
If you've never thought about adding dental office chapstick to your goodie bags, then you definitely need to consider it. Our lips are made of very delicate skin, but they are exposed to lots of potential damages in the form of sun rays, dry air, and even spicy foods. Chapstick helps to protect them from elements, especially if it includes sun protection like this SPF 30 lip balm. 
This chapstick is made in an FDA-approved facility and formulated with shea butter, aloe, and vitamin E to nourish and protect lips. It comes in one standard flavor; call if you have any special requests about the flavor or anything else. The base price includes a 4-color tamper-proof laminated decal that wraps around the entire chapstick container, creating a powerful branding statement for your dental office.
Obviously you can just stuff your dental giveaways into a cheap plastic bag. However, if you are looking to elevate your presentation, then we suggest putting it into a custom cosmetic bag that your recipients can reuse for many years to come. We like this travel organizer from elleven due to its compact size, which fits easily in a backpack, messenger bag, or suitcase. It comes with multiple inner pockets to hold all your dental goodies and zips closed for security. It also features an outside pocket that can be screen printed with your dental office logo so that your patients will think of your practice every time they reach for their travel organizer.
Contact Us
Already know what you want to order for your dental goodie bags? Reach out to us to get started on pricing quotes and design proofs, and you could have your custom dental items in as little as a week. Still need some help finding the perfect products to promote your dental office? Our customer service staff would be happy to help you find the perfect product to fit your marketing and reach your target audience, whether that is a sensible tooth-brush cover or a tooth-shaped stress ball.
Image Credits
envastudio/Shutterstock.com
Neshcheret Mariia/Shutterstock.com
santypan/Shutterstock.com