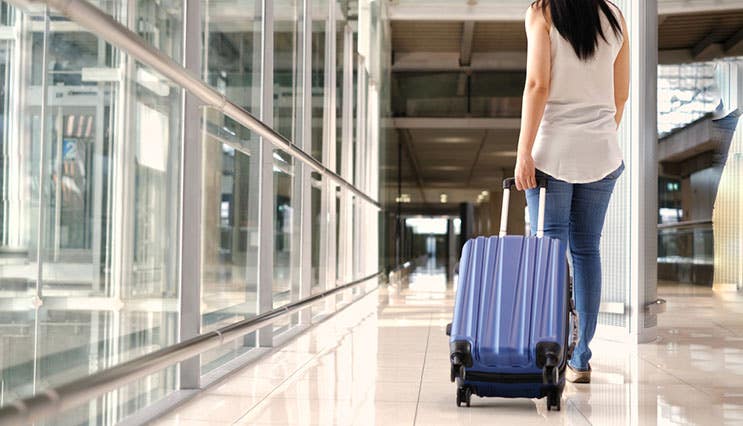 By gob_cu / Shutterstock.com
AirTags are small Bluetooth-enabled metal disks about the size of a quarter that allow you to track the location of various objects using the Find My app. Since they debuted last year, custom AirTags have become a must-have tech item for every occasion from daily life to holiday gifts. AirTags have turned out to be especially handy for business travel in particular, allowing jet setters to track everything from checked luggage to passports.
Here's everything you need to know about using AirTags for your business trips:
How to Use AirTags During Travel
Using AirTags for luggage is one of the most common travel applications for these handy trackers, but watching over your checked bag isn't the only way to put them to use. Many business travelers swear by using their AirTags not just in their checked bag but also their carry-on and "personal items" such as backpacks. Some people also attach them to keys, wallets, passports, and other essentials to keep tabs on them while in transit.
For luggage, suitcases, and bags, we recommend putting the tracker in an AirTag leather case and then securing it in an inner pocket (ideally one that zips closed). While attaching to the outside of your bag is easy, the chances of it falling off accidentally — or worse, getting taken by someone on purpose — are just too high. With checked luggage, you also run the risk of the AirTag being crushed on the conveyor belt, so do yourself a favor and keep all your AirTags safe on the inside of your bags.
By Olya Maximenko / Shutterstock.com
Pros and Cons of Using AirTags While Traveling
One thing to keep in mind while traveling with AirTags is that you will only be able to see the location of your AirTag as long as it is within the range of another iPhone. Sometimes your AirTag may not be close enough to an iPhone to trigger a location ping, or there may be physical obstacles that keep the AirTag from connecting to passing iPhones. Even though AirTags are allowed on airplanes, the thick concrete barriers can sometimes intermittently block the AirTag signal as your bag travels from the checked bag kiosk to the place.
So if you're wondering "Does AirTag work internationally?" — the answer is that AirTags will work anywhere with dense populations of iPhone users, both domestically and abroad. Thankfully, this criteria applies to most international business destinations, especially large cities where many residents already own iPhones. However, if you are traveling in rural areas with a very spread-out population and a low number of iPhone users, the tracking may not be very accurate or it might not work at all, so bear that in mind when traveling to your various destinations.
By Travelpixs / Shutterstock.com
Since AirTags don't come with a built-in keychain (something that distinguishes them from other tile tracker brands) you will want to get a silicone AirTag luggage tag or some other kind of accessory for it prior to your trip. We also recommend custom printing your AirTags with various symbols so that you don't mix up which one belongs to which item in case you ever have to take them off your belongings.
Looking for custom AirTags in bulk to give to clients or employees for business travel? At iPromo, we offer personalized printing for AirTags that includes custom fonts and graphics and much longer character limits than Apple. Our turnaround times usually fall between 10 to 12 days, which is pretty fast for custom AirTag engraving, and we also have drop-shipping capabilities if you're on a tighter turnaround. Contact us today to get started on a pricing quote or design proof for your custom AirTags.