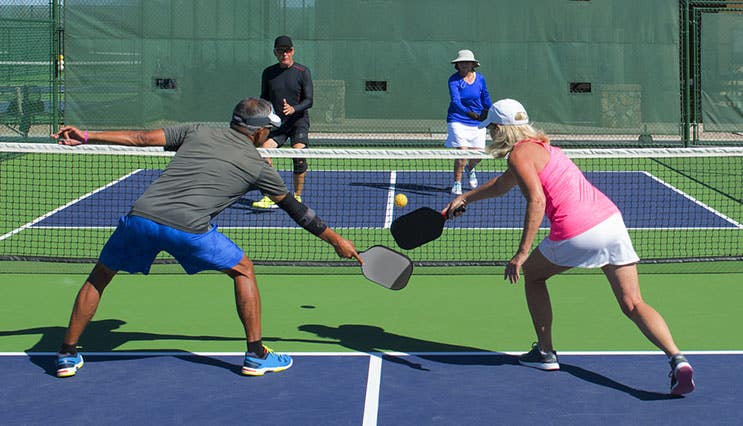 Why Your Business Needs a Pickleball Equipment Giveaway
By bhpix / Shutterstock.com
Pickleball is one of the fastest growing sports in the United States and Canada, and it's rapidly gaining steam around the world as well. This means that pickleball equipment is one of the most exciting giveaway ideas that your business can choose this year. Here's everything you need to know about pickleball as a sport and why pickleball equipment is the perfect giveaway idea:
What Is Pickleball?
According to the USA Pickleball Association, pickleball is a fun sport that combines elements of tennis, badminton, and ping pong (a.k.a. table tennis). Pickleball can be played as either a singles or doubles game, depending on how many competitors and courts you have.
It is played on a badminton-sized court with a slightly modified tennis net that is placed right above the ground instead of higher up on poles. A single tennis court can be converted into four pickleball courts with the proper pickleball equipment.
What Pickleball Equipment You Need
Besides the court and net, pickleball requires pretty minimal equipment. Each player needs a custom pickleball paddle, which is smaller than a tennis racquet but larger than a ping pong paddle. These personalized pickleball paddles were originally made of heavy wood but are now made of lighter, more advanced composite materials like aluminum and graphite. Some people also like having a custom pickleball paddle cover to keep their paddle safe in transit.
You will also need a pickleball ball, which features a unique hollow design with holes throughout. There are multiple different types of personalized pickleball balls designed for indoor and outdoor play, so be sure to choose the right one! Pickleballs come in multiple different colors but must be a single solid color to meet International Federation of Pickleball (IFP) specifications.
As for pickleball clothing, most people choose to wear athletic wear that gives them a full range of motion and is appropriate for the seasonal climate. No speciality clothing is required, although many players do enjoy wearing tennis clothes to pickleball matches. Court shoes are strongly recommended since regular tennis and running shoes do not provide the necessary support for the side-to-side motion common in pickleball.
By JennLShoots / Shutterstock.com
Why Is Pickleball So Popular?
Pickleball was originally founded in 1965, but it's really gained in popularity in the past few years due to several reasons. For one, pickleball is easy for beginners of all ages to pick up, even if they have never played a racquet sport before. Due to the low placement of the net, it's a great option for families with small kids who might not be tall enough to play tennis yet However, the fast pace of the sport also offers a challenge for more advanced players, especially when matched against competitors of a similar skill level.
Pickleball is also very social, which means that it's perfect for playing with friends. Not only can pickleball be played in doubles, the smaller size of the court means that talking during and in between games is much more feasible than tennis and some other racquet sports.
Many parks and rec centers already have either badminton or tennis courts that can be repurposed for pickleball. Due to the growing popularity of the sport, many park and rec center employees are now accustomed to converting existing courts for pickleball games, and some places even have permanent pickleball courts now.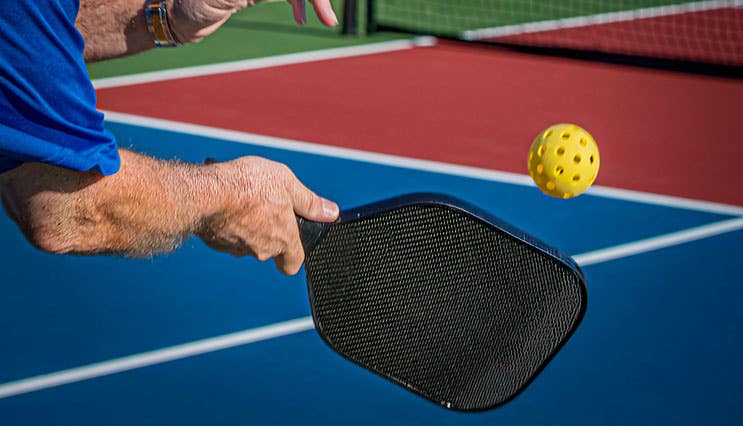 By jo Crebbin / Shutterstock.com
Why Pickleball Should Be Your Next Giveaway
If you are looking for an athletic giveaway that feels fresh, pickleball is an excellent option. While the sport itself has been around for a while, its gain in popularity has been relatively recent, which means that very few companies have done giveaways yet.
This sets pickleball apart from other sports with a longer history, such as football, baseball, and soccer, which have been used for promotional giveaways for decades. Choosing a unique sport such as pickleball will make a lasting impression on your intended audience and help set your giveaway apart from the crowd. At iPromo, we offer a custom pickleball paddles and sets perfect for your team to get started with the game, in addition to numerous other sports giveaways. Reach out to our customer service team to get started on a pricing quote or to begin design proofs for your custom logo or graphic.