Next Day Delivery For Your Favorite Promotional Items
Like magic: 24 hour rush production for best selling branded swag – because life happens.
Promotional products are an ideal way to foster relationships with clients and get a little advertising for your company. Like with almost every other type of product, it has become increasingly easier to get promotional products with your company's unique branding and logo. All you have to do is head to iPromo and make your selections.
But, what happens when you're on a bit of a time crunch and you need promotional products delivered as soon as possible? Never fear, because iPromo has you covered there, too. Next day promotional items can really help get you out of a bind and put your mind at ease. There are many reasons why companies opt for rush
delivery, including:
Forgetting to order certain items for a conference or trade show
Under-ordering a particular item
Attending an event last minute
Appeasing clients with rapid results
Simply wanting to have the products on hand should they be necessary
Around 85% of consumers remember the company that gave them a promotional item and they are also 2.5 times more likely to have a favorable opinion of a promotional item versus a web ad, according to the Advertising Specialty Institute. Clearly, there are a lot of reasons you might opt for next day promotional products. But, what are some products you can get rush delivered?
---
Power Banks
Power banks have become the "in vogue" promotional item, mostly because they provide high value to clients while still being relatively inexpensive for companies. The best part about power banks is that you can get a shipment in 24 hours for some models.
These devices are particularly valuable for the younger generation who often live out their entire professional and social lives on a screen. The ability to have those phones charged at a moments' notice is an exceptionally important option for most folks under 40.
There are also a lot of power banks to choose from. There's a 4-in-1 model that combines an Apple lightning port, an Android charging port, a USB-C port, and a standard USB port. This effectively ensures that anyone can charge their phone or other device using just one power bank.
If you want something with a little more charging capacity, then check out the P10000 Carbon Power Bank, which (as the name suggests) provides 10,000 mAh of power. This little device certainly packs a punch, especially when it comes to rush promo items.
---
Qi Wireless Chargers
Qi wireless chargers are another especially popular promotional product. People can use these devices to charge Qi-enabled phones just by placing the phone on or near the charger. Apple's newest generation of iPhones are Qi-enabled, and several different Android models feature the technology, as well.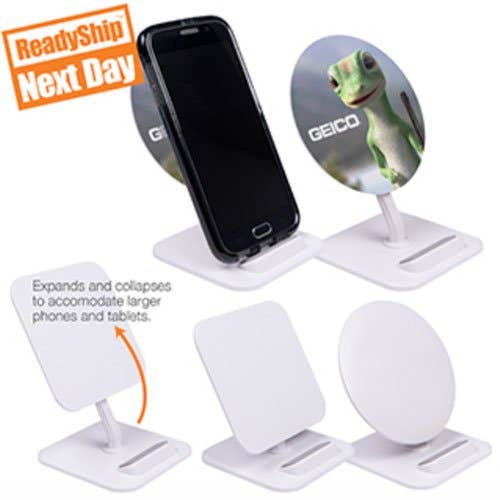 If you're heading to an event with a lot of tech-savvy individuals, you might want to quickly stock up on these items. Again, there a plenty of options when it comes to Qi wireless chargers, including:
Qi 2-Go Wireless Charger – a dual function charger acts as a power bank that affixes to the back of a phone and provides a charge whenever and wherever it's needed
Wireless Charger (Qi Stand) – a wireless charger that also acts as a phone stand
Qi Triad Wireless Charger – Qi technology that also features two convenient USB ports for more traditional charging
Obviously, your customers will enjoy any one of these models, even if their phones aren't Qi-compatible. Most people will simply re-gift the device, ensuring that your logo continues to get exposure well into the future.
---
Webcam Covers
Privacy is a bigger issue now than it was ever before. People want to know that they are protected and that no voyeurs or hackers are getting into their personal details. This has led to the advent of the simple webcam cover, which is the ultimate safeguard against digital peeping toms.
The concept for a webcam cover is simple. It's just a nifty little contraption that slides over a laptop or tablet's webcam when it's not in use and can simply slide off when you actually want to use the camera. So, even if someone gains access to your webcam, they won't be able to see anything.
The great thing about these devices is that your logo or branding is front and center whenever someone uses their laptop or tablet. There are a couple of different types of webcam covers, including a metal one that imprints your logo via laser engraving and a plastic one that uses traditional screen printing.
---
Earbuds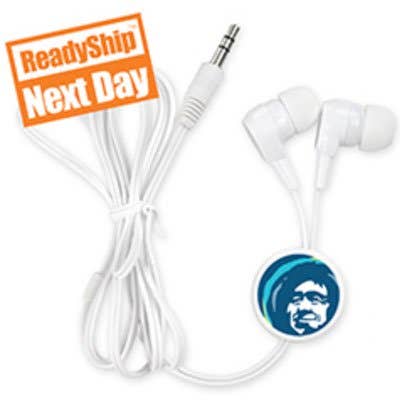 In addition to keeping phones charged and maintaining privacy, people also love to listen music, podcasts, or whatever else with a nice pair of earbuds. While Apple notoriously nixed its audio ports on the newer iPhones, there are still plenty of ways people can use earbuds. Laptops, tablets, handheld gaming devices, and most Android models still use standard audio ports.
The main benefit of earbuds is that they often get lost. So, you will undoubtedly be providing a valuable service to most recipients. If you find yourself in dire need of some last minute earbuds for an event, iPromo certainly has you covered. The iSlide earbuds provide great audio quality with a sizable slider that prominently shows off your logo.
When it comes to 24-hour rush promotional items, you can't go wrong with a collection of earbuds.
---
USB Flash Drives
While you might think of USB flash drives as out-of-date relics of a time gone by, there are still plenty of uses for these little gadgets. They are also simply great marketing tools on which you can load relevant information for prospective clients to peruse at their leisure. The ability to get these quickly can be very important for some companies.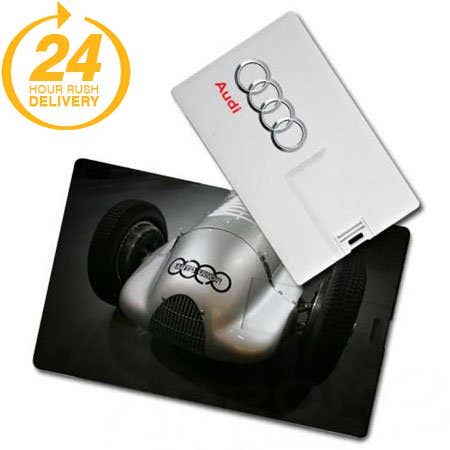 There are several different types of USB flash drives that you can order as next day promotional items. These include:
Traditional capped flash drive – This is probably the most recognizable flash drive type. It uses a removable cap to protect the USB connector.
Twist flash drive – To use these drives, you have to swivel a protective piece to reveal the USB connector. These are less traditional, but you don't have to worry about losing any caps.
Flash drive business card – As the name suggests, these are flash drives that come in the shape of a business card. They can comfortably fit in any wallet and work with any standard USB port. A great option to "wow" people at a conference, trade show, or other event.
Again, flash drives are a cool way to advertise your brand while also providing a useful tool for the recipient.
---
Phone Stands
While a phone stand might seem redundant since phones fit comfortably in the palm of your hands, sometimes you just need to be hands free. A phone stand is a great way to accomplish that. It makes watching videos easier and is also more aesthetically pleasing than just leaving your phone sitting around somewhere.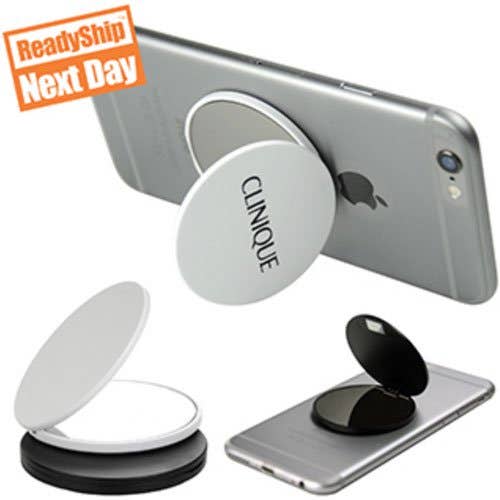 Phone stands these days also have multiple functions. For instance, the iFold Mirrored Phone Stand doubles as a compact and portable mirror. Maybe you like the mirror aspect but you don't want to carry around a separate item. Well, the iShine Mirrored Phone Stand actually adheres to the back of the phone while also providing a small mirror and the ability to prop up your phone.
Those two options are great if your intended audience uses a lot of cosmetics and needs to take a quick glance once in a while. Another unique phone stand option also doubles as a bottle opener, which are two functions you can't really beat.
---
Ring Holder
The next trend in PopSocket-esque phone accessories is the ring holder. Like PopSockets, you affix these items to the back of a phone. The ring shape allows you to carry your phone with just one finger.
On top of that, ring holders also double as rudimentary phone stands. So, again, you get a two-for-one with these items. Seeing as how almost everyone has a phone, it's clear that ring holders can provide a lot of value to certain consumers.
At iPromo there are plenty of ring holders to choose from, including one that actually has three uses (the third one is as a small wallet). They also all come with a single-use adhesive so that your customers can easily stick them on the back of their phones.
If you're looking for next day promotional products, this one is ideal because it's inexpensive, novel, and actually useful. It also gets your logo on the back of perhaps dozens of phones, yielding a huge numbers of impressions.
---
Tote Bags
Are you looking to make a last minute swag bag for an event? At iPromo, you can get a variety of different totes and other bags to make your swag bag dreams come true in just a single day. You can even put some of the aforementioned items in the bag.
You have quite a large selection of bags available for next day delivery. There are relatively standard totes that can certainly do the trick, but you can also opt for a more elegant look with a canvas bag and its zippered closure.
In addition to being a nice gift that will get some use, tote bags are also great advertisements for your company. The print area is substantial allowing for people to see it more than some other promotional products. Tote bags are also an environmentally friendly option as they replace the more hazardous single-use plastic bags.
In Closing
You are not always going to need next day promotional items, but it is certainly nice to have the option. If you ever need a rush delivery, don't hesitate to contact a promotions specialist as soon as you can. Remember that rush promotional products must be ordered by 4 PM Eastern time in order to make it to you by the following day.