The Best Sustainable Corporate Gifts that Give Back 
Corporate gifting is a wonderful way of showing gratitude towards your employees, clients, and partners for their service and support. From simply being just another HR mandate to becoming a conscious practice of expressing appreciation, it has emerged to be a meaningful corporate custom today.
Handing out corporate gifts is also a unique but effective branding opportunity with promising possibilities.
Since corporate gifting has multiple benefits, you can take it to the next level by choosing sustainable corporate gifts. Let's understand why you should do so.
Why Give Sustainable Corporate Gifts?
With eco-consiousness dominating the top spot, you should consider giving sustainable corporate gifts that give back. It helps position your brand as one that's conscientious and responsible.
Of course, sustainable gifting must go beyond you trying to impress your customers or business partners. As a brand, you must believe in giving away sustainable products because it's better for the environment and allows you to lead by example.
What Makes A Corporate Gift Sustainable?
A sustainable corporate gift is one that is eco-friendly in more ways than one. Such gifts do not come from manufacturing units that leave a large carbon footprint, can be reused, or are made from recyclable or sustainably sourced materials. So, these are essentially thoughtful gifts that give back to the environment.
Some examples of sustainable gifts are items made from organic and vegan materials.
Benefits of Environmentally-friendly Giveaways
Since giving corporate gifts is standard in the industry, you might as well provide sustainable luxury corporate gifts for clients, employees, and partners. Here are the reasons why you should do so:
It is a responsible way of gifting that also sets a great precedent for your employees, business partners, and clients to follow
Sustainable corporate gifts are good for the environment and may often benefit local small businesses
It is a way of encouraging your customers, partners, and employees to be more eco-conscious
It helps strengthen your stance as a responsible brand that cares
If you have been sitting on the fence regarding sustainable gifts, we have just the list that could convince you to go clean and green.  
10 of the Best Sustainable Corporate Gifts That Are Good For the Environment & Your Brand
Corporate gifting must always be intentional and inspirational. You cannot just give away the first sustainable gift that you can think of. Your gift must also be useful to the recipients so it doesn't end up in their bin.
That would defeat the purpose of corporate gifting. Besides, the branding part of the corporate giveaway goes out of the window if the recipient doesn't use the gift.
Even sustainable giveaways must be useful and impressive enough to have the effect you expect from them.
We have the perfect list of the coolest eco-friendly corporate gifts that could serve the purpose:
Plants are great but giving them away as gifts provide a responsibility to the recipients they may not be willing to take. With a self-watering planter kit, you are making it easier for the recipient to grow plants, which is great for one's health and the environment as a whole. Plants absorb carbon dioxide from the environment while also producing oxygen.
By giving people the self-watering planter kit, you are essentially giving them the gift of life.
Growing plants is also easier with the kit. To be clear, the kit doesn't water the plant on its own. Instead, it keeps the plant moist so there is no need to water it all the time.
According to Refresh Glass, the kit is "3x green" because aside from providing oxygen, the kit is made of a reused bottle and the packaging of the item is utilized in the kit assembly.  
According to Refresh Glass, the average person throws away 1,600 pounds of trash every year and 75% of it is easily recyclable. Even a single wine bottle that is removed from the landfill saves enough energy that could light a 100-watt bulb.
So, they make wine glasses from the bottom of wine bottles that are pulled from the landfill. Unique yet familiar, these glasses come in assorted colors to make every cupboard or table look as colorful as ever, becoming a statement piece of home decor.
Since a set of glasses is very useful to just about anyone, you know that these would not go to waste when you choose them as corporate gifts. Since they are made from recycled wine bottles, the gift takes care of the carbon footprint factor too.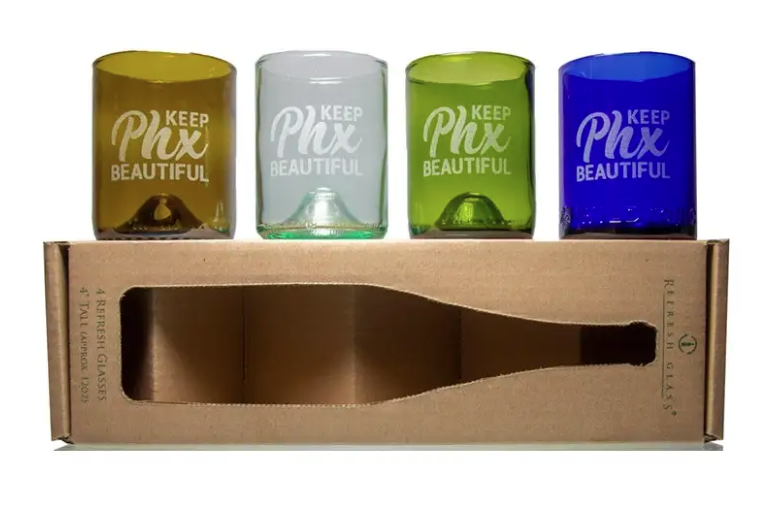 According to the UN Environment Program, a million plastic bottles are purchased every minute, and about five trillion plastic bags are used every year on a global scale. Most of these products end up in landfills or the ocean.
But the next gift on this list utilizes single-use plastic to repurpose it into something impressive and functional.
Made of 600D recycled polyester or rPET, the Day Owl backpack capitalizes on recycled plastic which is re-spun into a polyester fabric. It's a fine example of reusing plastic, which is a leading cause of environmental pollution. The bag has a lot of space inside and a large blank spot on the outside where you can advertise or promote your brand, making it a perfect luxury gift for corporate events.
If you're looking for sustainable luxury corporate gifts, you cannot go wrong with this novel laptop bag. Since laptops are such an inseparable part of corporate life, the slim pack is a great buy that can be used by one and all.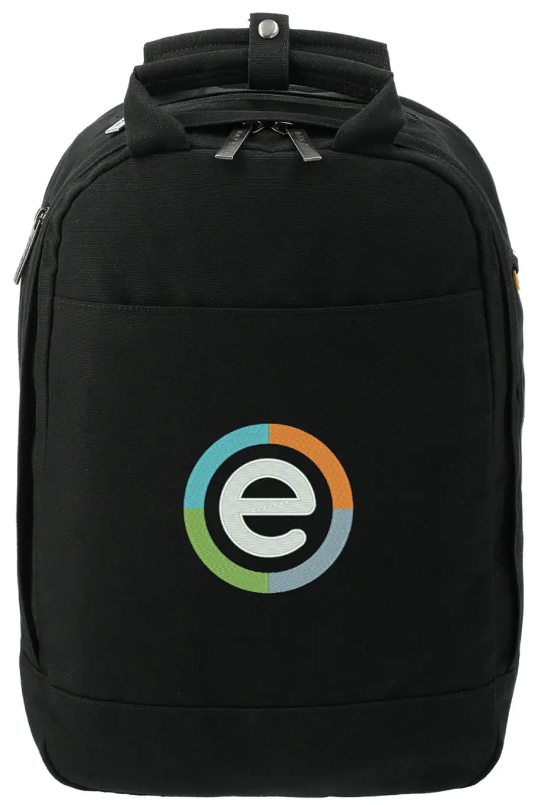 Just because you don't have a lot of budget doesn't mean you can't afford to get a cool item as a sustainable corporate gift. The Powerstick EcoSpot Bluetooth Tracker is a case in point – it is affordable and very useful. It can be attached to items that you easily lose, such as keys or wallets. You can then try to locate the missing item when you find the EcoSpot using your phone.
The latest EcoSpot model is quite eco-friendly because half of it is made with recycled plastic while the other half is made of biodegradable materials. This way, gift recipients won't feel too guilty when it is time to dispose off the product. But it may take time before they need to do that as the gadget runs on a battery that is also replaceable.
A reusable water bottle is among the most popular corporate giveaways. But the Klean Kanteen Eco insulated water bottle is better than most in at least three ways: design, function, and eco-friendliness.
The bottle is very useful for professionals as it can keep liquid hot for 24 hours and cold for 63 hours. More importantly, Klean Kanteen is made from 90% post-consumer recycled 18/8 food-grade stainless steel. Post-consumer materials are those that are headed for the landfill, which means this Klean Kanteen product ensures less waste is added to the pile.
It also looks sleek and stylish and comes in two color options. It is definitely among the top simple sustainable corporate giveaways.  
Companies that center on outdoor products and activities may want to give away this recycled insulated outdoor blanket. It's a unique giveaway that's on-brand for them.
The product is made from recycled 210D nylon, which is mostly made from old fishing nets. That means fewer fishing nets will reach the landfills because they are recycled into this outdoor blanket. Production of recycled 210D nylon also uses less energy.
In addition, 1% of the sales from this product are also donated to environmental non-profit organizations.
Even if you are not an outdoorsy brand, the product is still a cool giveaway that you can personalize with your brand's name and logo. It could be printed on the blanket or the carry pouch.  
You can never go wrong with a T-shirt, especially if you're hosting an event or conference.
The Tentree organic cotton shirt is an ideal choice for such occasions. Available in men's and women's sizes, the product comes in several color options. It is simple yet chic and makes for a comfortable wear.
More importantly, giving this type of corporate gifts helps you make a statement. Made from organic cotton that comes from sustainably managed farms, the t-shirt is Fair Trade-certified. The Fair Trade-certified label ensures that rigorous standards were followed in the production of the product to protect the environment and the communities involved in the process.
This T-shirt is the perfect example of a corporate gift that gives back because every time you buy a Tentree item, the company plants 10 trees. That's a lot of trees when you order sustainable corporate gifts in bulk.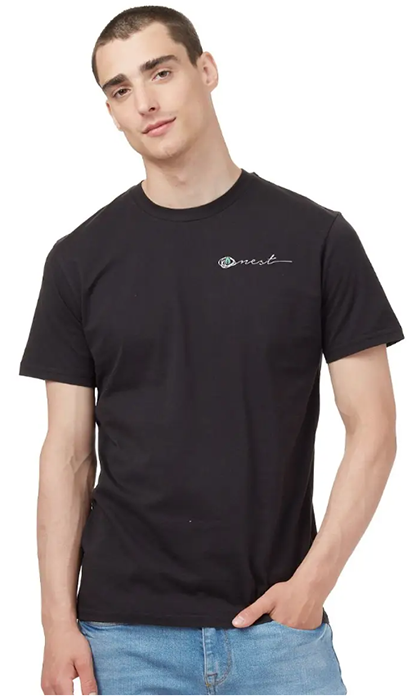 A portable charger is one of the most thoughtful gifts that anybody on-the-go will find useful . You might be wondering how can it be sustainable, given that electronics are generally not eco-friendly.
Well, manufacturing practices have evolved and Nimble has ensured it makes products for sustainable luxury corporate giveaways.
The Nimble Champ portable charger is made with REPLAY 72.5% post-consumer recycled plastic. With a 10,000 mAh capacity, it is capable of charging gadgets twice its size. It's a very useful product in corporate settings, which is why it's not surprising that this is also a bestseller.
Nimble also ups the ante by ensuring that for every product sold, customers can recycle up to a pound of e-waste for free. Through the One-for-One Tech Recovery Project, Nimble is not just reducing plastic waste but recycling e-waste as well.
Gift recipients can use the brand's pre-paid shipping label to send old electronics for recycling to the Nimble facility. 
Many people consider going to a spa a luxury. So, why don't you bring the spa into their homes by giving them sustainable luxury corporate gifts such as the Yobow mini massage pistol? Weighing at just a pound, it is one of the most compact massage pistols on the market and doubles up as an on-the-go massage tool.
The massage pistol comes in a variety of cute colors and four interchangeable heads so you can choose the one that would provide the best relief. The gadget also different massage speeds so you can pick the right intensity to release the tension in your body.
Again, electronics are not known to be the most eco-friendly products. But buying from Yobow means donating to a charity. A part of the purchase price goes to a non-profit organization. The massage pistol comes in eight colors where each color corresponds to the charity which receives the donation.  
The last gift on this list is tailor-made for companies that are just starting in the industry and don't have a lot of budget for corporate giveaways. Sustainable corporate gifts don't have to be expensive all the time. As long as they are meaningful, like this tree-shaped plant seed paper gift card, they can be a great choice.
But what comprises this gift?
It is simply a paper with seeds integrated into it that can be planted in future. It is a unique gift that is thoughtful and far-sighted even in its simplicity. The paper used to make the gift card is recycled post-consumer paper pulp and the seeds are also non-GMO.
While it may not sound as exciting as the other products on this list, you have to remember that many people are now more socially conscious and they appreciate brands that offer value over glamor.  
Bottom Line
Practicing sustainability and environmentally-friendly activities within the company has become a norm for new-age businesses. It is no longer just a matter of corporate reputation, but a conscious choice that many brands are making in the wake of the environmental crisis.
If you too are one such brand, you might be on the lookout for sustainable corporate gifts that go beyond the tag and deliver value. These exciting gifts can help you achieve that and more.
Want more ideas for the coolest sustainable corporate gifts? Visit iPromo now.