Stocking Stuffer and Holiday Party Gift Ideas for Employees
Stocking stuffers are a great way to celebrate employees without going overboard with big corporate gifts. Whether you are a small business on a budget or a huge corporation shopping for hundreds of people, stocking stuffers for employees should be on your company shopping list this winter. Here are six of our favorite stocking stuffers for employees in 2022:
Logoed Mugs
One of the daily joys of office life in the winter is taking a break and fueling up with a cup of coffee, tea, or hot chocolate. To that end, everyone needs at least one mug that they can leave at the office, so why not make it a ceramic logoed mug featuring your company branding? At iPromo, we offer a wide selection of branded mugs for all price points, including some that cost less than $2 a unit for bulk employee gifts. We also stock travel mugs, water bottles, and many other kinds of drinkware so you can find the perfect one to slip into your employees stockings at the company holiday party.
Logo Desk Accessories
If your company has a more traditional vibe, you can still put together some excellent stocking stuffers for your employees. In these situations we recommend sticking with logo desk accessories like high-quality custom pens, pencil cases, mouse pads, bamboo lap desks, and more — all branded with your business logo, of course. If you want to upgrade past basic desk accessories, consider selecting a digital photo frame or wireless charging pad or even a desktop planting kit to elevate your employee stocking stuffers to the next level. Choose several different items to put together an employee gift set that they can use for the next year.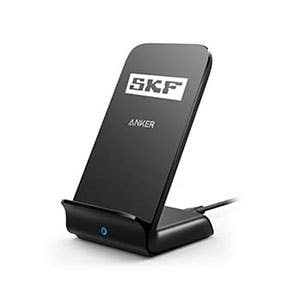 Smartphone Accessories
If your company is pretty tech savvy, then you definitely need to include some smartphone accessories in your stocking stuffers for employees. Smartphone accessories are small and portable, making them perfect to fit in a stocking, and many of them are very affordable when purchased in bulk, making them a cost-effective option for large companies. Choose from phone cases, media stands, charging cords, portable chargers, and more to keep their devices going during a busy holiday season. At iPromo, we also have the ability to do some truly cool custom phone accessories, including charging banks shaped like your company mascot — contact us today to get more details!
Self-Care Products
The holidays are a stressful time, and winter weather is also really hard on the skin and hair. Help your employees pamper themselves a little bit with self-care and wellness products. These can take many different forms, from gifts sets of hand creams and other spa products to custom percussion massage guns printed with your company logo. If you are solely looking for stocking stuffers, stick with smaller products like water bottles and blue-light-blocking glasses that will help your employees stay healthy and happy throughout the year.
Custom Accessories
Most custom apparel is too large to fit into a stocking, but custom accessories are not! At iPromo, we offer a huge selection of custom clothing accessories that are perfect for winter weather, including cozy beanies, winter touchscreen gloves, and knit socks with a 360-degree customizable design. Choose from a variety of sizes, colors, and styles to fit your entire company in time for the holidays. If you order them soon, you might get them in time to take a company holiday photo in matching hats with your logo on it, which will make the perfect addition to your end-of-year newsletter.
Scented Candles
One of our favorite things about the holidays is the delicious seasonal scent, and there's no better way to capture that than a deliciously fragranced candle. Whether they come in a tin, a jar, or a box, candles offer a generous space to imprint your logo, creating a lasting branding impression every time the recipient lights the candle. Candles also make a great addition to our custom gift boxes if you are giving those to employees instead of stockings, so keep that option in mind.
The holidays are coming up faster than you think, so contact the iPromo customer service team today to get started on a price quote or design proof for your employee holiday gifts! We also offer drop-shipping capabilities if you need your stocking stuffers shipped straight to remote employees' offices; reach out to us today to learn more.