The Best Eco-Friendly USB Flash Drives
Looking for a smart way to put your brand to work for you in 2020 and beyond? Custom eco flash sticks are sustainable, thoughtful, and will build lasting positive associations with your brand.
Why Eco Flash Drives are One of the Smartest Giveaways in 2020 and Beyond
Once the New Year rolls around, a lot of people are resolving themselves toward better organizational habits. Needless to say, now is the perfect time to throw an eco-friendly USB flash drive giveaway or promotion. Whether people are looking for the best way to store their holiday memories to show off whenever and wherever they are, wanting to organize and make space on their computer drives or looking for a handy way to back up some of their most valuable files, eco flash drives can really do it all.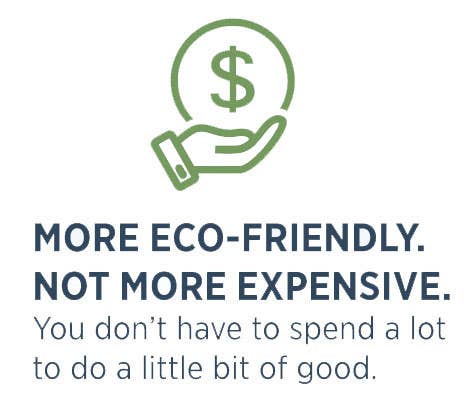 Of course, for all those naysayers who think that this type of technology is out of date, they can think again. Eco flash drives have been one and continue to remain incredibly popular for a reason, and this is because they offer a uniquely versatile and durable function that online drives just can't match. Not only are they the perfect way to tangibly back-up important information, but they also don't require a standard internet connection in order for their contents to be accessed.
Officially patented 20 years ago at the onset of the Millenium back in 2000, these drives were created to work with the Internet without being Internet reliant themselves. This helps explain why, as the Internet becomes increasingly popular and prevalent in our lives, people still can't get enough of these ultra-convenient drives that allow them to hold their files in a form that is much more tangible than anything the Internet can offer with while continuing to seamless integrate with the latest technological advances.
Mostly though, they are just so convenient. They are a lightweight, highly portable and virtually indestructible forms of technology, and given all of this, it is no surprise that eco-friendly USB flash drives are as popular as ever in 2020.
Here's Why Eco-Friendly USB Flash Drives Are In
When it comes to eco-friendly USB flash drives and other wildly popular promotional product picks, you can't go wrong when you go green.
Essentially, as we increasingly become aware of the way our modern way of life is wreaking havoc on the planet, more people are seeking out products that will help create a more sustainable future, and are likewise willing to side behind the companies and organizations who are advancing and supporting these types of eco-friendly developments.
If there is one big takeaway that everybody needs to be aware of here, it is that the green movement is bigger than ever in 2020, and it is not going anywhere in the future. This means that more and more consumers are likewise going to expect the companies that they do business with to fall in line, and will even be willing to pay more to support the products and services of those who do.
This also means that aligning your brand with eco-friendly and sustainable versions of some of the most popular promotional products, like, for instance, eco flash drives, is one of the smartest ways to put your money to work in 2020 in beyond.
The numbers speak for themselves. A recent survey conducted in 2019 by the Advertising Speciality Institute has found that while promotional products are still the most effective and affordable type of advertising available, 42% of consumers are likely to have an even more positive impression of a company that aligns themselves with merchandise that is eco-friendly.
Now, combine this with the fact that popular forms of branded merchandise like flash drives offer incredibly high returns for just a small investment, with each product generating a whopping average of 700 views in its lifetime, and you have an ingenious way to not only solidify brand loyalty with any existing clients, but let anybody else who may come into contact with these highly portable products know that your brand is on board with their values.
So essentially, no matter how you slice it, affordable branded merchandise products like eco-friendly USB flash drives are a win for everybody, and the environment. Not only are these highly versatile products the type of thing that people can and will take everywhere, generating tons of positive exposure for your branded logo as they do, but they are also incredibly durable. This means that it should come as no surprise that the average $5 eco flash drives will be held on to for more than a year. Talk about a smart form of advertising!
The Best Eco Flash Drives to Take Your Next Promotional Giveaway to a Whole New Level
When it comes to the type of eco-friendly flash drives that people really want to own in 2020, we have all the amazing products that you need to knock it out of the park during your next promotion, trade show appearance or giveaway, so don't miss out!
The Original Eco USB Flash Drive in Natural
Our original Eco USB Flash Drives are the perfect pick for anybody looking to align their brand with a greener corporate philosophy while providing their clients and employees with a surefire conversation starter while they are at it.
This is because these eco-friendly USB flash drives are cleverly embedded and protected by a durable and lightweight cork holder, which at first glance, just appears to be a standard type of cork that could be found in a wine bottle, for example. The coolest thing about cork is that it is a sustainable material whose extraction doesn't harm the trees that it is produced from. Even better, it is incredibly lightweight and highly durable, which means that it is the perfect way to keep those important files safe and sound wherever they travel.
Needless to say, this nifty product is bound to turn more than a few heads when it cracks open to reveal a versatile flash drive in your choice of one of nine convenient data capacity options. Of course, let's not forget that your high-quality precision screen printed label will be front and center, and perfectly offset by the trendy neutral cork background.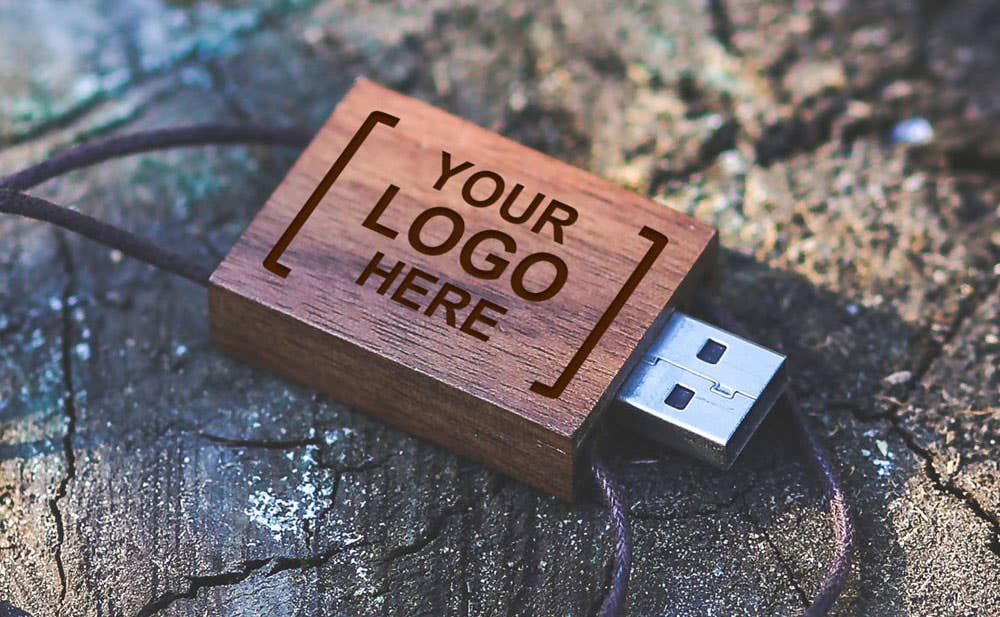 The Carver USB Flash Drive
The ingeniously simple design of the highly affordable Carver USB Flash Drive is what makes this product such a winner. Featuring a high-quality, fully biodegradable wooden casing is your choice of four eye-catching finish color options, these minimalistic eco flash drives are the perfect way to offset your choice of precision screen-printed or laser engraved logo design in style in one of five convenient data format options.
Even better, when it comes to convenience, this product is a major winner. It features a user-friendly design format in the form of a super comfortable and fully adjustable necklace or bracelet strap that not only ensures that this product will always be on hand when your clients need it the most, but that they will never lose their lid when they are in a rush.
---
The Berkley USB Flash Drive
The elegantly minimalist wooden design that characterizes the Berkley USB Flash Drives belies its super affordable price point and convenient ordering options. With a minimum order quantity of only 25 items, these ultra-compact eco-friendly flash drives are a great budget pick that are sure to really land in terms of impact.
Not only are they made from a fully biodegradable high-quality wooden casing, but they are available in your choice of four elegantly understated stain options to help you best highlight your stunning screen printed or laser engraved logo design. Offered in five different convenient data formats, when it comes to these gorgeous eco flash drives, less really is more. On that note, don't forget that like the Carver model, it is also available in the 3.0 version for 8GB or more.
---
The Timber Flash Drive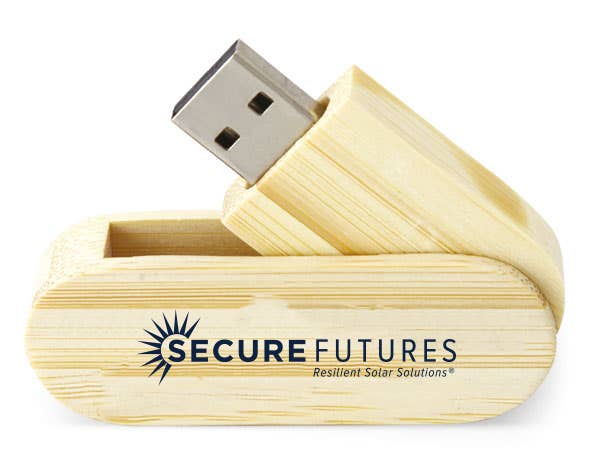 Those who hate losing lids are surely going to appreciate the graceful full rotation swivel design of this sublimely-crafted Timber Flash Drive. Featuring an all-wooden casing that is as biodegradable as it is beautiful, these one-of-a-kind eco drives are available in your choice of maple, bamboo, walnut or redwood finish when you order only 25 items or more.
Even better, you get to choose between six convenient data size options to best suit your purposes while you ensure that your gorgeous screen-printed or laser engraved branded logo takes center stage over this handsomely neutral background palette.
---
To Sum It Up
When it comes to the best selection of stunning eco-friendly USB flash drives, we have everything that you need to make the right kind of impression in the new year. 
Don't forget that are highly-talented design team is always here to help you bring your original ideas to life, so don't hesitate to reach out to us to submit your custom logo or custom USB design ideas so we can help you create the type of product that is truly one of a kind. We can't wait to get started.