January 13, 2020
The Best Truck Driver Appreciation Week 2020 Gift Ideas
We have curated the most impactful and clever driver appreciation gift ideas and promotional items that you don't want to miss out on and they'll be thankful for!
Here's Why Driver Appreciation Week Is Something to Celebrate
The second week of September marks truck driver appreciation week, and with almost 3.5 million professional truck drivers in the US working hard to keep our economy on top, their amazing contribution to society is indeed something to celebrate.
Just to put it all in perspective a bit, according to a recent infographic released by Kubix Freight Intelligence, 71% percent of all American freight tonnage is moved by trucks – that's almost three-quarters of the total freight in the country!
Meanwhile, those who think the importance of the industry is going to wane with the advent of new technology in the coming years can think again. With the average age of truck drivers well over 50 and 175,000 new truckers expected to be needed sign on in the USA alone by 2026, there is all the more reason to promote the safety of all those hard-working drivers out there who are truly the bedrock foundation keeping this booming global economy on its feet.
That said, no matter whether you are wanting to enforce safe driving practices or just give back for such a valuable contribution, we have the best driver appreciation week ideas that are the smartest way to show you care.
Gifts for Truckers That Keep on Giving
Looking for the best way to put your money to work for you when it comes to raising awareness and promoting safety during driver appreciation week and beyond? Promotional gifts for truckers are the best way to drum up fresh exposure and lock-down brand loyalty while showing your valuable clients and employees that you really care. Talk about smart marketing!
After all, when it comes to advertising or spreading a message, there is no better way to do it than with branded merchandise. Not only is it a form of advertising that people can actually appreciate and use, but the fact that these are tangible and practical items means that your name will drum up thousands of views over their lifetime, not to mention keeping the message alive with products that people will turn to time and time again. No wonder the average American owns over 30 branded promotional products.
---
---
This also helps explain the fact that promotional product advertising is still the most effective and cost-efficient form of advertising there is, continuing to beat out more modern mediums like internet advertising by 2.5 times. So, essentially, if you are looking for the best way to get your point across, boost morale or show your appreciation for a job well done, stocking up on branded gifts for truckers is an absolute must.
That said if you are looking for the type of gifts for truckers that will really turn heads this driver appreciation week, suffice it say that you have come to the right place!
Some Top Driver Appreciation Week 2020 Gift Ideas
When it comes to putting your investment to work and zeroing in on the best type of driver appreciation week gifts, it is all about sticking to the basics. When it comes to giving the type of gifts that people really want to receive, it is all finding an optimal combination of quality, usability, and attractiveness, and the best gifts for truck drivers are no exception.
That, however, doesn't mean that gifts for truckers have to actually be basic though. Indeed, the cool promotional swag available today offers a way more amazing selection than just those traditional favorites that probably come to mind when you think of gifts for trucker drivers.
To prove it, we have knocked out a selection of some top driver appreciation week ideas that any trucker on your list is going to love, so read on to get the real low down and start getting ready to celebrate in style.
---
The Hydro Flask 32 oz. Wide Mouth Water Bottle With Straw Lid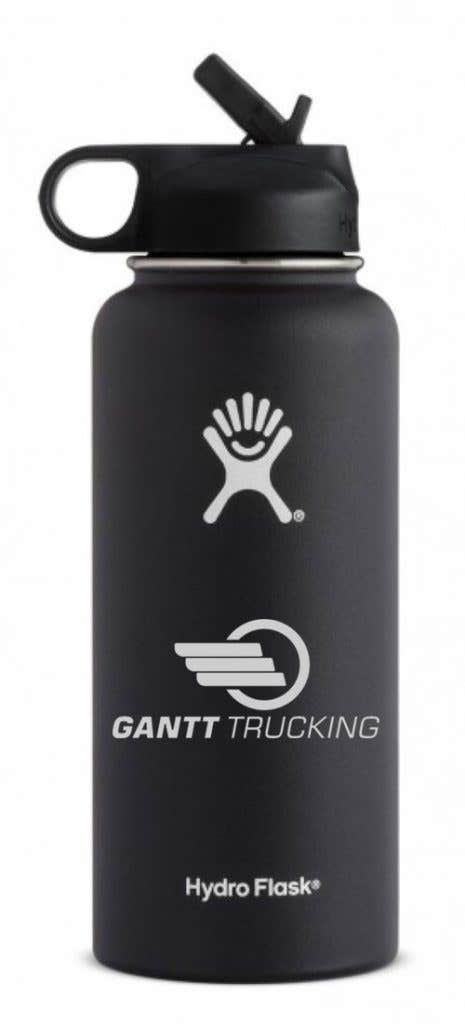 If there is one thing that is absolutely essential when out on the road, it is staying hydrated. Having a high-quality, and ultra-durable water bottle will not only prevent the need to stockpile endless disposable water bottles on the road, but also features the type of high-end double-wall 18/8, food-grade stainless steel vacuum insulation technology that will keep cold beverages cold and hot beverages hot for hours on end while maintaining a consistent taste and flavor profile.
That said, when it comes to the type of water bottle fit for the rigors of the road, we understand not just any bottle will do. Hydro Flask is the original brand that set out to build a better water bottle for everybody and is the reason that the best-quality branded water bottles are the type of branded merchandise that everybody wants to get their hands on in 2020. Needless to say, choosing to seize an opportunity to co-brand with these types of eco-friendly products are win-win given that they are 42% percent more likely to leave a positive taste in people's mouth.
While we have a great selection of top of the line brands like YETI, LARQ and h2go to choose from, this particular design is a great pick because the straw cap will help reduce spills while driving and while the proprietary powder coat means it won't slip out of your hands and onto your lap. Available in your choice of seven gorgeous color picks, this head-turning bottle is the type of gift that will really show you care.
---
The High Sierra Roll Up Puffy Sherpa Blanket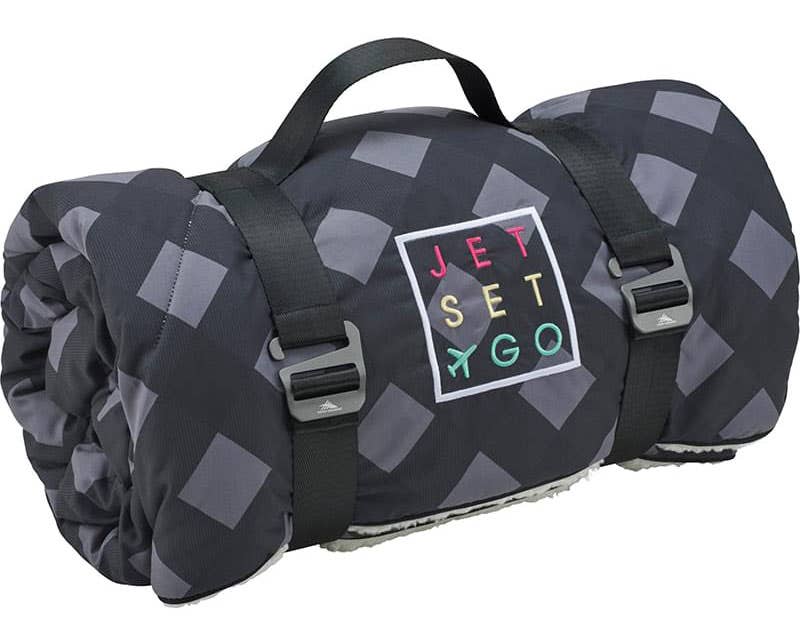 Long nights on the right can be chilly, especially in wintery or blustery climates, and therefore, it is important for truckers to have a highly portable and versatile blanket that is warm enough to ensure that they get all the precious sleep that they need to stay alert and safe out on the open road.
With that in mind, this High Sierra Sherpa Blanket is one of the warmest, all thanks to an innovative three-layer, the quilted design that makes it durable enough for indoor and outdoor use alike. The top layer is water-resistant and trendy plaid design, the middle layer is cotton insulation, and the underlayer is a cozy Sherpa. This all comes rolled up in a convenient and easy to carry package with nylon straps and aluminum clips for easy portability, all from a name that everyone already loves and trusts.
Needless to say, when it comes to gifts for truck drivers, this unbeatable blanket is a winner.
---
The Carhartt Signature 19" Utility Duffel Bag
When it comes to the type of bag that is rugged enough to carry safety equipment, essential roadside tools or changes of clothes alike, not just any old duffel bag will do.
The Carhartt Signature 19" Utility Duffel Bag is built with the real needs of hard-working Americans in mind, and this is why it constructed from one-of-a-kind Rain Defender® durable water repellent material over a 1200d polyester durable base that is built to last.
A spacious main compartment and three exterior pockets give you the extra organization you need on the road, and rugged top and side handles as well as a removable adjustable shoulder strap with padding make this bag as easy and effortless to carry as it is dependable.
---
The Basecamp 11-in-1 Fire Starter Multitool
Anything can happen when out on the road, and this is why having a high-quality multi-tool that can help drivers safely tackle any situation is a must.
Suffice it to say that when it comes to the type of compact and highly portable tool that can really do it all, nothing can beat the Basecamp 11-in-1 Fire Starter Multitool. Built from 420 stainless steel with an elegant anodized aluminum handle design, it packs needle nose pliers, regular pliers, wire cutters, locking knife, can opener, flat screwdriver, file, wood saw, bottle opener, seat belt cutter, and fire starter, all into one tiny unit.
Even better is the fact that a portion of the proceeds from all sales are being donated to fund the Warrior Spirit Retreat, which is truly proof that great things really do come in small packages!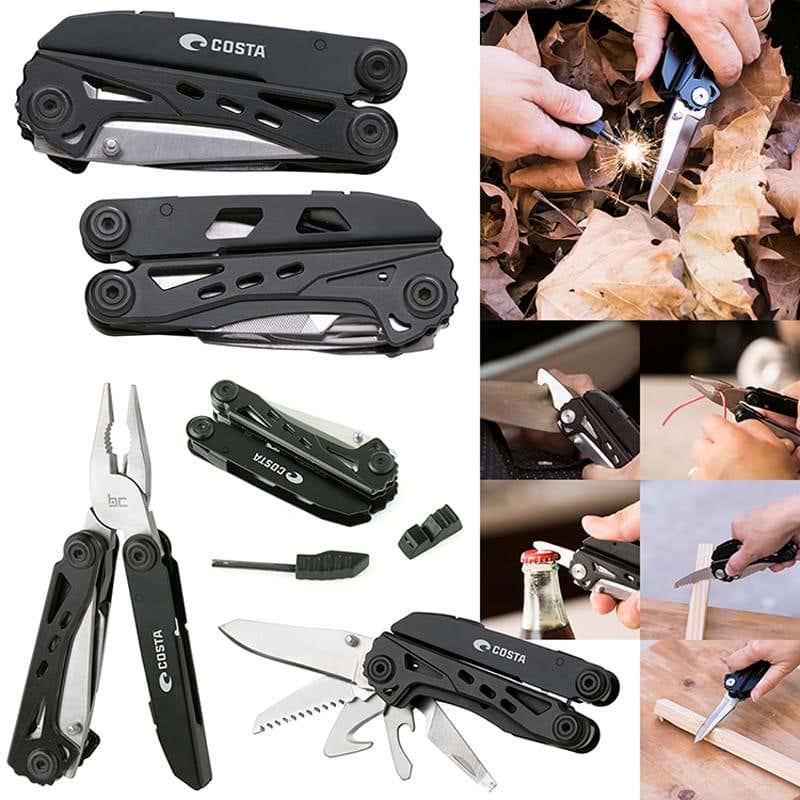 ---
The YETI Hopper Flip 12 Personal Cooler
Much like all those hard-working truckers out there, YETI has developed a reputation for making incredibly rugged products that go well beyond the basic call of duty, and the YETI Hopper Flip 12 Personal Cooler is certainly not your average lunch bag.
Featuring a totally leak-proof design, this coolers characteristic cubed body and wide-mouth opening makes it as convenient to loading and access to your food and drinks as it is to carry along. The perfect companion for an unpredictable lifestyle, this cooler offers the type of extreme insulation that is built to perform in all types of conditions, rain, snow or shine.
---
Driving Appreciation Week Celebrations Made Easy
If you are ready to kick off your driver appreciation week with the most unforgettable gifts for truck drivers to show you care while ensuring that they stay safe and comfortable on the road, we are here to make it happen.
Our promotional experts and design team make the process of creating branded gifts for truckers a breeze, and our talented design team is always standing by to help you create the perfect type of message that will truly make an impact. We will even send out a free sample just to make sure that you love the way the finished product looks, and offer plenty of 24-hour rush delivery options to help you keep up with a fast-paced lifestyle, so come check out our amazing selection to find out more.