What are the Best Corporate Gifts for Clients?
With custom corporate gifts,  it is 100% about exceptional thoughtfulness and personalization of the gift for your recipient. So how do you build that lasting emotional bond between you, your brand, and your services? Let's dive in.
Here's Why Corporate Gifts for Clients Keep on Giving
If you are not investing in corporate gifts for your clients in 2020 and beyond, you might want to rethink your strategy. Choosing to give creative client gifts is not only the type of gesture that will really set your brand apart from the pack, but it is also the type of smart long-term strategy that ensures that your brand is always at the top of your clients' minds when they need they need it to be.
In fact, some studies have found that vendors that choose to give out corporate gifts for clients actually have twice as much chance of being contacted by the recipient in the future, and those are the type of odds that are worth the investment. Even better, people tend to boast a whopping 85% brand recall when it comes to being gifted a promotional product, and over half of those who don't use a product are still going to pass it on to somebody else.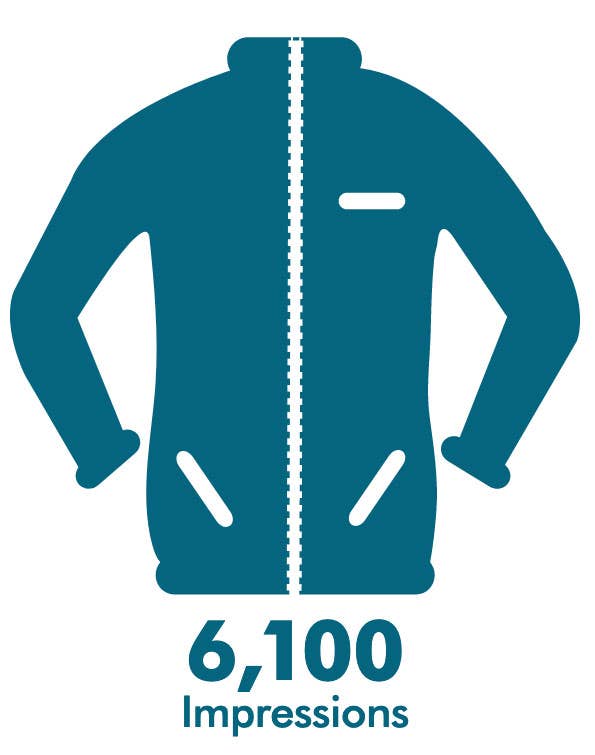 Some categories of promotional products, like outerwear, for example, generate a whopping average of 6,100 impressions over their lifetime, and with prices starting as low as 1/10th of a cent per impression, corporate gifts for clients are a great way to make sure that your brand leaves its mark.
Combined with the simple principle that receiving unique clients gifts is not only going to make people feel good about your company, but also make them feel naturally compelled to want to give back, this helps explain why the promotional product advertising is still the most effective and affordable way to generate both brand exposure and long term loyalty. Essentially, if there is one big takeaway here, it is that corporate gifts for clients really are the type of gift that keeps on giving. 
Some Helpful Tips to Think Up the Best Corporate Gift Ideas
So, now you know why corporate gifts for clients are a great way to put your money to work in a way that will really pay off, we want to give you the inside scoop on the type of best corporate gift ideas that will set you apart from the pack.
If there are a few main things to keep in mind when coming up with the type of unique client gifts that will really stand out in 2020, they are to shoot for the products that are either highly attractive, highly usable or high-quality. This also means that the secret to really nailing it when it comes to the best corporate gift ideas is to cash in on the type of creative client gifts that nail all three of these key attributes in one.
So, at this point, with all that amazing branded swag to choose from, you might be wondering where to start.
We have still taken the time to assemble a list of some of the most killer categories for the best corporate gifts that everybody wants to get their hands on in 2020 and beyond, so you should have no trouble nailing down the type of unique client gifts that your clients are going to be thrilled to receive and proud to show off.
So with all that in mind, let's walk you through some of the best corporate gift ideas that anybody and everybody will love.
Make a Surefire Lasting Impression With These Unique Client Gifts
Looking for the best corporate gift ideas that everybody wants to get their hands on in the new year? You have come to the right place!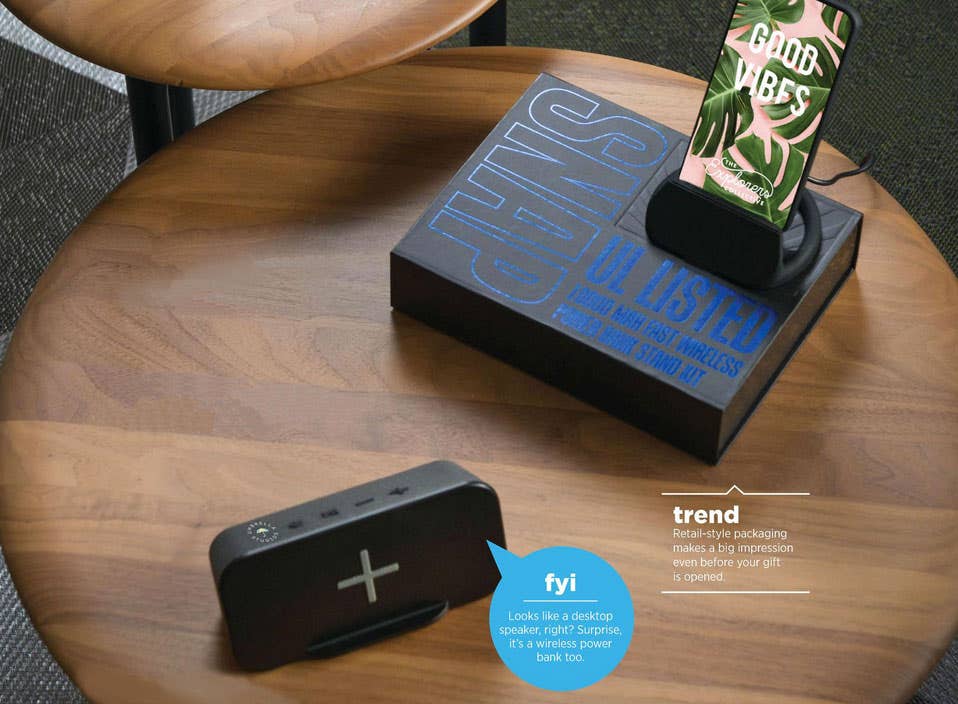 Tech Gifts to Go
It may come as no surprise that tech branded merchandise is super hot. However, if you really want to max out on your exposure, you want to be sure that your clients can take their tech swag on the fly. After all, the more impressions the merrier, especially when you are rocking the type of unique client gifts that are bound to turn heads wherever they go.
Take, for example, this gracefully understated Boost Wireless Charger Speaker. Combining two of the hottest tech items, portable Bluetooth speakers and wireless charging technology, all in one, these types of ultra-handy multipurpose items are the type of corporate gifts for clients that everybody and anybody will be able to put to use. Not to mention the fact that it is lightweight and portable enough to literally take anywhere, and even comes with a built-in wrist strap to maximize convenience.
Or, for a pick that is as affordable as it is elegant, check out this one-of-a-kind Leather USB Flash Drive available in your choice of four chic color picks offset by a stunning silver overlay. A USB drive the type of practical and functional gift that everybody loves receiving, so why not dress it up in this stylish leather motif case that your clients will love to show off? These types of unique client gifts really are a win-win for everybody.
---
Outdoor Adventure Gear
When it comes to the best corporate gifts in 2020, multi-versatile outdoor adaptable gear is another surefire win. After all, recent years have seen more and more people are looking for ways to bring more of the great outdoors into their day-to-day life, whether it is in the form of a fun weekend getaway or a simple picnic in the park.
Needless to say, top quality outdoor brands like YETI, Camelbak and High Sierra have likewise blown up, and this means that these types of highly-versatile and incredibly durable products are bound to be appreciated.
For example, check out this nifty Modesto Picnic Carrier Set that will allow your clients to enjoy the finer things in life wherever they are, whether it is an office lunch, a fun outdoor gathering or a camping adventure alike. This handy seven-piece set comes with everything that your clients need to really entertain a crowd, including a wooden-handled wine opener, two stainless steel knives and forks with polished wood handles, a polished wood cutting board, zippered canvas wrap and canvas tote that holds up to three bottles of wine, not to mention your gorgeous branded logo design screen or full-color logo for everybody to see, so let the celebration begin!
Meanwhile, this Rover Camp Mug 14oz 2 in 1 Gift Set not only comes wrapped and ready to give away in a gorgeous gift box, but it comes with two high-quality stainless steel, copper insulated covered mugs emblazoned with your choice of precision screen printed or precise laser engraved logo design front and center. Perfect for outdoor excursions or office and home use alike, this top-of-the-line mug is designed to keep hot beverages and cold beverages cold for hours on end and is available in your choice of four eye-catching color picks to boot.
---
Eco-Friendly First
As we head into a new decade, adopting an eco-conscious attitude is in, and as such, aligning your brand with sustainably produced, biodegradable and eco-friendly creative client gifts is one of the best ways to make the right type of lasting impression on your clients. Don't just take our word for it though. Recent research has uncovered that 42% of consumers are likely to have an even more positive impression of companies that align themselves with environmentally friendly branded merchandise.
For instance, this sustainably produced Natural Hammock is made of high-quality materials like 100% cotton and wood and is perfect to hang in the backyard or take on the go on and outdoor adventure, and thus, also the type of smart creative client gifts that really hit two birds with one stone.
Or take this eye-catching Hydro Flask 18 oz. Standard Mouth Water Bottle. Available in a range of six stunning color picks to perfectly offset your precision pad-printed logo, these high-quality custom water bottles are all the rage in 2020, allowing people to cut down on their use of disposable containers while locking in their ideal beverage temperature for hours on end. Needless to say, top-of-the-line branded water bottles the type of thing that your clients will be proud to rock wherever they go.
---
Bonus Tip: Take Advantage of Top of the Line Co-Branded Products
Pst… We are going to let you in on one last insider secret before you get started, and this is that you can't go wrong when you choose to combine your creative client gift with brands that have already in high demand.
The reasoning here is actually pretty simple. These brands have already done the groundwork in establishing the reputation for locking in the top-of-the-line quality, function and attractiveness that people want, and this is why associating your own brand with these types of products that everybody really wants to own is an easy win.
Remember that when it comes to finding the best corporate gifts for your clients, we are here to make your job easier. Not only do we have all the top brands like Apple, Nike and Anker, that people really want to own, but our simple online upload tools make the ordering process a breeze. We will even send you out a free sample of your unique client gifts just to make sure we nail it.
Don't forget that we have tons of great rush delivery options available, and we love doing custom products, so don't be afraid to reach out to us with your one-of-a-kind concept today. We can't wait to make it a reality.