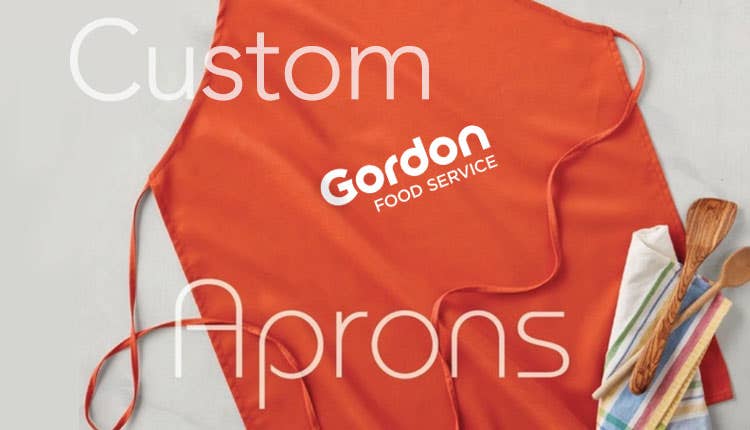 The Ultimate Guide to Custom Printed & Embroidered Aprons
Looking for a unique, fun way to show off your company's logo? Custom aprons will have your brand prominently on display at restaurants, special events and most importantly in your clients or coworkers homes.
Here's Why Custom Aprons Are Hotter Than Ever
When it comes to getting the most out of your marketing budget, promotional products beat out all other forms of advertising. Not only in terms of generating countless brand impressions but also in terms of cost-effectiveness. The promotional product industry these days encompasses a lot more than just the t-shirts and pens, more and more people are seeking out the type of branded swag that they love to use.

Not only are promotional aprons useful, but they also allow for your branded logo design to steal the show at your restaurant, corporate event or simply in your clients' backyard. This helps explain why branded promotional gear like custom aprons have become so essential to the corporate and small business landscape alike in recent years, namely in terms of building the type of brand that people are bound to remember. 
Even better, custom aprons also make for fun corporate gifts that your employees and clients will really enjoy. These types of products are the type of thing that people really love to have around, and are bound to show off when they receive them. 
Personalized Custom Aprons for an Unforgettable Front-of-House Experience
When it comes to making the right type of impression, your restaurant's branded image is everything. When your clients see that eye-catching branded logo emblazoned on the cool custom aprons of all of the employees, they will also be reminded that they have come to the type of place that offers a one-of-a-kind dining experience.
Looking for some inspiration?
Your front of house workers will always be putting their best face forward when sporting these elegant and understated Port Authority Easy Care Waist Apron With Stain Release. Since 1994, Port Authority has established itself as a classic in terms of producing high-quality apparel that is designed to stand up to the rigors of the day-to-day grind, and their selection of classic black front of house aprons are no exception. That said, anybody wanting to maximize convenience and ensure that no stain can slow their staff down can also opt for this nifty Reversible Waist Apron version instead.
Each of these custom aprons is designed to be just as low maintenance as they are durable and versatile. Featuring top-of-the-line stain stain-resistant technology and a smart three pocket design that will allow workers to keep everything that they need at the ready, it comes complete with your choice of a screen printed or embroidered logo design of your choice. Even better, the minimum order quantity is only 12 units.
To cultivate a more upscale vibe, the classic design of the Port Authority Easy Care Tuxedo Apron allows for the perfect way to show off your restaurant logo in a timeless style. With a minimum order quantity of only 12 units in order to qualify, you get to choose between your choice of a stunning embroidered, screen printed, full color or heat transfer logo design to make sure that your upscale restaurant brand is showing up in style.
Anybody looking for a smart budget option can always opt for this stylish and versatile canvas Value Leader Waist Apron. The simple white background is the perfect way to offset your logo design front and center in high-quality precision screen printing.
Look Who's Cooking: Branded Custom Aprons to Make a Lasting Impression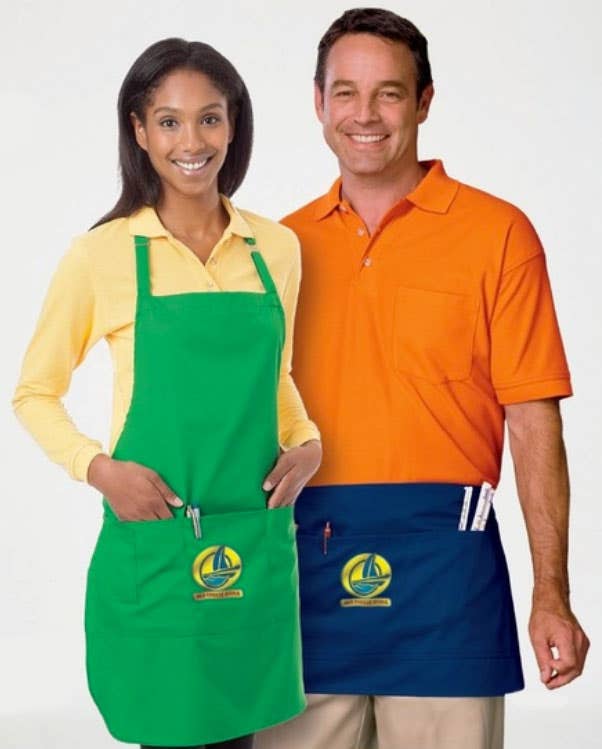 Whether for a special event, cooking competition or to give your kitchen staff the edge that they need to stand out, custom branded aprons are the way to go. Even better, with such a wide range of stylish designs that are as functional as they are eye-catching, there is no better way to make sure everybody knows just who is doing all that amazing cooking than with your own highly personalized custom apron design.
Take, for example, the stylish contemporary Denim 3-Pocket Apron. Anybody wanting to rock their corporate event or have their back-of-house staff showing off in style won't want to miss out on the inherent durability of this denim-chic design. The straps are fully adjustable to fit almost any body type, and three large front pockets ensure that your cooking staff will have everything they need to really light it up with your precision screen-printed logo-design front and center.
Speaking of style, this Charlie Cotton Grill Apron is right on point with the latest trends. It's not all about the looks though. Featuring multiple pockets, a water bottle holder and a built-in bottle opener, every chef will always have everything that they need right at their fingertips to command the grill and put on a great show.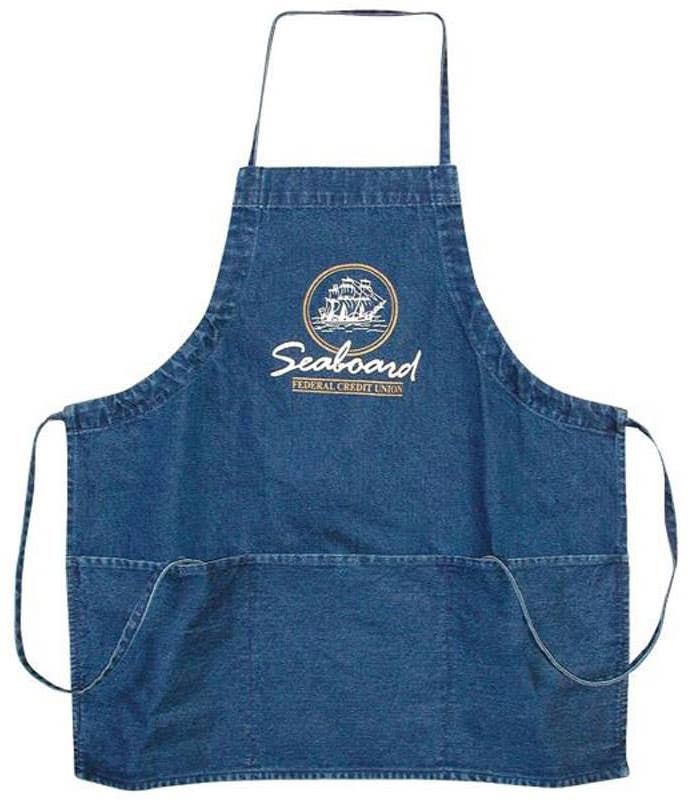 That said, anybody wanting to keep it as simple, affordable and elegant can always opt for this Non-Woven Full Apron Design. Available in three cool color choices with screen printed or full-color logo design options available, these cool custom aprons are as versatile as they are affordable.
Or checkout this 100% Cotton Full-Length Apron is at once classic and contemporary and comes complete with your screen printed, embroidered or full-color printed logo mounted front-and-center over a convenient middle-pocket design.
Keep in mind that eco-consciousness is in, and anybody who wants to show off their brand's sustainable politics in style won't want to miss out on a chance to rock this Organic Cotton/Recycled Polyester Blend Eco Apron. Available in three handsome color picks of oyster, black or navy and featuring a stand-out screen printed, full color or embossed logo mounted in a position of your choosing, this is the type of look that will leave a lasting impression in more ways than one. After all, the latest research has found that 42 percent of consumers will have a more favorable opinion of products that are eco-friendly, so this really is a win-win for everybody!
For a sure-fire seasonal crowd-pleaser, the Santa's Apron is the perfect way to spread some festive holiday cheer at your next event, featuring a fun embroidered-buckle and your screen printed logo design, any chef who sports this is bound to serve up some smiles.
The Ideal Corporate Gift Any Time of the Year
Everybody eats, and this is why custom aprons are the type of branded gifts that your employees and clients are bound to get plenty of use out of. Not to mention, it will also give them a chance to put their cooking skills and your logo at the center of attention at their next backyard BBQ or dinner party event.
---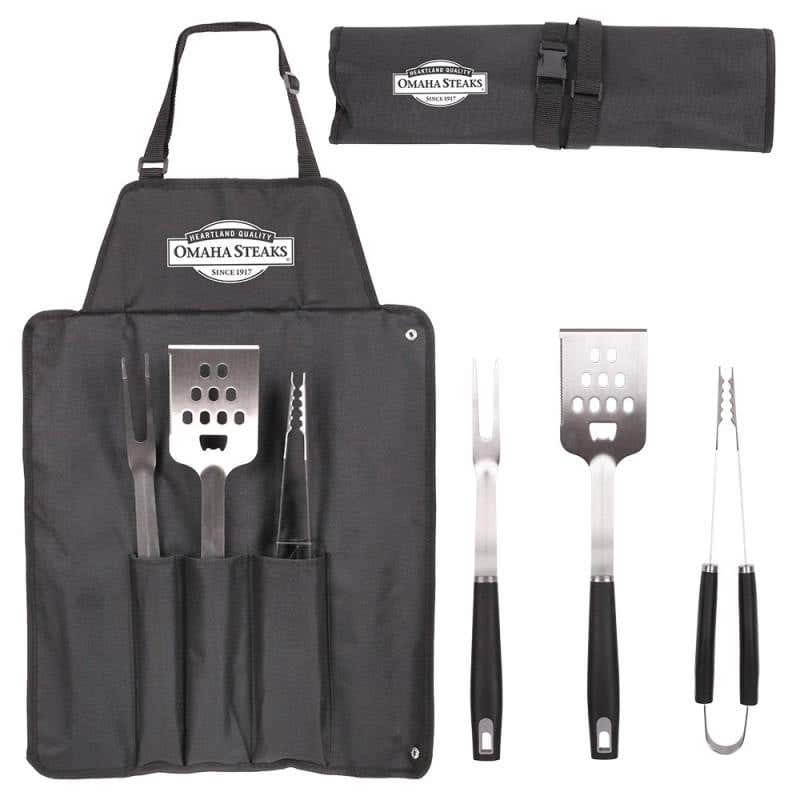 ---
With that in mind, any at-home-chef is bound to appreciate this equally multifunctional and stylish Grilllight Magnetic Apron. This innovative design actually boasts built-in magnets to ensure that metal cookware stays in place in those pockets no matter what.
It also comes fully decked-out with a built-in bottle holder, beer opener and even a nifty cell phone pocket so everything that your employees and clients need to impress in the kitchen is always right at hand. This is the type of cool corporate gift that hits all the bases in terms of the quality, utility, and attractiveness (the key things that people really want in their promotional products).
Speaking of hitting all the bases, this BBQ Now Apron and 7-Piece BBQ Set comes complete with everything that your employees and clients need to hit the grill running, including your personalized screen printed or full-color label front and center.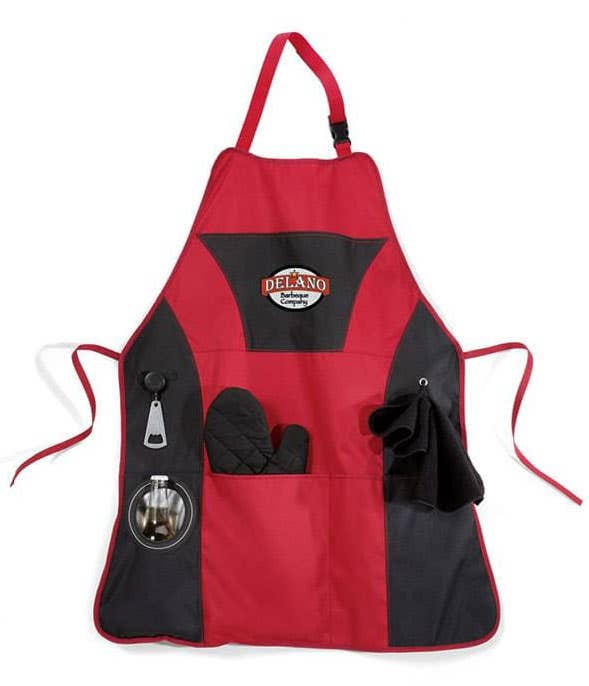 Meanwhile, this Super Grill BBQ Apron Set comes complete with three high-quality grilling instruments all snuggly fit inside three tailored pockets with fully adjustable straps to fit almost any type of body. In terms of multi-function versatility, the Grill Master Apron Kit is another fun pick. It comes in a range of four eye-catching color choices with your logo screen printed, embroidered or heat transferred across the front.
These types of multipurpose items are the type of thing that people love to show off and are bound to be a conversation starter. That said, anybody looking for some budget-friendly alternatives can also check-out this Chef's Therma Grip Striped Oven Mitt and Striped Apron Combo. Featuring a bold striped design in three cool color picks, everything comes pre-wrapped in a ready-to-gift package that makes for a corporate giveaway to remember.
Meanwhile, this nifty Fold-Up Apron is the type of trade show or giveaway swag that will help your brand stand out from the crowd, offset against one of four eye-catching color choices that wraps up into a neat portable package to maximize impressions.
The Takeaway: Sport Your Logo in Style With One-of-a-Kind Custom Aprons
Custom aprons are sure to make you and your one-of-a-kind branded logo the star of the kitchen, corporate event, cooking competition, restaurant scene or backyard BBQ alike! Our heavy-duty custom pocket aprons, available in a variety of colors, are the perfect complement to your cooking skills. They're practical and professional-looking, and they'll be sure to make a great impression on your guests.
Our design team can easily add your artwork or branding to your aprons and we'll send you a preview of your design to make sure it's exactly what you want. Design your custom aprons with iPromo today.