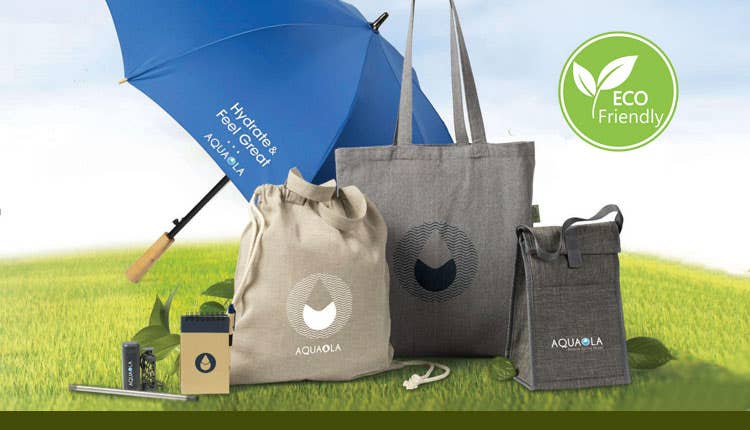 Why Eco-Friendly Promotions Are the Smart Way to Brand in 2020
Whether you've been keeping up with the latest marketing trends or you haven't been, you've probably recently noticed a significant increase in the popularity of eco-friendly products as of late. According to the findings from a recent survey conducted in November 2018, as many as 88% of consumers across the U.S. and UK want companies to help them be more environmentally-friendly and ethical in their daily lives. From an environmental perspective, this is definitely great news!
Are Enough Companies Being Eco-Friendly?
However, as part of the same survey consumers were asked whether brands were helping them or making it more difficult for them to be more eco-friendly. The highest majority of consumers who answered (at 43%) reported brands were making it more difficult than easy to achieve those desires. In comparison, only 28% reported brands were making it easier to be environmentally friendly and 29% reported they didn't know.
These findings prove that consumers nowadays do have the desire and intentions to be more eco-friendly with their purchase decisions. They want to help the world take better care of the environment and create a healthier, more sustainable planet.
And while there are certainly companies that are developing sustainable business strategies, corporate missions and practices, it seems like there might not be enough. We need to do more to create eco-friendly products that help customers achieve their desires and develop a reputable name for our brands.
Why Eco-Friendly Promotional Products Are the Smart Way to Brand in 2020
As a marketer, when you're creating promotional products you want to take trends and changing consumer preferences into account. While it's clear that consumers want products that help them become more sustainable, are there any other reasons that would drive companies to create eco-friendly promotional products? Yes! Keep reading to discover a few of the benefits of branding yourself as an eco-friendly company by giving out the right promotional products.
Improve Your Brand Image
Considering how many conscious consumers exclaimed they want sustainable products, by handing out eco-friendly promotional products and gaining exposure for your business in a sustainably conscious way, you will come across as very attractive in today's market. You might be handing out the same high-quality and utility products as another company nearby, but if yours are good for the planet, lots of consumers will want to keep yours, instead.
They'll feel good about owning them, because they align with their values and will make them feel like they're doing something good for the planet. Consumers will also think that your company has good values, morals and beliefs and cares about more than just making money, and has goals that aren't solely profit-driven.
Attract Loyal Customers
According to a study conducted by Nielson in 2015, as many as 66% of consumers (demonstrating an 11% increase in growth from 55% in 2014) are willing to pay more for products that are sold by socially responsible companies. Once consumers figure out your company gives out eco-friendly promotional products, they will admire and trust you more than before.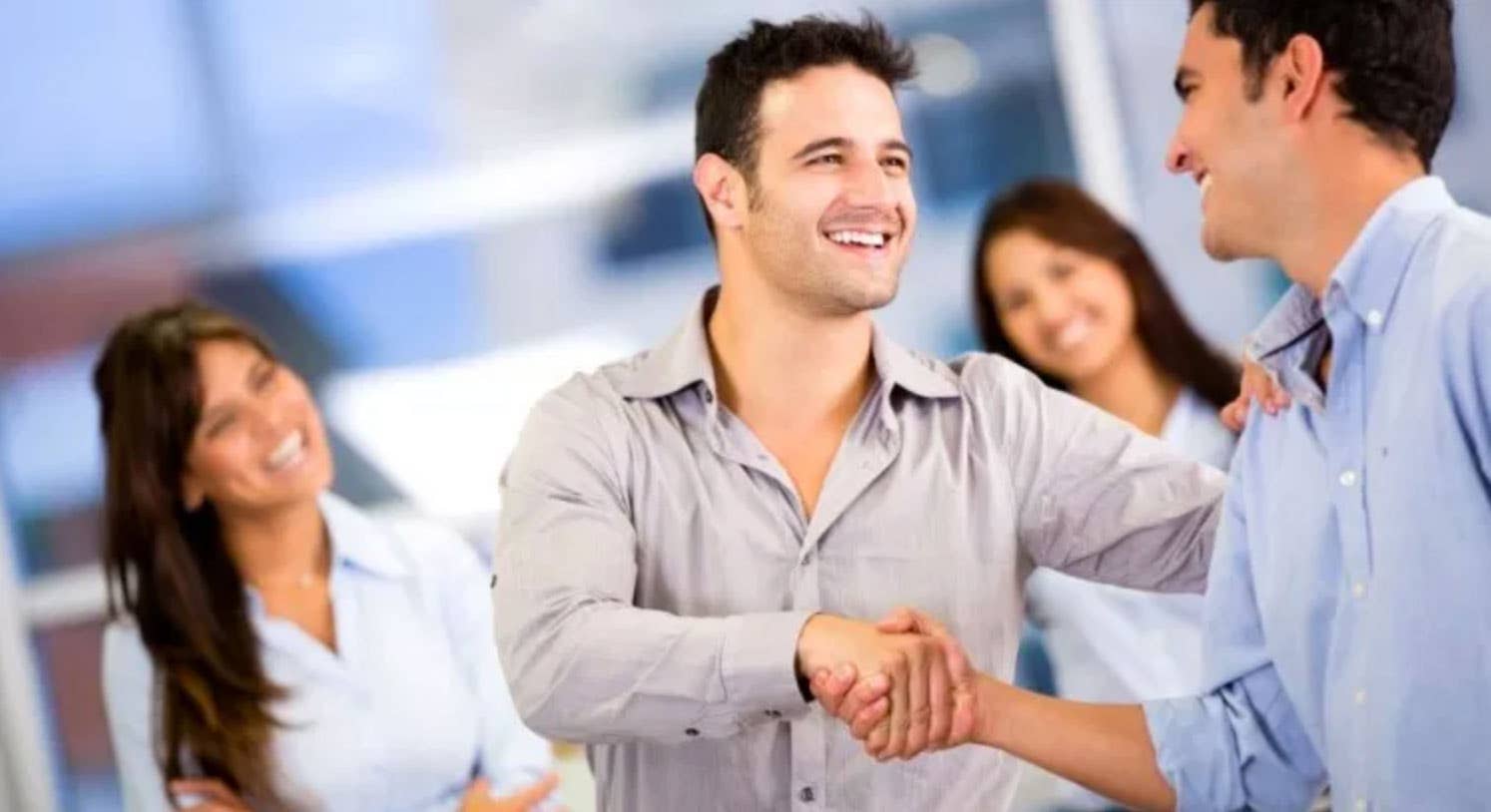 With green marketing in particular, trust is vital for customers. As you attract these consumers you're more likely to build trusting relationships with them which will turn many into loyal customers. Loyal customers are also more likely to spread positive word-of-mouth marketing to other environmentally conscious consumers around them (friends, family, and coworkers), which will generate powerful exposure for your brand.
Potentially Save Costs
Contrary to popular belief, going green actually has the potential to save your business money. This could be saving money on training and retention costs by attracting employees who are driven by your company's mission and want to stay a long time, as a sense of purpose is one of the most important factors for employees in the workplace.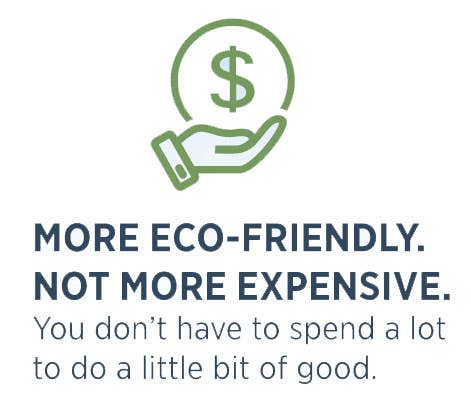 It could be becoming more conscious of your materials and creating more minimalistic products as a result. Or you could save money by attracting customers who are willing to pay more for sustainable goods. By creating eco-friendly promotional products you can actually cut down costs or generate higher revenue. Handing out eco-friendly products shouldn't be something you do only for your customers – it should be something that you want to do, too.
Overall, marketing eco-friendly promotions will do wonders for your business. Your products will appeal to customers and they will gain interest in your brand, you will develop a strong, reputable brand image, and you might even save costs by going eco-friendly.
What Are Some Effective Eco-Friendly Promotional Products?
Now that you understand the significance of eco-friendly items, you're probably wondering "which environmentally friendly promotional products will be the most effective?" Check out a list of ideas below.
Eco-Friendly Drinkware
Drinkware has one of the highest product ownership rates for promotional items, with 88% of U.S. consumers having reported owning promotional drinkware. This proves that products in this category are definitely a go-to when handing out eco-friendly giveaways. And you don't have to limit yourself to bottles or mugs – you can hand out all types of items related to drinkware.
For example, with states like California banning the use of plastic straws, handing out Squirtle Telescoping Stainless Steel Reusable Straws would come in handy. They're collapsible, durable, and eco-friendly – everything you'd want in a reusable straw. Stainless steel is 100% recyclable and reusable, which definitely beats single-use plastic straws.
Another example would be the 13 Oz. Ceramic Mug With Silicone Sleeve, which is suitable for the majority of drink holders and makes it safer and easier to hold hot beverages. Silicone is a good environmentally friendly alternative to plastic, and replacing disposable sleeves with a permanent, reusable one will certainly benefit the earth. And there is also the option to give out reusable water bottles, of course, to replace all the plastic that's going out into the environment.
Eco Shopping Bags
Reusable shopping bags are a great alternative to disposable plastic bags. However, when they're given out too frequently and are thrown out by consumers, they can be very harmful to the environment as well if they're not made of the right material. This Non-Woven Shopper Tote Bag is made of coated water-resistant polypropylene material, which is a more eco-friendly alternative to regular plastic. It's reusable, recyclable, and can be used for a variety of different purposes – for books, groceries, and for all kinds of different goods.
Sustainable Notebooks and Journals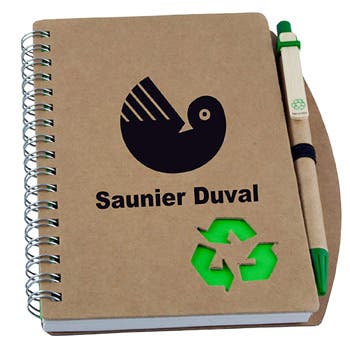 While notebooks and journals are so useful and are used by people of different ages, occupations, and interests, they do use up a lot of paper in production. Luckily, nowadays there are eco-friendly alternatives to these popular items, with more notebooks taking the conscious consumer as well as the health of the planet into consideration.
For instance, this Eco-Friendly Recycled Cardboard Notebook is created using recyclable, biodegradable material, and is a great alternative to your typical notebook that's made of regular paper. There are also other journals with cork and polyurethane covers, which are stylish, natural, and renewable options for eco promotions, not to mention how trendy and aesthetically appealing they have become in the market.

Dining Sets Made of Sustainable Materials
If you're searching for sustainable promotional eco-friendly corporate gifts, a good idea could be a kitchen or dining room set made of sustainable material. For example, this Lorenzi 4 Piece Bamboo Cheese Tray is the perfect gift for clients or managers who love wine and cheese.
Not only does it fall under FDA regulations but it's made of bamboo, which has become very trendy in a variety of different industries recently. Bamboo is known for being eco-friendly and stylish, which makes the perfect combination for a corporate gift. Plus it's classy, high-quality, and eco-friendly – how could the recipient not love it?
Eco-Friendly Lunch Bags
When searching for an eco-friendly lunch bag, it's important to find one that produces zero to low waste and isn't harming the environment. This Woven Paper Lunch Bag is the perfect lunch bag to take to work or school, as it's made of 95 GSM eco-woven paper and foil laminated with PE foam insulation, which is lightweight, flexible, and strong.
The bag also has a hook and tab closure and a spot/clear air dry mechanism. The bag is light and thin and won't take up too much space if you're stuffing it in a backpack or carrying it to work or school every day. This is also a great environmentally friendly alternative for those who pack their lunch in regular plastic bags every day.