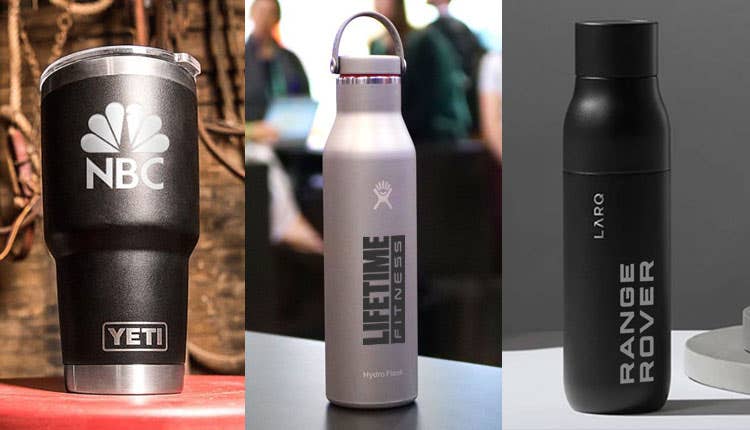 Looking for the best way to keep your brand in people's minds (and lips)? These red-hot custom water bottle brands may just be your way in.
Understanding the Meteoric Rise of the Hot/Cold Bottle
If you are still toting around lukewarm water in store-bought water bottles, you are missing the boat in more ways than one. The hot/cold water bottle or beverage container has seen a meteoric rise in popularity over the past few years, and unlike some more fickle trends, people have a lot of good reasons for jumping on board and investing top custom water bottles.
One of the first and most pressing reasons that everybody is jumping on custom water bottles because they are an environmentally friendly alternative to the one-time-use disposable beverage containers that are clogging up our oceans and landfills. As global warming becomes an increasingly real threat, everybody is starting to find new ways to do their part to preserve the planet, and investing in high-quality custom water bottles is one of the easiest things you can do to move toward a more sustainable future.
The great news is that your clients, employees and partners will thank you for it too. After all, people are 55% more likely to have a favorable opinion of a brand that associates themselves with eco-friendly promotional products. This is why branded custom water bottles are truly a win-win for everybody.
Needless to say, yet another big reason that people love custom water bottles is convenience. Top brands like YETI water bottles not only manufacture their products to be portable and versatile but also durable. This means that these types of products not only feature the type of high-tech capacity to keep your water ice cold and your coffee steaming hot whenever and wherever you are, but they also won't spill, leak or shatter. Top-of-the-line brands like Hydro-Flask and YETI water bottles take it one step further with dual insulation technology that ensures hot beverages stay hot and cold beverages stay cold for freakishly long time periods. This is why people want the best!
Likewise, when it comes to living a busy lifestyle on the go, people really want the type of multi-function products that they can take anywhere, to the office or weekend hiking excursions alike, and these types of multifunction products provide the highest use-value without taking up too much space. Even better, they are designed to look as cool as they are easy to use, and this means that these top-of-the-line custom water bottles hit all of the bases in terms of the type of promotional product that people will actually want to hold on to, so to speak.
In fact, the most recent research from the Advertising Specialty Institute has found that people rank utility, attractiveness, and quality as the top factors that they really want from their branded promotional gear, with quality ranking number one. This helps explain why everybody really wants to get behind the types of brands that have established a reputation for manufacturing the best custom water bottles available when it comes to these types of promotional products.
That said, when it comes to the type of bottles that everybody really wants to get their hands-on, top brands like YETI water bottles, LARQ water bottles and Hydro Flask Water Bottles are the ones to beat. With that in mind, we are going to give you a comprehensive breakdown of the top custom water bottles out there so that you can decide on the best way to represent your brand when cashing in on one of the hottest trends of the decade.
Custom YETI Water Bottles
Over the years, YETI has risen to the top of the water bottle game by consistently producing the type of superior product that people really want to own. Custom YETI water bottles have developed a reputation not only for durability and quality but also for their ability to maintain a stable interior temperature for literally days on end.
Take, for example, this YETI Rambler 26oz Vacuum Bottle. It takes the standard high-quality features like a Triple Haul Leak Proof cap and double-walled insulation of custom YETI water bottles and adapts them for versatile everyday usage. Available in six-fun color picks that any age cohort would be proud to sport, this durable pick features fade-resistant technology that means that your branded logo will be standing out front and center above the YETI name for years to come.
Or, to ensure that your clients get the most out of your custom water bottles, this dishwasher-safe 18 oz YETI Rambler is the perfect companion for navigating rugged outdoor terrain or a long day of travel alike. You get to choose between five cool colors to perfectly offset your precision printed laser engraved logo, and with the versatile functionality offered by this top-of-the-line branded product, you can rest assured that this is the type of thing that your clients and employees will be sporting for years to come. Keep in mind that for even more carrying capacity, this YETI Rambler 36oz Bottle or this ultra-durable  YETI Rambler Half Gallon Jug are also both top picks.
Finally, check out this multi-functional YETI Rambler 12oz Bottle with HotShot Cap. Featuring the famous kitchen-grade rustproof and puncture resistant design that YETI is famous for; it combines this with a 360-degree leak-proof hot-shot cap that doubles as a portable mug or glass on the go. This type of product is perfect for enjoying a steaming hot cup of coffee at the office or sipping on some ice-cold tea on a camping excursion. Anybody who receives this kind of cool gift will be more than likely to reward you with loyalty for life.
The point here is that if you want an easy way to stand out from the crowd at your next trade show appearance or give the type of quality gift that will truly make your clients and employees feel appreciated, you absolutely can't go wrong with these one-of-a-kind YETI water bottles.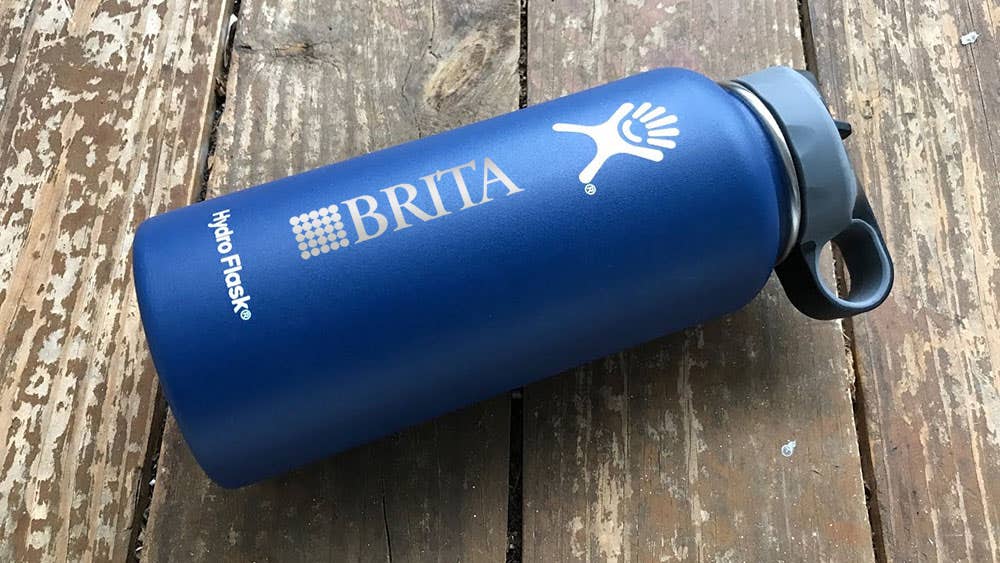 Personalized Hydro Flask Water Bottles
When it comes to high-quality custom water bottles, Hydro Flask was the brand that started it all. This trail-blazer emerged out of Oregon. When people started looking for a better alternative to all those disposable beverage containers, Hydro Flask answered by providing people with the type of custom water bottles that won't leak, spill or let your beverage lose it's temperature over time.
Check out this Hydro Flask 10 oz. Standard Mouth Water Bottle. Available in three eye-catching color choices to perfectly offset your precision pad printed or detailed full-color logo design precision printed over double-wall stainless steel technology, it is an affordable way to get attention in all the right ways.
---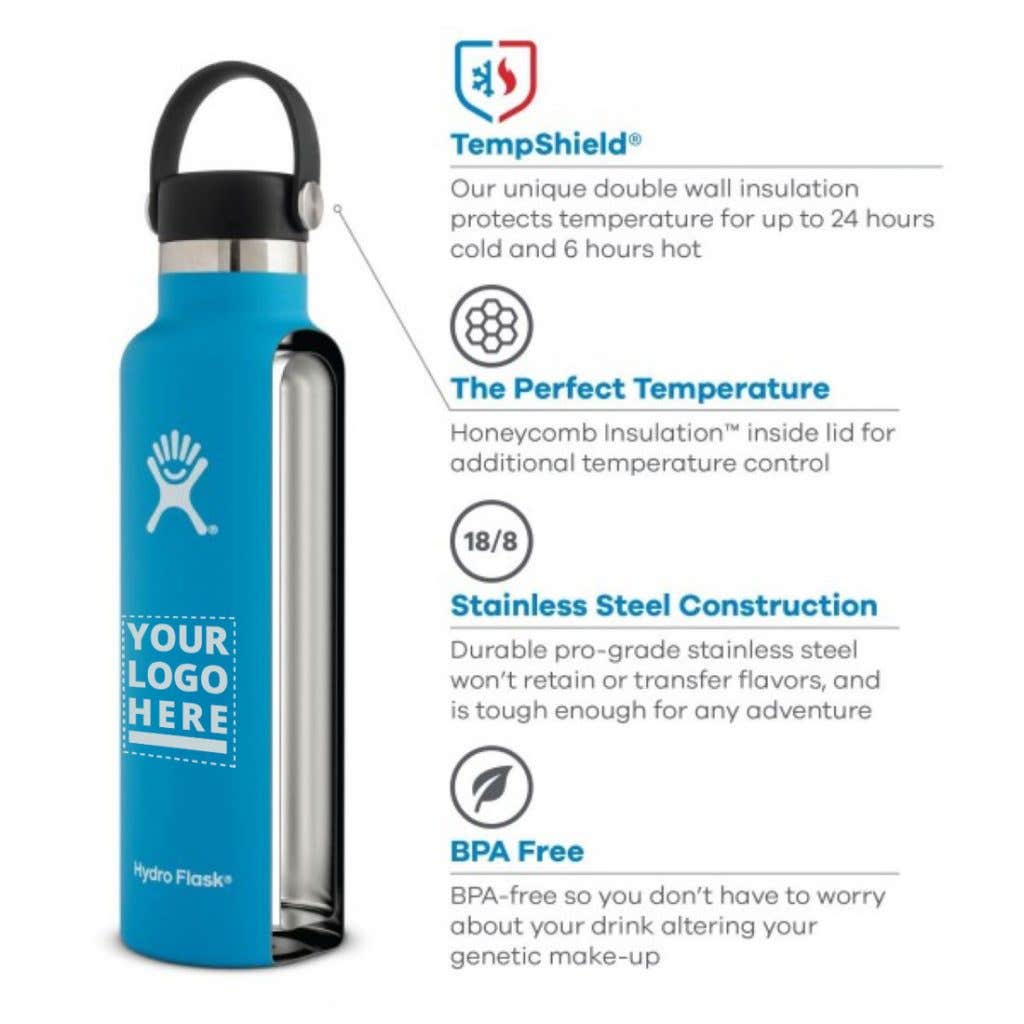 ---
Or even better, this Hydro Flask 22 oz Double Wall Vacuum Insulated Stainless Steel Travel Tumbler Cup is perfect to drink water throughout the day in the office or while traveling in the car. Innovative vacuum seal technology means that you don't have to worry about your beverage getting all over your bag, car or hands. Even better, it boasts the technology to maintain temperatures for up to a full day, all for a very affordable price. It really doesn't get much better than that!
Meanwhile, this Hydro Flask 32 oz. Wide Mouth Water Bottle With Straw Lid will help your clients and employees hydrated while at the beach or hiking in 100% BPA-free style, and is the type of gift that millennial audiences are bound to appreciate.
Needless to say, when it comes to custom Hydro Flask water bottles, we have got you covered.
Branded LARQ Water Bottles
Looking for a sure-fire way to blow the socks off your clients or employees with your next branded gift? Look no further than the self-cleaning technology featured only in branded LARQ water bottles.
This LARQ 17oz Bottle takes custom water bottles to new heights by offering users a full-beverage purification system as well as innovative self-cleaning technology all-in-one. By using UV-C LED technology to insulate their bottles, this bottle will actually remove harmful bacteria, toxins and bio-contaminants from your water while you drink it. It comes with a portable charger and features a stunning two-tone powder coat in your choice of five eye-catching color picks mounted over high-grade stainless steel to offset your logo and do it right with a brand that is built on next-level quality.
Keep in mind that if you really want to maximize convenience and carrying capacity, you can also choose to go with the 25oz version. It may be an investment, but it is the type that is sure to pay off. This is truly the type of gift that people will hold on to for years to come, and show off to everybody while they do it.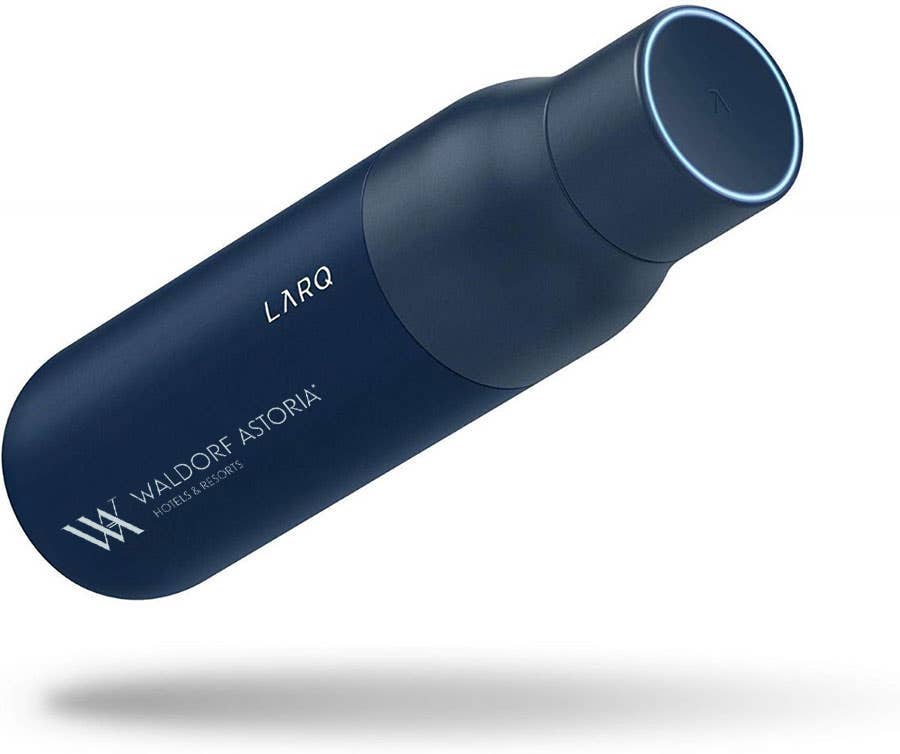 The Takeaway
Whether you are looking for the most in-demand engraved YETI water bottles, the type of high-quality customized Hydro Flask water bottles that are bound to turn heads or the type of top-of-the-line custom LARQ water bottles that everybody wants to own, we have you covered.
When it comes to giving the type of branded gifts that people really want to receive, water bottles are a shoo-in, and our design team will make it a breeze to associate your name with the type of custom water bottles that your clients and employees will be proud to show off.