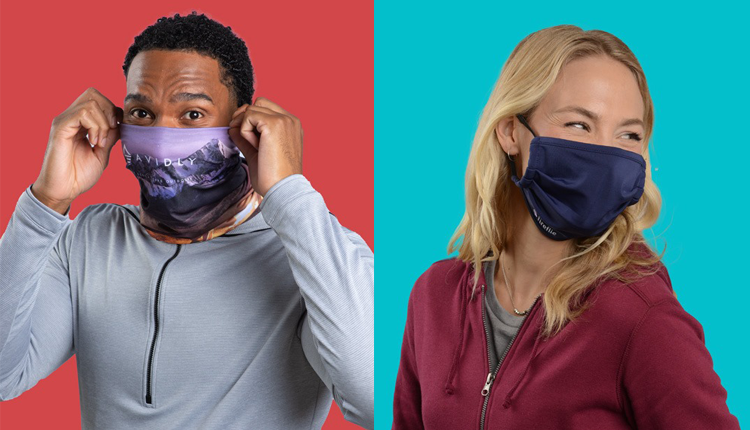 Why Face Masks Need to be Part of Your Reopening Strategy
As businesses and offices begin to reopen, employers across sectors have valid concerns about how they can operate effectively while also ensuring the safety of staff and customers.
There are two types of networks through which the coronavirus can spread that employers need to consider when planning a safe reopening. The first network is person to person (P2P). This happens when two people come in close contact and airborne droplets containing the virus travel from one person to another.
The second type of network is person-object/person-place. This type of transmission can occur when a person sheds the virus on an object or in a place. When an uninfected person enters that place or touches that object the virus can be transmitted to a new host.
Masks are the most effective option at reducing the first form of transmission. A reusable cloth or disposable surgical mask can prevent droplets from an infected person from being transmitted to an uninfected person. This is especially important in environments where asymptomatic or pre-symptomatic carriers will be engaging in physical interactions.  
Many employers are still keeping as much of their workforce at home as possible to slow the spread of the coronavirus. However, for employers in industries where physical interaction is required, such as retail stores, keeping staff at home is not an option.
For business operators who must return their employees to the works site, Ensuring that employees and customers have convenient and affordable access to face masks is a critical component of a good reopening strategy. Face masks have been confirmed to be one of the most effective, widespread interventions that can reduce the spread of COVID-19. There are plenty of affordable options for reusable and disposable masks on the market. The preventative measure of ensuring that all employees and visitors to the site have access to appropriate personal protective equipment (PPE) is more cost-effective than having an outbreak where staff and customers are away sick, and the worksite is possibly closed for public health interventions.
To reduce the risk of the second form of transmission, one strategy is to remove unnecessary items from the working environment. This can include coffee makers and water coolers. Employers can also consider making a few changes to their business practices. For example, using paperless options to reproduce and transmit documents can reduce the need for high-touch items like photocopiers. Using projection to share information during meetings can remove the need for a whiteboard and markers.
There are a variety of products that employers can invest in to reduce the risk of both forms of transmission. iPromo has masks and other tools to help to reopen that can be customized with the design of the purchaser's choice, such as company logos and branding.
Custom Reusable Cloth Face Masks
Effective face masks are the cornerstone of a good reopening strategy. The evidence is now clear that everyone should wear a mask that completely covers the nose and mouth in circumstances where a physical distance of 6 feet cannot be maintained. This includes indoor environments and crowded outdoor environments.
Making masks freely available to staff, customers, and other guests to the workplace can help to make a recently reopened business run more smoothly. This reduces barriers for employees struggling to afford to return to work and eliminates the costly need to send employees home if they have not brought the right equipment.
When stores that are open to customers or clients can provide a face covering, this avoids the need for awkward conversations and turning business away.
iPromo offers a selection of custom cloth face masks to meet the needs of different employment settings and budgets. All options can be decorated with a silk-screen or with full color. With some options, both decoration methods are available.
For example, these Custom-Printed 2-Layer, Cotton-Polyester Face Masks are available in full color and the desired logo or branding can be placed in one location. The mask is made with soft, adjustable ear loops that ensure comfort and a snug fit for each individual.
The Escort Cotton 4-Ply Face Mask is another great washable, reusable option for employers and business operators planning to reopen. The mask comes in four colors: black, blue, red, and white and can be decorated with a screen-print or full color. The ear loops are a polyester-spandex blend, ensuring that it will fit snugly and comfortably behind the ears.
There are many other designs of cloth masks to choose from. Employers and business operators have options when determining which cloth mask is right for their business's reopening.
Mask Holder
In some employment settings, employees will need to wear their mask at some times throughout the workday but not at others. Taking masks on and off throughout the day creates an infection risk if the mask is not handled and stored properly when removed and not in use.
A mask holder is a great addition to a reopening strategy in settings such as offices where employees physically distance at their desks but need to mask their faces in communal settings such as lunchrooms and bathrooms.
This Custom PPE Mask holder is a hook that can be added to an employee's desk or cubicle. It provides employees with a dedicated location to store their masks when they are not in use so that they do not become contaminated from contact with other items.
The mask holder we carry is designed to connect to any desktop monitor. It is available in black or gray and can be decorated with the business logo or branding in full color. The mask holder can be produced in 10 business days.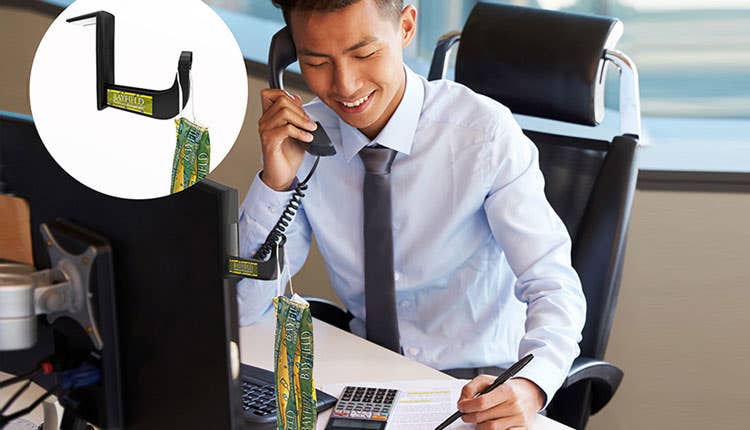 Back to Work PPE Kits
People planning a reopening strategy should consider a back to work PPE  kit. This is a package of PPE where multiple items are bundled. Kits can save employers time and money and reduce the likelihood that important safety equipment will be overlooked.
Different packages can be chosen based on the needs of the employment setting. For example, this Personal Protection Kit – 4 Piece includes a mask, gloves, an alcohol wipe, and a sanitizer packet. It is a great option for restaurateurs who would like to provide diners with complimentary PPE. The items are white and can be decorated in one color with a screen print.
This Personal Protection Kit – 8 Piece comes with two facemasks, sanitizer packets, two alcohol wipes, and a pair of vinyl gloves. It is a great option for high-turnover settings where patrons are expected for a longer stay, such as museums and art galleries.
The Out and About Kit comes with a reusable polypropylene mask. Everything comes bundled in a reusable polyester, drawstring pouch, making it a great option for people who travel to multiple sites for their work, such as people working in construction. It also contains a hand sanitizer packet, a tissue packet, 1 pair of disposable gloves. Additionally, the kit includes an Ergo Stylus Pen, alleviating the need to share this item.
These are just a few examples of the many PPE kits available that support employers and businesses to re-open safely.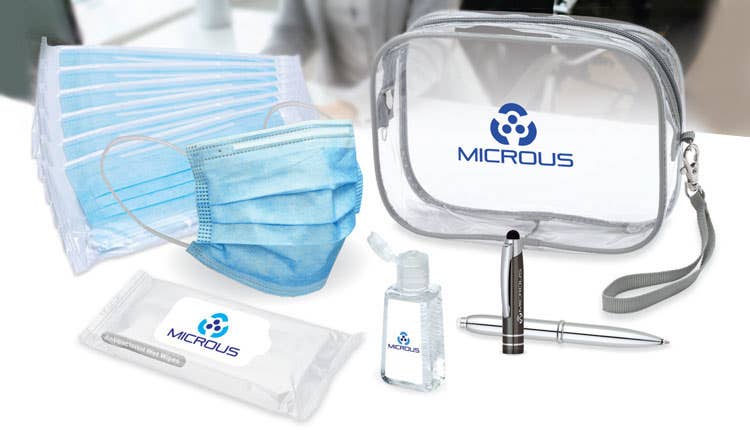 Bulk Hand Sanitizers
A hand sanitizer that is made with at least 60% rubbing alcohol is another crucial component of a safe reopening strategy. Sanitizer should be made freely available and prominently placed so that staff and visitors to the worksite are reminded to use it regularly.
iPromo has a variety of hand sanitizers available. We offer single-use packets, and individual bottles ranging in size from 0.5 to 8 oz.
Sanitizer can also be bought in bulk quantities that can be used to refill smaller bottles and dispensers. Larger volumes of sanitizer are available as well. 
The setting will determine what volume and size of the product are needed. For example, office employers who want to ensure that every employee has a bottle of sanitizer on their desk could consider ordering 1 oz bottles and make a larger volume available for staff to refill.
On the other hand, retailers will want to make sure that they have larger bottles or dispensers available at the store's entrance and check out.
Settings such as banks where communal pens have been traditional should consider converting to a system where customers are encouraged to take a pen if they have not brought their own. We offer a selection of pens that double as hand sanitizer dispensers that can be refilled as needed.
Factors to consider when deciding upon sanitizer needs include the size of the workforce, the volume of customer or client traffic, the duration of each patron's stay, and the type of activities that will be conducted in the setting. No matter the setting, there are options available that allow those responsible for designing a reopening strategy to make sanitizer freely available to all who will be frequenting the environment.
Barriers & Shields
An acrylic barrier is a must-have for settings where staff will be dealing with a high volume of traffic from the public. They are an import method of reducing person-to-person transmission in situations where contact tracing would be difficult if an outbreak occurred.
There are a variety of choices for reopening businesses that need barriers to keep staff safe. Our barriers are made with acrylic or polycarbonate and come in a range of sizes to suit different needs. Thickness varies from 1/8 to ¼ inch and several base materials are available. Barriers can be decorated in full color.  
The ¼" Thick Distancing Barrier with Three Panels is perfect for banks or similar businesses where documents will be passed. It is designed to sit on top of a desk or counter and has a window at the bottom for transferring bills and documents. The acrylic barrier is available blank or decorated in full color.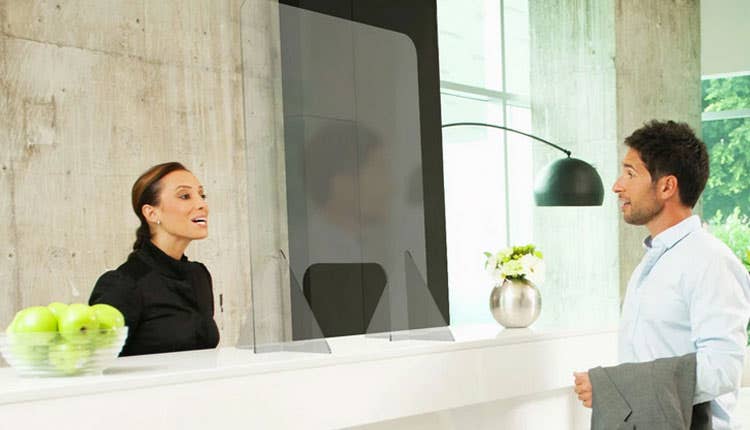 Social Distancing Decals
Social distancing is another important intervention that helps society to make it through the pandemic with as little illness as possible. Business operators who serve the public will need a strategy to manage the flow of traffic through their establishment such that a distance of 6 feet is maintained between patrons at all times.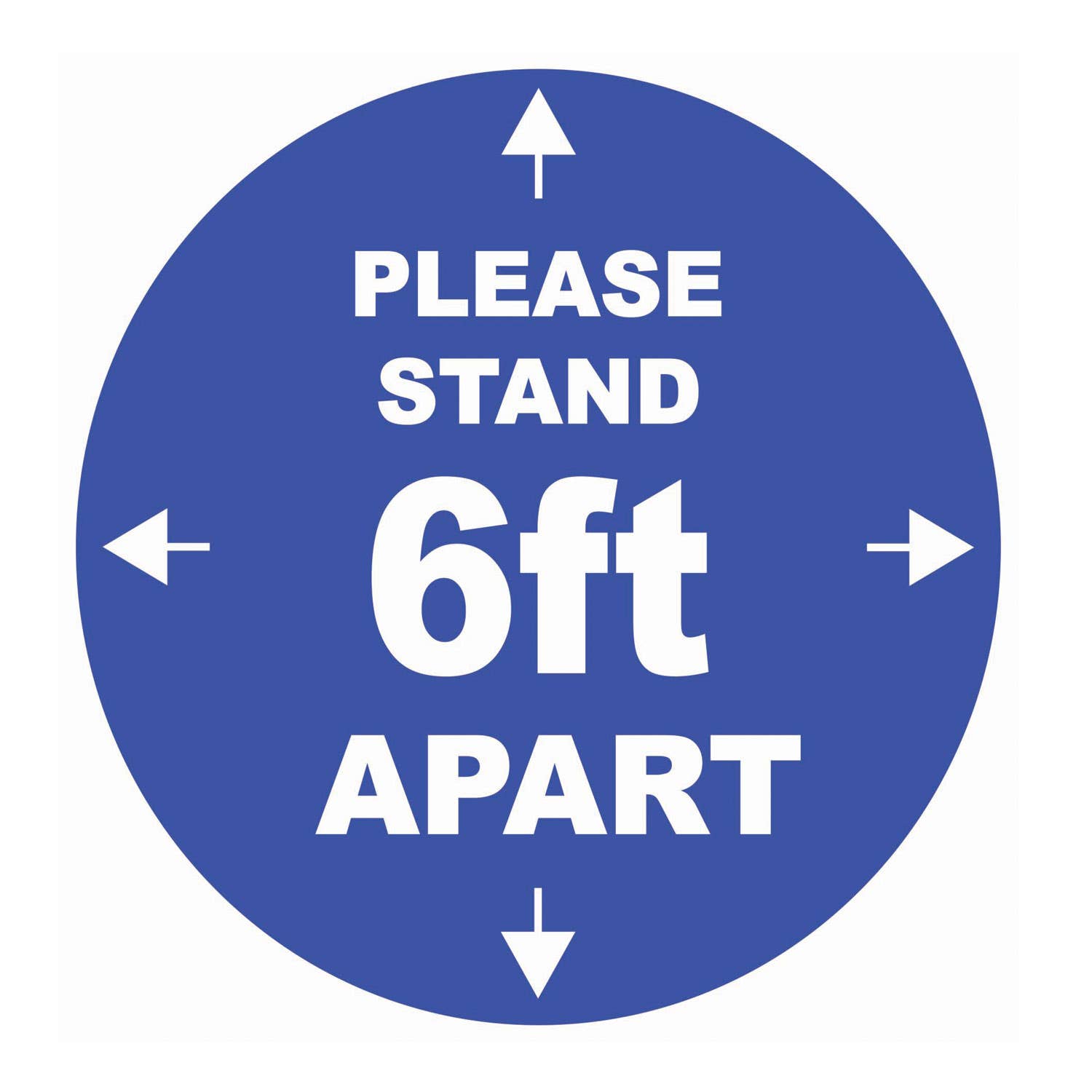 This is of especial concern for businesses where long line-ups are expected, such as grocery stores or banks.
Patrons of an establishment can be supported to socially distance with markers on the floor that indicate where they should stand to be a safe distance from other patrons.
Our social distancing floor decals come in 11 styles. Some are pre-printed; however, these Custom Full Color Social Distancing Floor Decal Stickers are available in full color. In addition to 11" diameter, it is also available in 12" and 9.8" sizes.
There are many things to think about when planning to reopen safely and prioritizing what PPE is needed for a particular business can be overwhelming. Ensuring that everyone has a mask is a good basic starting point and there is support available to help business owners and operators figuring out a comprehensive plan to reopen safely. If you are in search of the PPE that would best suit your establishment, check out our wide variety at iPromo. We are a reliable provider of PPE and other reopening tools that will help you and your business navigate the new norm.