Win The Craft Beer Branding Wars with Clever Brewery Promotional Items
Smart breweries focus on effective swag and custom giveaways to keep loyal drinkers engaged and acting as brand ambassadors for your business! From branded apparel to custom growlers, passionate beer lovers is the best way to promote your brewery.
The Brewery Promotional Products Small-Scale Operations Need to Thrive
To say that the craft beer industry has surpassed expectations would be an understatement. When the craft beer phenomenon first started gaining popularity in the earlier part of the decade, these small scale operations managed to snag an impressive share of the domestic market, and as we roll into the final stretch of the decade, this trend has not subsided. In fact, despite being dismissed by many as a passing trend, craft beer sales have continued to rise on an annual basis and while breweries keep opening up their doors.
That said, there is little not to love about a craft beer. Not only do these smaller-scale operations pride themselves on providing a higher-quality product, but they provide a fuller-bodied, hoppier and all-around more experimental selection than the standard lager and pilsner style fare that has saturated the American market in the past. As it turns out, people were indeed looking for a better tasting beer, and are willing to pay more to try something new or find a new favorite variety.
However, when it comes to figuring out why exactly the craft beer industry has managed to remain so popular in an increasingly competitive environment, we really need to zero in the ability to market their product on a local basis. In a world were the negative effects of cross-border and long-distance shipping is becoming increasingly apparent, both economically and environmentally speaking, the craft beer industry offers a proud, local alternative to those comparatively anonymous big-name vendors.
This also helps explain why craft beer industry promotional products are such a sure-fire hit when it comes to getting the word out on a local basis and beyond. For those smaller-scale breweries that don't have the same scale of advertising spend that the larger operations have, it is important to put those advertising dollars where they will make the best kind of impact possible, and this is why brewery promotional items are the smartest way for craft breweries to generate the right kind of impressions.
---
---
After all, promotional products remain the most successful form of advertising in relation to all other popular mediums, including Internet advertising, which is bound to be approximately 2.5 times less successful than the average promotional product campaign in terms of generating positive product impressions. Even more so, brewery promotional products offer amazing returns on investment, with some items costing as little as 1/10th of a cent per impression.
Even better, beer promotional items are the type of gift that people actually want to receive. Indeed, the time-tested success of promotional product advertising can probably best be explained by the fact that people actually like receiving promotional swag. Not only does the act of receiving a gift bring up good feelings in itself, but these are also the type of things that can provide years of use-value and enjoyment. Talk about a smart way to make a name!
The Must-Try Beer Promotional Items in 2020
Whether hosting a tasting, scoping out the perfect holiday gift ideas or just wanting to stock up on the best swag to serve up a cold one in your brewery, these are the types of brewery promotional products that everybody wants to get their hands on in 2020.
Custom Beer Glasses, Mugs, and Growlers
When it comes to top brewery giveaway ideas, there is no way to go wrong with our amazing selection of beer glasses. After all, every great beer needs an equally fantastic drinking vessel, and we have the growlers, party cups and novelty glasses to cater to any type of occasion.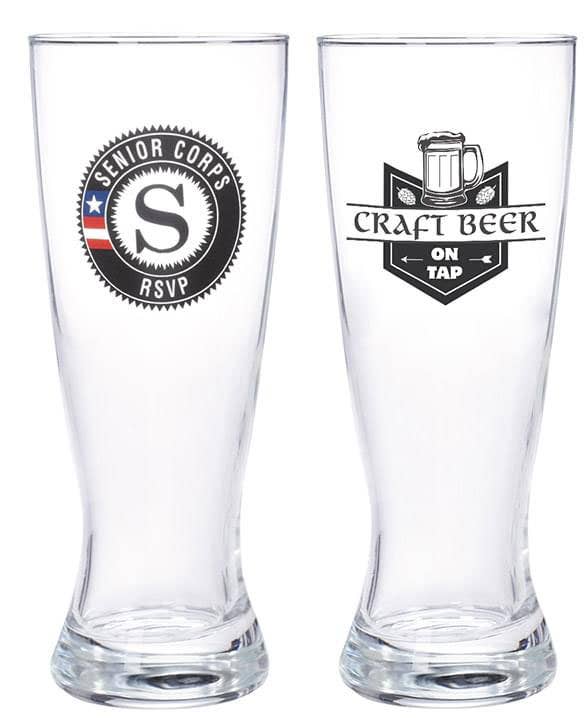 Take, for example, this classic 20 oz. Pilsner Glass. What better way to serve up a pint than in this sleek hourglass-shaped high-standard glass quality pint vessel? With your choice of precision screen printing or stunning full-color printing options available, this contemporary classic is the perfect way to bring your branded label home in style. Or likewise for this stunning 11.5 oz Flare Pilsner glass. This eye-catching shape is the ideal way to serve up a strong beer or a half portion of a favorite brew.
Meanwhile, those wanting to nail down a rustic European old-world feel won't want to miss out on this elegant 16 oz Belgian Beer Glass. Also available in a 13 oz design format, these are the type of craft beer promotional products that will help you stand out from the pack. Of course, when it comes to beer promotional items, every brewery will want to stock up on growlers so their favorite customers can take their branded logo to go, and this impact-resistant tight-seal Stainless Steel Growler. This product is designed to last, and this means that your clients will be taking your logo wherever they go for years to come in this virtually indestructible swing top growler.
For anybody else looking for an easy way to make an impact, this high-quality screen printed 20 oz Haworth Mug is the type of adult gift that almost anybody would love to receive in their stocking this year. Speaking of holiday parties though, don't miss out on the opportunity to stock up on these super affordable Insulated Party Cups. Available in seven super fun color picks, these BPA free cups are designed to keep their contents cold and that delicious beer flowing. On that note, few people would be sad to take home this beautiful Stainless Steel Tumbler with a built-in lid. Talk about an eco-friendly way to take your next event to the next level!
Personalized Can Coolers
Looking for the best way to keep that cold brew cold? Look no further than the iconic Original Koozie Can Cooler.
People have been relying on these highly portable and highly practical can coolers for decades, and when it comes to smart brewery promotional products, this is the type of classic gift and giveaway item that works. Available in 12 eye-catching color choices, your screen printed logo will go wherever your clients do. After all, this is the type of highly portable item that people just love to have on hand, and when it comes to getting your local craft brewery on the map, it is all about exposure.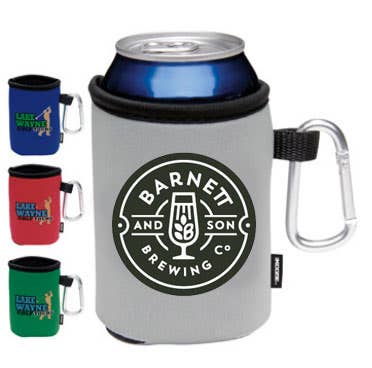 Speaking of convenience though, nothing beats this Collapsible Koozie Can Cooler with Carabiner. Available in four cool color picks, this collapsible Koozie can be hooked to a backpack, key-string or lunch kit, and is ideal for tailgate hangouts, camping adventures or house parties alike, and is the type of take-anywhere item that people really love to have.
That said, those on a tighter allowance can always opt for this Budget Pocket Can Holder instead. Available in a full range of run colors featuring your detailed screen printed logo design front and center, this affordable pick makes for the type of trade-show giveaway item that will be sure to set your booth apart from the pack.
Custom Bottle Openers
On the topic of must-have beer promotional items and accessories in 2020, it would be a shame to forget about custom bottle openers.
After all, these are the types of lightweight, highly portable and highly practical promotional products that everybody likes to have at least a few kicking around, and when it comes to these highly affordable Barley Bottle Openers, the more the merrier! The perfect stocking stuffer or trade-show giveaway alike, these classic metal bottle openers feature your screen printed or full color branded logo front and center.
Or why not max out on convenience with this LED Aluminum Key Tag With Bottle Opener Multifunctional products are all the rage in 2020, and this clippable key tag is an LED flashlight and bottle opener all in one. Needless to say, there will be no more groping in the dark to find the lid when people started passing these types of handy brewery promotional items around on their next camping adventure. Of course, the same goes for this nifty Bottle Opener With 3-in-1 Charging Cable or this Phone Holder and Bottle Opener Keychain. These extra- handy portable items are the type of things that people will take everywhere, and likewise for your attractive branded logo design.
That said, those who love a classic look, feel, and design won't want to miss out on this elegant wood-handled Bullware Bottle Opener. These classy products brewery promotional products to represent the understated quality of your brand. Speaking of quality, the Augustina 3-in-1 Bottle Opener is another sure-fire hit. This durable multi-function wine and beer opener even come pre-packed in its own gorgeous gift box. Talk about being ready for the holidays!
The Takeaway
When it comes to the best brewery giveaway ideas in 2020, we have you covered.
Whether you are looking for the best-branded products to stock your floors or the smart promotional giveaway items that people really want to own, look no further than our amazing selection of high-quality brewery promotional products. With such a wide range of looks and styles available, we offer everything that you need to help your craft brewery carve a niche and stand out from the crowd.
Keep in mind that we love custom projects and can accommodate rush-delivery as well, so don't be shy. Reach out to us and tell us what you want and we will make it happen!