Your Guide to Custom Webcam Covers for Laptops & Computers
Give your clients and employees the gift of peace of mind with a highly affordable and uniquely personalized computer laptop covers.
The Smartest Way to Keep Your PC Secure
Almost all modern personal computers are equipped with a front-facing camera called a webcam. These handy devices are incredibly useful for a number of reasons. Having a camera connected to the Internet allows people the power to chat live with family and friends, record live videos and even participate in a conference call from across the globe.
That being said, despite all the convenience that PC webcams afford, in recent years people have become increasingly aware of the security risk that they may pose to their users. It turns out that many webcams are actually very easy to hack via design, and once an intruder gets a hold of valuable photos and information, this can be used for blackmail.
It is easy to dismiss this kind of threat as something that is not real, but the fact is that for all the wonderful benefits they provide, uncovered webcams do pose a risk to their users. Getting hacked is just as easy as accidentally clicking on spam email or unknowingly visiting a site that is equipped with malware. In fact, even Facebook CEO Mark Zuckerberg takes the precaution of covering his webcam.
That being said, at home fixes like tape may work fine, but the sticky glue used on these products is meant to be used on such sophisticated pieces of hardware and may end up leaving permanent marks around the webcam. So what is the ideal solution to kissing any webcam related worries and woes goodbye? Enter custom webcam covers. These smart little inventions are designed to fit cleanly over the webcam camera and look great at the same time.
Even better, these highly affordable and attractive gifts or giveaway items are the type of thing that will truly be appreciated. Almost everybody has a laptop or personal computer, and the average American spends at least 2 hours a day behind the screen of a personal computer. Why not give your clients and employees the type of gift that will give them the peace of mind that your company truly has their best interests in mind.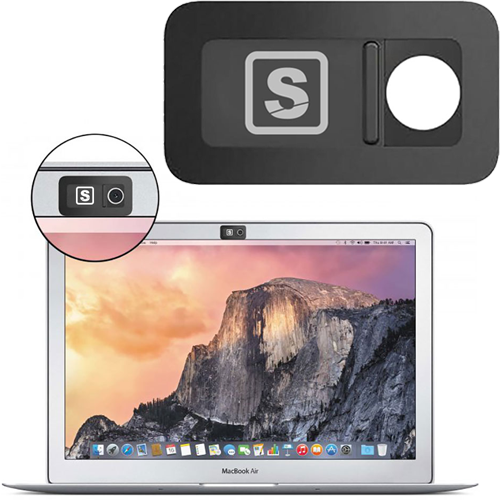 Indeed, the latest research from the Advertising Speciality Institute has shown that promotional products are the type of advertising most likely to leave a positive impression. In fact, promotional products will make up to 2.5% times a more favorable impression than standard internet advertising.
This is why an affordable and practical gift like a custom laptop camera blocker is such a smart way to create a memorable impression of your brand.
After all, up to 85% of people who come into contact with promotional products will remember the company logo that they are associated with, and a branded webcam cover will go wherever those laptops go, which translates to tons of low-cost exposure for you.
Choose From a Full Range of Gorgeous and Practical Designs
Give the Gift of Peace of Mind for Less than $1 a Unit
Looking for the best practical gifts or trade show giveaway items on a budget? Look no further than the wide range of webcam covers bulk available for less than just one dollar a unit.
For example, take this beautiful Ultra-Thin Webcam Cover is available in a full range of eye-popping colors and printed designs. This simple ABS plastic two-piece webcam cover slide is as attractive as it is functional. This simple and beautiful covers start at just 59 cents a unit and can be ready to go in just three short days or less.
Also starting at just 59 cents a unit, another great budget choice is the Push Privacy Camera Blocker. Featuring a clean and straightforward design template and a full range of ten fun color choices, this easy to install PC or Macbook camera cover is as eye-catching as it is functional.

Meanwhile, this Clip-on Webcam Blocker with Screen Clean is an affordable crowd-pleaser that everybody will love. This smart multi-function laptop camera blocker performs two jobs in one, clipping over the webcam to ensure privacy while easily clipping off to work as a screen cleaner while the computer is in use. The best part is the price. These attractive multi-purpose branded webcam covers start at just 89 cents a unit and are available in a range of five stunning color choices to perfectly highlight your logo.
Stylish Sliders That Everybody Will Love
Looking for the perfect all-around solution for laptop, pc and smartphone camera privacy alike. This beautiful Universal Webcam Cover is the all-in-one answer that you need. Featuring an intuitive inset slider, this versatile webcam blocker is as discreet as it is functional and providing the perfect understated interface to display your company's logo.
Meanwhile, this high-quality Slider Webcam Cover puts your company's logo front and center and is as easy to use as it is intuitive. Or try out this understated black multi-purpose Webcam Cover made from high-quality plastic. For less than two dollars a unit, there is really no way to go wrong!
For a touch of more upscale elegance, opt for this sleek and sophisticated black iCamCover in Plastic. The attractive design and easy to use slider is the perfect way to give the gift of a laptop webcam blocker with a splash of style.
Lap Camera Blocker Kits in a Personalized Case
This all in one Camera Blockers in Case kit will ensure that your clients have all their bases covered all the time. After all, many people have more than one webcam to worry about, especially those who work in an office environment or have a family. This three-in-one kit features three high-quality PET plastic webcam covers in a range of eye-catching color choices.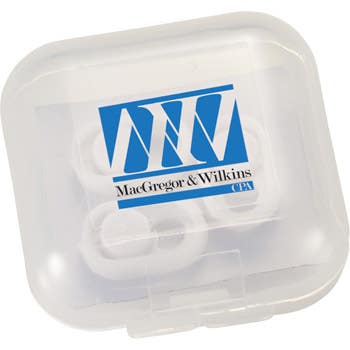 These versatile webcam covers work for personal computers, laptops, smartphones and tablet devices alike and are a breeze to install. Simply align and attack the adhesive surface over the webcam and you are ready to go. These slider style webcam cameras even feature a handy locking device so the camera will never accidentally slide closed when you are using it.
It all comes complete in a handy plastic carrying kit that is custom-designed with your screen printed color company logo displayed on the front, providing a larger interface for a memorable branded design than the standard c-slide webcam cover. Even better, with prices starting as low as just $1.19 a unit, this three-pack kit offers fantastic value.
Custom Printed Metal Webcam Covers Ready in Just 24 Hours
If you want to give your employees and clients the gift of a computer camera cover that is a cut above the rest, opt for the sleek metal design version of the iCamCover. This high-quality metal laptop camera blocker comes in a choice of silver and black and to blend seamlessly with the design of any personal computer or Macbook.
These luxurious laser engraved webcam covers can be ready to go in just five days or less, but also come with a 24-hour rush delivery option so that you have the perfect office gift or trade show giveaway item ready to go when you need a great corporate branded gift idea that is bound to create a lasting impression.
The Takeaway
Here at iPromo, we have all the best quality webcam camera covers your need to promote your brand at affordable prices that you can count on. We use only the highest quality laser engraving and screen printing equipment to ensure that you receive a consistent branded product that you will love each and every time.
It is not just our unrivaled selection of the highest-quality custom printed branded merchandise that sets us a cut above the competition though. It is also our exceptional reputation for providing an unbeatable customer service experience each and every time. So if you are feeling a creative block, there is no need to worry. Our best sellers are a great place to start. Even better, we will walk you through every stage of the process to help bring whatever logo design you can dream up to life.
Even better, we offer a great selection of 24-hour rush delivery items to make sure that you never get stuck without the perfect branded gift to complement any kind of corporate or office event. Of course, there is no need to stress if you are on a budget. When it comes to getting the best swag for under one dollar a unit, you can also count on us always having your back. 

So whether you are looking for the best custom webcam covers and webcam stickers at the best prices or any other of our wide range of brand name and promotional branded merchandise items, your search is over. Reach out to us today and let's get started. We can't wait to help you get your idea off the ground so you can start making the type of impression that will last.