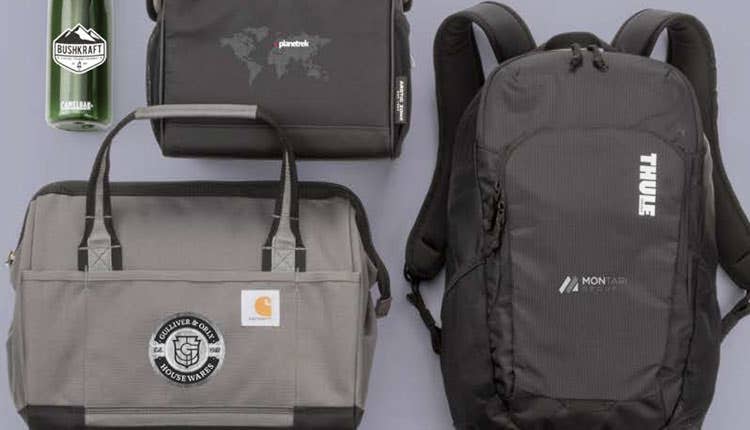 Best High-End Gift Ideas & Luxury Promotional Items For VIP Giveaways
Stumped on creative ways to show your appreciation with custom high-end gifts? Our curated list will provide inspiration and ideas for luxury swag that will make all of your best clients and employees feel like royalty! 
High-End Corporate Gift Ideas
Showing your appreciation with a gift is a nice gesture, but it isn't always easy. While promotional gift items like branded T-shirts or customized USB drives are a great idea for your general customer base, they just don't seem to do the trick when it comes to that one special VIP customer. This client could be someone who has been loyal to your business for years, or, adversely, someone you want to be loyal to your business for years. The same goes for your outstanding employees. When the holidays roll around, don't they deserve something luxurious and worthwhile?
When it comes to the people that play a role in your brand's success, whether they be customers or employees, it's important to give them something that shows just how much you appreciate them. That's where high-end branded gifts come in!
Here are a few high-end corporate gift ideas for your special VIP clients. 
Apple Products
Nothing says sophistication like the sleek design of an Apple product. But beauty is only one of the reasons why marketers love to gift customized Apple products to their most cherished clients. Apple's products are extremely popular must-haves that have arguably become the brand to beat.
In fact, Apple's products and technological advancements have made them the trillion-dollar company they are today. In 2017 alone, Apple sold over 8 million of their ever-so-popular watches. That's more than what the entire Swiss watch industry sold.
Whether it's an Apple watch, a custom iPad, or the new AirPods Pro, the recipient will be thrilled. They will never forget the brand that gave them their cherished Apple Product, not only because it was a worthwhile gift, but also because it will be customized with your brand's logo. It never hurts to have your brand associated with companies as sought-after as Apple. 
---
Beats By Dre
Beats By Dre audio accessories are the perfect gift for the music enthusiast in your life. This high-end swag makes a great reward for the employee in your office who loves discussing today's top artists on their lunch break (you know the person we're talking about).
The Beats By Dre Studio 3 Wireless Bluetooth Headphones are an especially popular product; their noise-canceling abilities can block out any external sound, so the wearer can ride on their commute or do their work in peace. These headphones have a 22-hour battery life, so the wearer won't ever have to worry about being without their music or podcasts during the day.
Do you know a VIP client who is dedicated to personal fitness? Why not gift them with Beats By Dre Powerbeats 3 Wireless earphones? These earbuds come in a customizable carrying case, where you can display your logo. They also feature ergonomic ear hooks, so the wearer will never have to worry about a loose earbud while they run.
A gift like these will really show your client or team member that you've been listening to them about their interests. For an added wow-factor, pair these earbuds with an Apple watch so that your recipient can listen to music and track their progress during their workouts. 
---
Custom Watches
Apple isn't the only company that makes a great watch. For the Android enthusiast who doesn't prescribe to Apple technology, opt for a Fitbit Versa Fitness Watch. This watch has nearly just as many features as the Apple watch does, including exercise tracking, GPS, mp3 capabilities, heart-rate monitoring, texting, and more. Fitbit has a lite version with fewer features, but when your customer realizes they've been given the best of the best, they'll be eternally grateful.
Though smartwatches have become increasingly popular over the past year, there are still many people who appreciate the traditional beauty of an elegant conventional wristwatch. Does your client wear a different watch almost every time you see them? If so, then adding one to their collection may work in your favor.
Traditional wrist watches are also a great idea for special employee gifts. Is one of your coworkers approaching their 10 year anniversary with your company? Give them a sophisticated watch, complete with your company's logo imprinted on the face.
---
Moleskine Smart Writing Set
The Smart Writing Set by Moleskine is one of the most original and intriguing high-end branded gifts out there. This notebook and pen combination is the perfect gift set for creative types who can't travel anywhere without something to scribble notes into. With this writing set, they'll be able to write out their thoughts and organize them later on their computer.
This isn't just any pen and notebook. The Smart Writing Pen tracks and digitizes anything that you write or draw into the notebook. In real-time, the set transfers your workings onto the Moleskine Smart writing app. You can choose to keep your writing style or convert what you've written into a computerized font. Then, you can then email your work to yourself or to someone else.
Longhand writing is linked with improved memory recall and critical thinking. If your recipient tells you they feel sharper than usual, they'll have you to thank!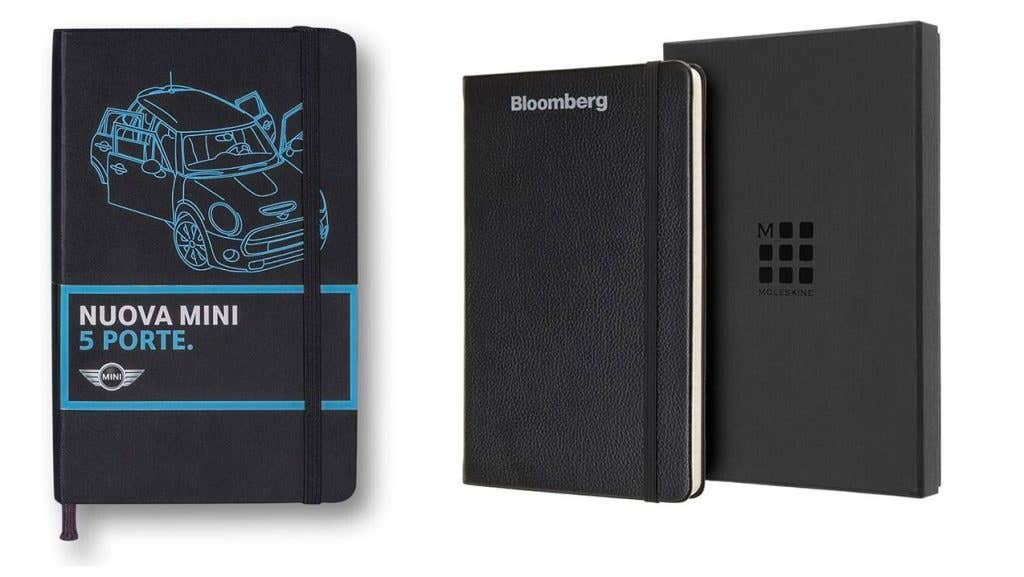 ---
Executive Pens
A personalized executive pen is a perfect gift for any occasion. These smooth-writing ballpoint pens are especially wonderful for use as rewards of recognition. You can even gift your entire team these lavish writing tools as a way to tell them that they are respected and valued as employees. Random acts of kindness such as this are a key component to a positive and high-functioning office — studies have shown that employees need these moments of appreciation to feel motivated.
Engraving a gift pen with something special can make it feel more than just a practical present. Using the recipient's name is a common way to engrave a pen, but you could alternatively use one of their well-known catchphrases or even their new job title (in the event of promotion) to make their gift extra special. Making their pen unique to them is also an effective way to ensure that it doesn't get taken by accident!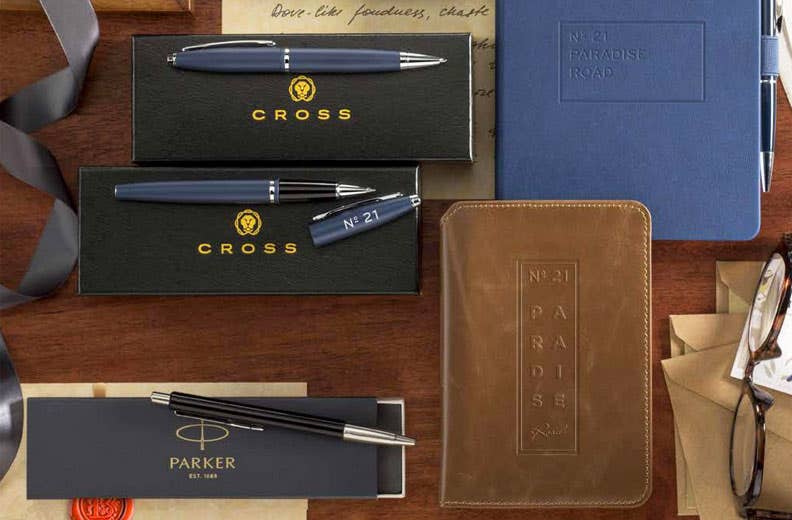 ---
Luggage & Travel Bags
Carry-on luggage and travel bags are wonderful luxury promotional products to give to the person in your work life who is constantly traveling for business. You can order customized luxury luggage bags in many different variations, but one made of rich Takuda leather would make anyone feel like a VIP when they walk into the airport.
Do you have a client-base that's more on the contemporary side? Opt for a sporty black and yellow Lamborghini case instead. You can add a personal touch to either of these bag options by embroidering the recipient's name on the luggage tag. 
---
Drinkware
Custom etched glassware is often times go-to executive gift for many in the business world. Wine glassware and accessories is always safe choice if you aren't sure of the recipient's preferences. You may have selected a great bottle for that special client, but why stop there?
Add a few items to your gift bottle to create a complete drinkware set for your VIP. Add a beautiful decanter that your client can use to aerate the wine you've given them. While you're at it, why not include a couple of customized wine glasses?
As an added bonus, you can also gift your special recipient with an Executive Wine Collector's set, complete with an easy-open wine bottle opener, stoppers, and a pourer. How will you carry all of these items? Well, you turn them into the most elegant gift basket your VIP recipient has ever seen by storing everything in a Legato European Crystal ice bucket.
---
Customized Jackets
Customized apparel makes for a great token of appreciation. They also are also an incredibly effective method for increasing brand awareness. According to the 2019 ad impressions report, 80% of consumers own promotional shirts. 63% of consumers keep their promotional shirts for over a year. Your consumers would already appreciate a simple t-shirt, so why not up the ante with luxury promotional products like jackets?
Customized jackets make great giveaway prizes for customers — especially if they're made by popular brands like The North Face or Roots. Matching customized jackets are also an effective way to promote bonding during team-building events like weekend trips or camping excursions.
Any of these luxury swag items will leave your VIP gift recipient smiling from ear to ear. But these high-end corporate gift ideas are only a portion of the many items you could gift to your important client or coworker. Take the time to gather information about their likes and hobbies and buy a gift that will speak to who they are. If money isn't an issue, the possibilities for high end branded gifts are endless. If you do have a budget, don't worry. iPromo has gift ideas in a wide range of price options. You'll be able to find the perfect present in no time.