Complete Guide to Custom Coolers and Branded Insulated Bags
Personalized coolers are one of our most popular corporate gifts each summer; and along with promotional ice chests and soft cooler bags, we'll help you choose the best coolers for your team.
Summer is the perfect time to take advantage of using promotional products such as custom coolers to promote your brand. People will be out and about, and everything they use gives you a chance to show showcase your company. Personalized coolers and branded cooler bags are two items that can help you do just that.
"If your prospects see your brand name on a pen, a t-shirt or a flash drive, they may be more inclined to purchase from you in the future." – Entrepreneur Magazine
Just a reminder, using promotional products in your marketing campaign can be one of the most successful forms of advertising. Here is why.
90 percent of people report owing twelve or more different kinds of promotional products, with more than half of them reporting they are more likely to do business with the company that gave it to them. These numbers are just a few that show why using things such as promotional coolers can help build your brand.
The market for coolers has also taken off over the last couple years. The durability, quality, and styling has transitioned to modern times by where more and more people are using them. They have even become a fashion statement with celebrities jumping on board.
You need to take advantage of this phenomenon. The more someone uses something with your logo, the more brand impression you receive. The more brand impressions you receive, the more likely people are to remember you. When you consider the cost of promotional coolers versus the number of brand impressions you will receive, there is no other form of advertising that gets your name out there better.
So, what are the different types of custom coolers and what are the right ones to use in your marketing campaign?
Ice Life of a Cooler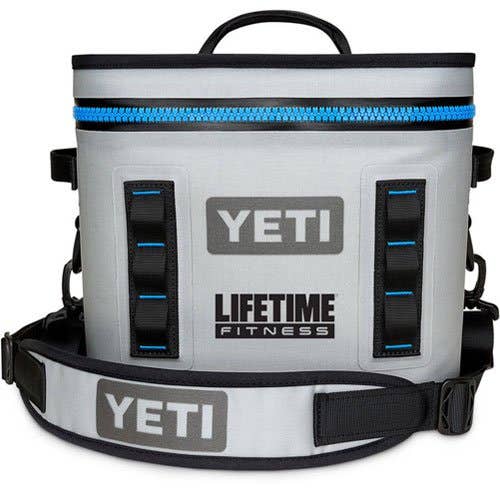 Two of the main measures of a successful promotional product is the quality of the product and its usefulness. Once of the ways to measure the quality and usefulness of branded coolers is by its ice life.
Ice life refers to how long a custom ice chest will keep ice without fully melting. Depending on the brand, this can be anywhere from a day to a week or more. The factors to consider is the insulation used and the number of times you plan to open the cooler.
One of the brands with the longer ice life is Yeti. They use more insulation which means ice stays longer. "Lots of insulation means that the Yeti can do more with less," writes CNET. "After 24 hours in a climate-controlled room set to 70 degrees, the Yeti was the only cooler that still had ice in it."
When choosing a personalized cooler based on ice life, keep the end user in mind. If the person likes to go on longer trips across country, then a longer ice life would be better. For the average day-tripper, then maybe branded cooler bags will do the trick.
"If you only need to hold ice for a day or two, most any cooler will do the job. But, if you need ice for more than a couple days, the premium coolers can get the job done." – AL.com
On a side note, don't just use ice life as a measure of a cooler's quality. If you have a good reason why you need to keep ice in a cooler for more than a few days, then look for longer ice life. Otherwise, many of the coolers available on the market will do the trick.
Cooler Storage Capacity
Storage capacity is also important when choosing a cooler. With so many styles to choose from, each offers a different capacity.
Traditionally, custom hard coolers hold more items, but that isn't necessarily the case as we will cover in a minute. The size of coolers is measured by quarts which will allow you to know the approximate capacity of each.
While not a hard a fast rule, here are a few examples of quart sizes and how many 12-ounce cans each can hold. Note that the number of cans will depend on how much ice you use as well:
20QT – 15 Cans
30QT – 22 Cans
35QT – 25 Cans
45QT – 35 Cans
70QT – 46 Cans
95QT – 72 Cans
150QT – 138 Cans
Again, remember that these are approximate numbers. Each cooler may vary depending on manufacturer and overall design.
Custom Hard Coolers Versus Personalized Insulated Bags
There are two main types of coolers available. The first is the larger hard cooler and the other is a smaller bag-type cooler. These may sound easy to tell apart, but there are a few things they have in common and some things that are completely different.
For instance, while hard coolers are normally larger, there are still insulated bags that can hold quite a few drinks. On the other hand, there are some smaller hard coolers which are as easy to carry and store and promotional cooler bags.
Here are a few things to keep in mind about each:
Hard coolers come in larger sizes and hold more items.
Insulated bags are lighter and easier to carry but hold less items.
Hard coolers cost more, but last longer.
Insulated bags are better for shorter use (day use) while hard coolers are better for long-term use.
Hard coolers take more storage space but also hold more items.
So, what cooler do you buy? As with all promotional items, you need to decide based on the recipient. People who don't need to carry more than a few items are more likely to use custom insulated bags, while the regular outdoorsmen would enjoy custom hard coolers more.
The good news is we always have promotional specialists available to help you choose. Give us a call or email and we'll be happy to provide you with some great choices with a virtual preview of your logo.
Personalization of Custom Coolers
Now comes the fun part. Each cooler offered by iPromo can be customized for your brand. You can choose from a wide arrange or colors and styles that fall within your marketing budget. Order a specific quantity or set up an online company store to sell them to the public (or give them away to reward employees).
Customization varies depending on the type of cooler. However, all artwork for promotional coolers are applied with a precision printing press. We apply your logo or brand message in a manner to ensure it lasts and you continue to earn brand impressions for the life of the cooler.
Most personalized hard coolers allow for custom printing on the front, side, and/or top of the cooler. Promotional cooler bags are generally custom printed on the front of the bag, the carrying strap, or both.
On a final note, custom coolers provide a larger imprinted area for your logo than other promotional products such as custom hats or personalized pens. The bigger the cooler, the larger the area you have for customization.
Co-Branding of Custom Coolers
One of the nice things about custom coolers is that you can co-brand with another manufacturer. You are not just purchasing cheap personalized coolers and slapping on your logo. You get quality, name brand coolers that people trust.
"The value of brands in unison makes a powerful argument when it comes to consumer purchasing decisions as well as introducing a new audience through a partner's already established loyal base." – Forbes
Co-branding occurs when your logo is placed along with another company. For instance, you can get a customized Yeti cooler where your logo is prominent. People trust these name brands and having your logo on the same product gives your brand more credibility. Co-branding can create a lasting halo effect for your company.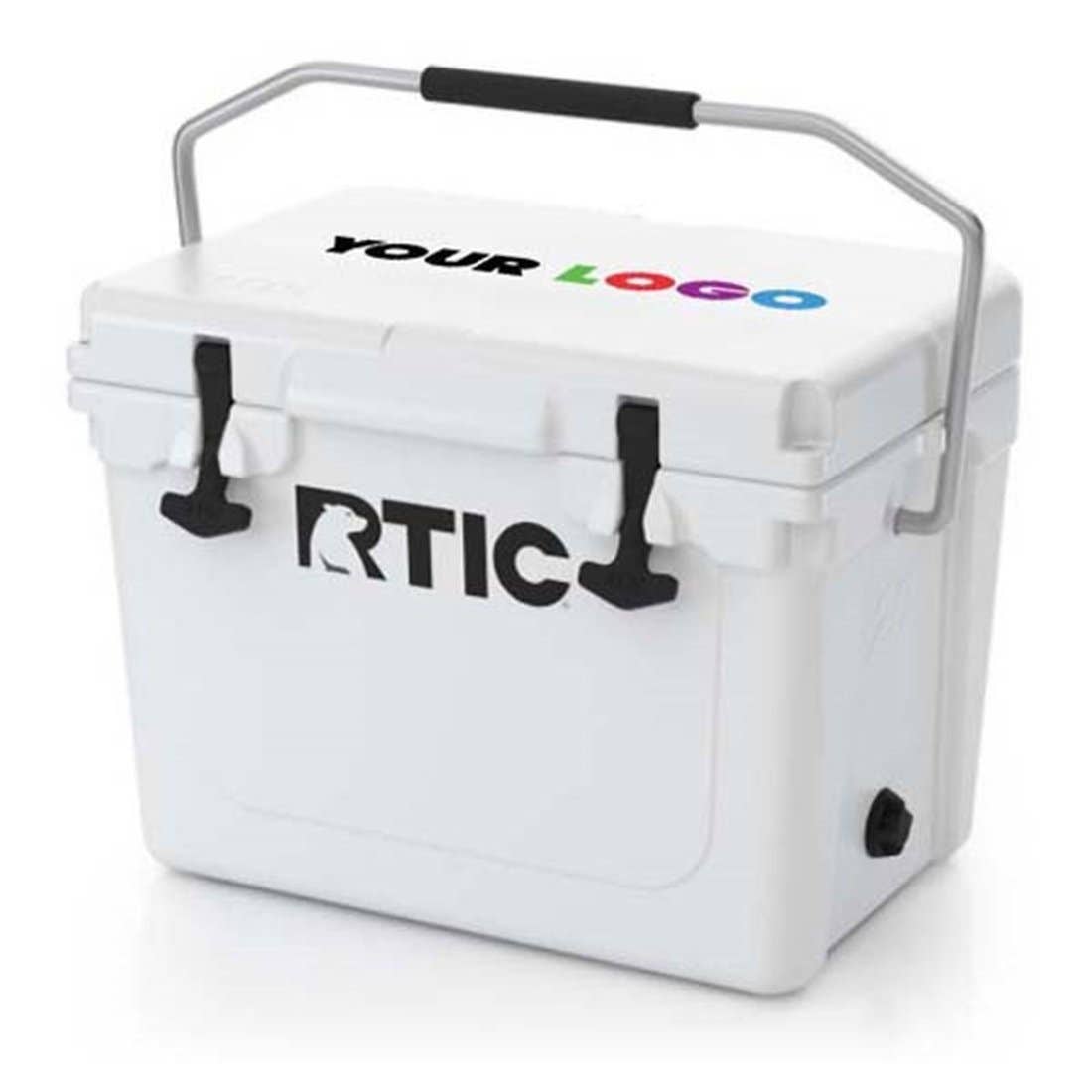 Here is a look at just a few name brands we carry:
If you are looking for one of the best companies to co-brand with, consider YETI. Although it is a newer company, it has become one of the most popular coolers in the Untied States. It is also one of the most durable available.
A Few Other Cooler Designs
While branded cooler bags and harder ice chests are the most common type of promotional cooler, there are a few other designs that you should consider. These give you more options for your customer base and give you a wider range of customization.
Cooler Chairs – Cooler chairs are insulated cooler bags that double as a chair. They have shoulder straps for easy carry. These are great for the beach as you can carry your drinks and chair without lifting two separate items.
Radio Coolers – Just like the name suggests, radio coolers are hard coolers that double as an AM/FM radio. You can play music from MP3 or CD and the coolers have built-in speakers so need to pack them separately.
Gridiron Cooler – Perfect for gameday and tailgating, gridiron coolers are nylon insulated coolers with stands. They are useful so people don't have to bend down to get something to drink. Set them up at your backyard barbeque or take them to your next sporting event.
Stackable Coolers – These are smaller coolers that allow you to stack items on top of each other. They are smaller in design, but the stacking allows you to carry more items. Perfect for people who want a smaller cooler that holds more items.
Rolling Coolers – Many coolers, especially those with larger capacity, have wheels. However, rolling coolers are a little bit different in style. They are more like suitcases that you roll through the airport. Mostly made from the same material as insulated bags, they allow you to have a lighter cooler with the ability to easily transport it.
A Few Last Thoughts on Custom Coolers
As stated above, coolers have become a staple in society. Their durability and usability has transformed the market in the last few years. They offer a large branding area and can be customized with various colors and styles.
Custom coolers also offer you a great co-branding opportunity. Put you label on a Yeti or Coleman cooler to give your company more credibility thanks to an already established national brand.
Remember, if you are looking for the best price on custom coolers, look no further. We offer a best price guarantee as we are always price auditing to ensure we offer you the lowest available. We have incredible bulk buying power which allows us to give you the best deal available.