The Best Promotional Desk Items & Accessories
Boost your marketing and corporate gifts strategy and improve your company's brand awareness with unique custom desk accessories. Thoughtful, modern, and stylish office desk giveaways have proven to engage, excite, and impress your potential and current clients. From fun pens to quality journals, personalized office accessories are the easiest way to promote your brand. 
Here's Why Promotional Desk Accessories Are An Effective Marketing Strategy
A strong marketing strategy is designed to promote your company. It will build your brand and generate leads. While there are dozens of strategies and tactics you can implement to build your company and develop strong marketing practices, you want to focus on ideas that keep your brand in the customer's mind, that are easy to execute, and are effective.
While this may sound difficult to achieve, it truly isn't. Promotional products, such as custom office desk accessories, are extremely effective. In fact, research shows that 85% of consumers will remember a brand with help from promotional items. Plus, the right items will also excite and impress customers. They generate positive feelings including happiness and gratitude.
Branded desk accessories can also be used for a plethora of activities and events. For example, you can throw in a custom pen or letter opener into a swag bag to pass out at job fairs or conferences. You could use electronics and tech accessories to offer as giveaway items or as prizes for contests.
The fact is, you can use these items anywhere and at any place. This will not only make your job easier, but it will help you build your client base, increase your brand exposure, and better promote your company.
So, when it comes to custom desk accessories, how do you choose products that people actually want to use? How do you know what type of items are worthwhile and something that will excite and impress consumers?
The Best Branded Desk Accessories for Your Company
If you truly want to increase your brand's exposure with impressive swag, these are the promotional products and desk accessories that your customers will be very excited to receive.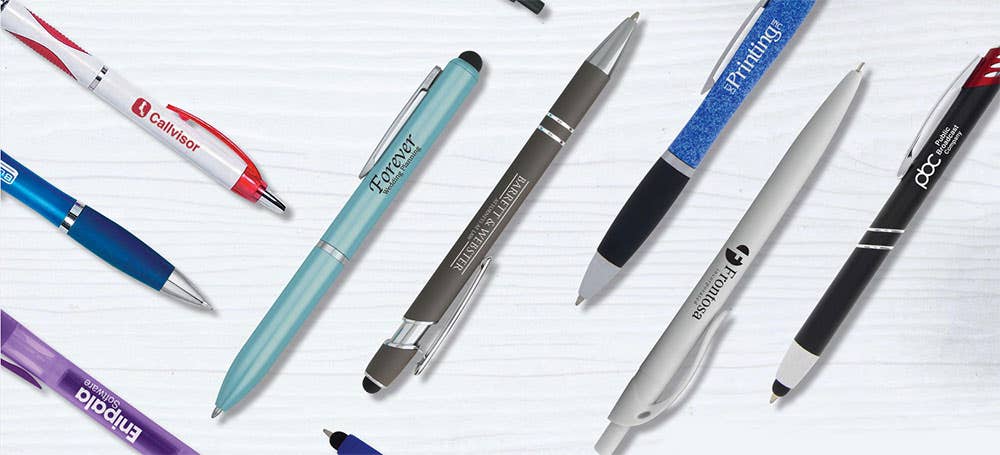 Custom Pens
Everyone loves a unique pen that works well. It is something they can keep in their homes, on their desks, or even throw in a purse. No matter if you are looking for a very generic ballpoint pen, or something a little more luxurious such as pen sets, we have what you need.
The Cutter & Buck Regal Roller Ball Pen is an excellent option if you are looking for something luxurious, classy, and impressive. This pen features a gorgeous, shiny and matte finish and writing with this instrument is as smooth as can be. You can place your company logo on the lid of this pen with three different colors.
A great addition to any desk is the Inspire Laser Pointer + Pen. This item does it all and features a laser pointer, LED light, pen, and a stylus. It is one of the many custom office desk accessories available that features a pad print or laser etching options for your company name. There is no doubt that this will become the recipient's favorite writing instrument.
Don't just offer pens for your customers, consider a pen case as well. This will help to keep a desk organized and it gives you plenty of space for your company name. The Twits Large Pen Case is ideal. It is a drawer-style pen case and it can store up to eight pens.
---
Tape Dispensers
A tape dispenser with your company logo or unique design should be considered when choosing from our long list of branded desk accessories. These items can give a unique and fun look to any office desk and is something every office space needs.
The Memo Tape Dispenser adds a fun twist to the traditional tape dispenser. With this item, you can pull any length of sticky note you desire. You can place your company logo on the front of this item, making it large and easy-to-see when placed on top of a desk.
If you are on the hunt for promotional desk accessories that are a little more traditional, the Double Memo Tap Dispenser should be ideal. On one side, you can cut a piece of tape, while on the other, you can pull any length of sticky note that you desire. As with most branded desk accessories, you can place your company logo on the front, so it's noticeable, impressive, and notable.
---
Custom Letter Openers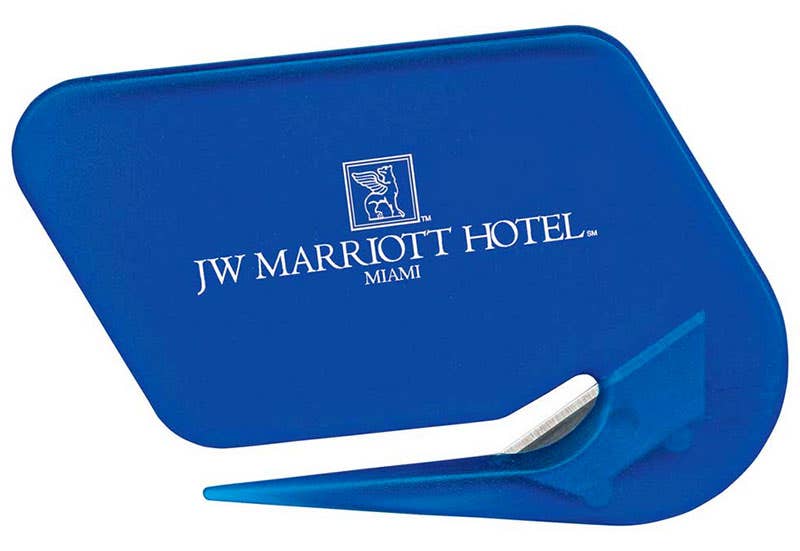 When you think of promotional desk accessories, one of the first items that often comes to mind is custom letter openers. A traditional letter opener comes in numerous colors and allows you to print your message on the side. It is also cost-friendly when compared to other executive desk accessories.
The Letter Opener & Keyboard/Screen Sweeper gives a unique twist to a custom letter opener. One side of this item features a stainless steel blade to easily open the mail while the other features a felt sweeper and retractable keyboard brush. However, if you truly want something fun, functional, and fancy, the High Flyer Chrome Desktop Paperweight/Letter Opener is a must-have promotional item. It features a chrome design that will look good on any desk and it spins, adding to its unique design.
---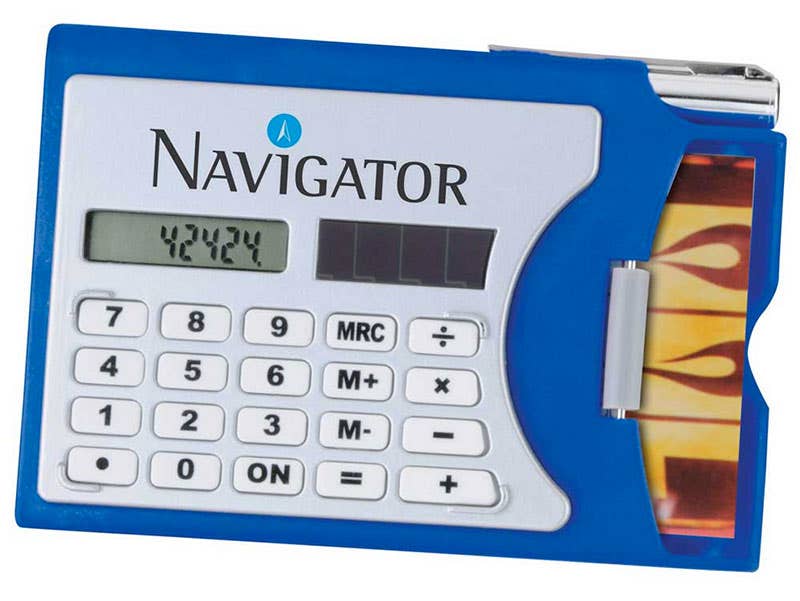 Calculators
Every desk needs a calculator and a branded calculator is even better.
The Black Magic Slim Calculator is a great way to add some color to a desk and the color will capture the attention of any individuals. You can also add your custom design to the top of the display screen, making it highly visible for every user.
The Retro Calculator is ideal to place on a desk. It is classy, fun, and stylish. It is an 8-digit fully-functional calculator with rubber-touch keys. It is one of the many branded desk accessories we offer that your customers will be excited to place on their desk and show off to all their colleagues.
However, if you are looking for custom desk accessories that truly stand out and are the perfect addition to the top of any desktop, the 3-in-1 Calculator/Picture Frame/LCD Digital Clock is best. This device features two sides full of much-needed office tools including a full-size desk calculator on side one, and a picture frame and 12-digit display on the other.
---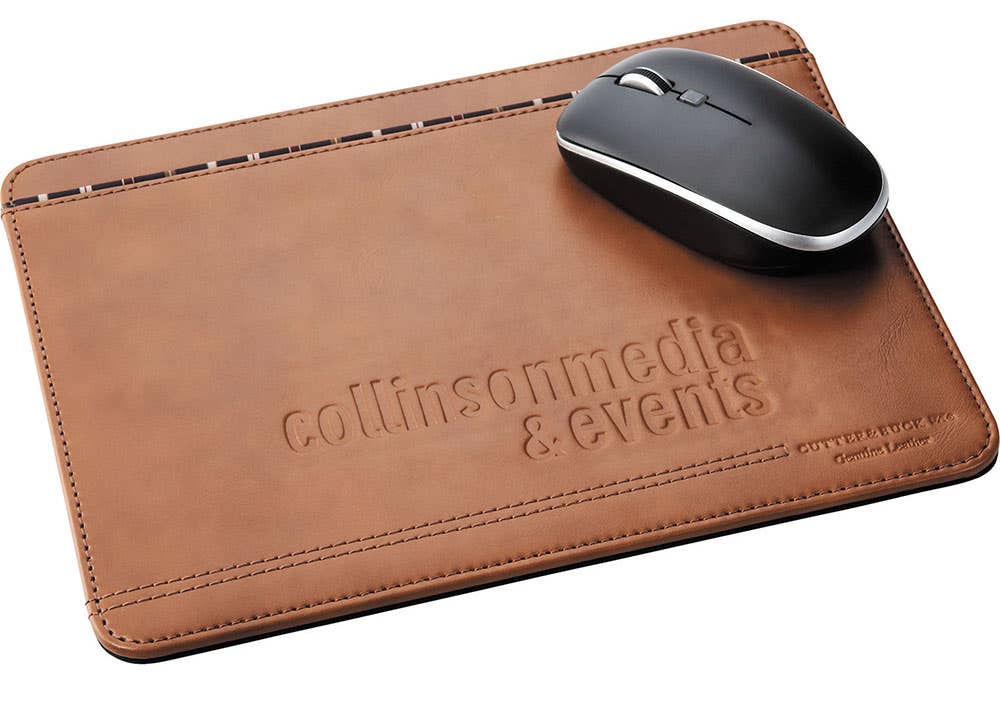 Branded Mousepads
Mousepads are simple for any company and are ideal to throw in any swag bag. They are a great way to add a lot of color, display a fun and unique design, and are useful. The 6-inch computer mouse pad is a great way to produce a colorful logo and design. We print these mouse pads with a four-color dye sublimation process, which produces sharp, intricate details.
If you are looking for executive desk accessories, the Wireless Charging Mousepad with Phone Stand is a must-have. By placing your phone on the side of the mouse pad, you can increase your battery life and get plenty of work done on the computer.
However, many individuals won't place just any mouse pad on their desk. They want something that adds elegance and style to their office space. To add this classy look, personalized leather accessories are ideal. The Cutter & Buck Legacy Mouse Pad is a leather pad with stunning detailing. A non-skid base will hold this mouse pad in place and you have plenty of space to add your own logo or message. It is an item every individual will desire for their office space.
---
Promotional Staplers
When you are looking for custom desk accessories, you should consider items that are functional and useful. These should be products that your customers use every day and will want to keep on the top of their desk.
The Full-Size Stand-Up Stapler is an excellent example. This item doesn't take up a lot of space on the desk, is convenient, and well-used no matter what type of work your customers may do. If you are looking for an item that is still functional but takes up less space, the Mini Stapler is worthwhile. This is a great item that you can throw in swag bags and excite all recipients.
---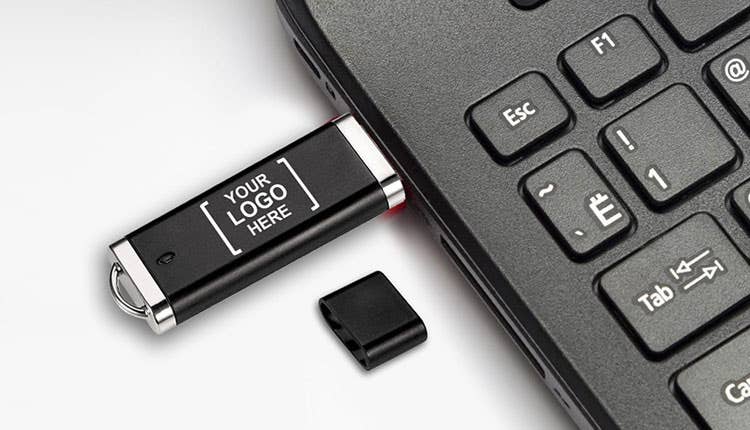 Custom USB Flash Drives
Make it easy for your consumers to store data and backup their work with a custom flash drive. Not only can you choose from a variety of sizes and storage capacities, but you also have many design options as well to help you choose something that best matches your own company logo and design.
A Rotate Flash Drive is a popular option and is available in more than a dozen colors and in two sizes: 4GB and 8GB. If you are looking for something a little more classy and eye-captivating, a leather drive will do the trick. It features an attached cap-off leather design and offers up to 512MB of storage space. You can have your design printed on the side of the device, which creates a real winning custom desk accessory.
---
The Takeaway
When it comes to branded desk accessories, we have what you need. Whether you are looking for the best promotional products desk accessories to fill your swag bags or to offer as giveaway items, we can help. From pens to mouse pads, our custom office desk accessories provide everything you need to keep an office running smoothly and that will surely impress and become an instant crowd-pleaser.