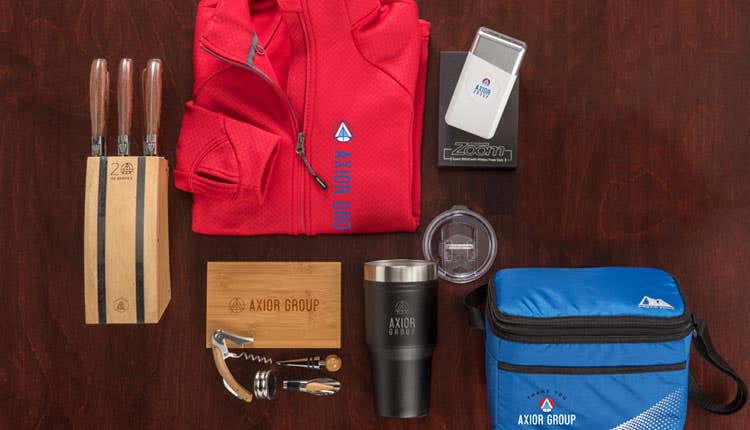 Fun Employee Appreciation Gift Ideas to Celebrate Work Anniversaries
Looking for personalized and unique employee recognition ideas that your coworkers will genuinely appreciate? Here are some thoughtful employee anniversary gifts that go above and beyond to help build your company's culture and brand.
Here's Why Employee Appreciation Matters
As an employer or HR leader, keeping employees engaged and happy should always be a top priority, and the reasons for this are multi-fold. Firstly, maintaining a happy and engaged workplace is not great for all-around morale, but also has trickle-down effects in terms of literally every aspect of the overall success of the business, including shareholder returns, annual revenue growth, and overall customer satisfaction.
In fact, recent research has uncovered that only 40% of employees who don't feel meaningfully recognized will make the effort to excel at their jobs, but a whopping 85.5% who do feel meaningfully recognized and appreciated will work to go above and beyond their required duties. This may not be surprising, given that human relationships are fundamentally governed by principles of reciprocity. Essentially, we are instinctually hardwired to want to give back when somebody goes out of their way to do something that makes us feel good.
Indeed, this same principle also helps to explain just why promotional merchandise is such a highly effective form of advertising, and why giving the gift of branded merchandise is such a smart way to make your employees feel appreciated. Not only does receiving promotional merchandise make most people feel really positive feelings, but branded gifts are also the only form of advertising that is truly tangible and usable.
This means that every time an employee puts those cool custom promotional items to use, they will likewise be reminded that their work is valued, and thus, feel inclined to want to give back. Do keep in mind that this positive feedback effect will only be magnified if employers can successfully zero in on the type of attractive, usable and high-quality items that studies have shown people really want to receive.
Even better, chances are that your employees will be proud to show off this cool custom branded merchandise that is not only the fruits of their labors but also proof that the work that they do is noticed and valued. This means that the more they show off their branded merchandise to friends and families, the more positive brand exposure that you generate. Talk about a win-win situation for everybody!
So, the question becomes, what are the best types of thoughtful creative promotional products that will really show employees that they care? Let's just say that these hot employee recognition ideas are not the boring promotional swag of yesteryear. In 2020, promotional swag is cooler than ever, and it would be a shame not to cash in on these innovative employee appreciation gift ideas that anybody would be proud to receive.
Cool Gift Ideas That Will Really Show Your Employees You Care
Whether commemorating an anniversary, the wrap up of a major project, a birthday, a big team score, a holiday celebration or just wanting to check-in and show you care, these awesome creative employee gift ideas will give everybody plenty of reasons to celebrate.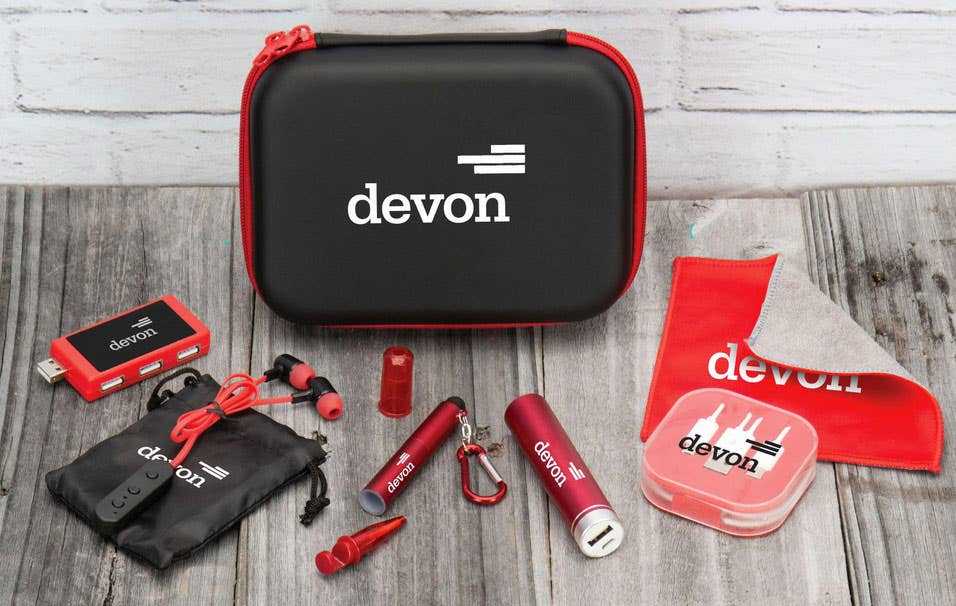 The Type of Future Forward Tech-Friendly Gifts That Everybody Wants to Land
In 2020, handy portable tech products that are literally built to make life easier are the type of things that everybody will appreciate receiving.
Whether it is a mobile power bank or Qi Wireless Charger like this supercharged Morphie Charge & Stream Pad or this ultra-compact Anker Powercore Speed 10000MAH, in today's fast-paced world nobody is going to say no to portable smartphone or tablet charging and streaming capacity on the go, so these high-quality tech accessories are the type of employee recognition ideas that anybody is bound to appreciate.
Speaking of mobile technology on the go, why not give your staff the employee anniversary recognition they really deserve the best in cutting-edge Bluetooth enabled sound technology? You can choose from an amazing selection of custom Bluetooth headphones, powerful branded Bluetooth speakers and even personalized Apple AirPods to help make those work anniversary gifts for employees truly special.
Check out, for example, this top-of-the-line High Sierra Grizzly Outdoor NFC Bluetooth Speaker. It is no secret that outdoor living is in this year, and your employees are bound to appreciate this take anywhere water resistant, dust resistant, impact resistant sound resistant product that delivers up to six hours of high-quality listening or microphone enabled hands-free calling capacity from one of the most trusted brands in outdoor gear. Or for those who really want to amp it up, don't miss this Elevate Soleil Laptop Solar Panel Backpack that combines a durable outdoor backpack with solar-powered mobile charging capacity for a sure-fire win.
However, for those who really want to impress with the most cutting edge tech, don't miss out on this Remote Control Drone with Camera and GPS. With instantaneous app integrated viewing technology and up to 984 ft of unlimited flying capacity, these are the type of employee appreciation gift ideas that literally go above and beyond.

Double Up on Handy Multi-Purpose Items and Gift Sets
When it comes to employee recognition ideas, gift sets are carefully curated to rise to the occasion, and the multi-purpose functionality that they provide means that your employees are bound to love what's inside. That said when it comes to giving employee gifts, the more you put in, the more that your employees will want to give back.
For example, the Cross Century II Lustrous Chrome Pen Set is a gorgeously elegant way to really show a valued employee that their work is appreciated. This package complete with a set of Superior black Cross® ink cartridges, stunning premium gift packaging and lifetime mechanical guarantee that means that your employees will be showing off these not-so-average pens for years to come.
Or how about this Stemless Wine and Growler Gift Set. As far as trendy employee appreciation gift ideas go, this high-quality portable drinkware is where it is at this year, and this chic combo-gift set is bound to impress. Meanwhile, something like this Personal Espresso Set is the perfect gift to show that coffee lovers that their work is appreciated, while this Lorenzi 4-Piece Bamboo Cheese Tray is the perfect complement to any cheese-lovers at-home repertoire.
Speaking of what's in this year, why not give the type of sustainable gift that keeps on giving. After all, research has found that 42% of consumers are likely to have an even more positive impression of a brand that associates themselves with eco-friendly products, so these types of employee appreciation gift ideas truly are a win for everybody.
Take for, example, this handsome Polar/H2Go Impact Gift Set. High-quality hot/cold portable beverage products have skyrocketed in popularity in recent years as people look for creative new ways to reduce their environmental impact while keeping their beverages the ideal temperature while on the fly, and this means that this type of stunning gift set served up in a stunning matte black rigid gift box with your custom label design front and center is a surefire win for almost anybody.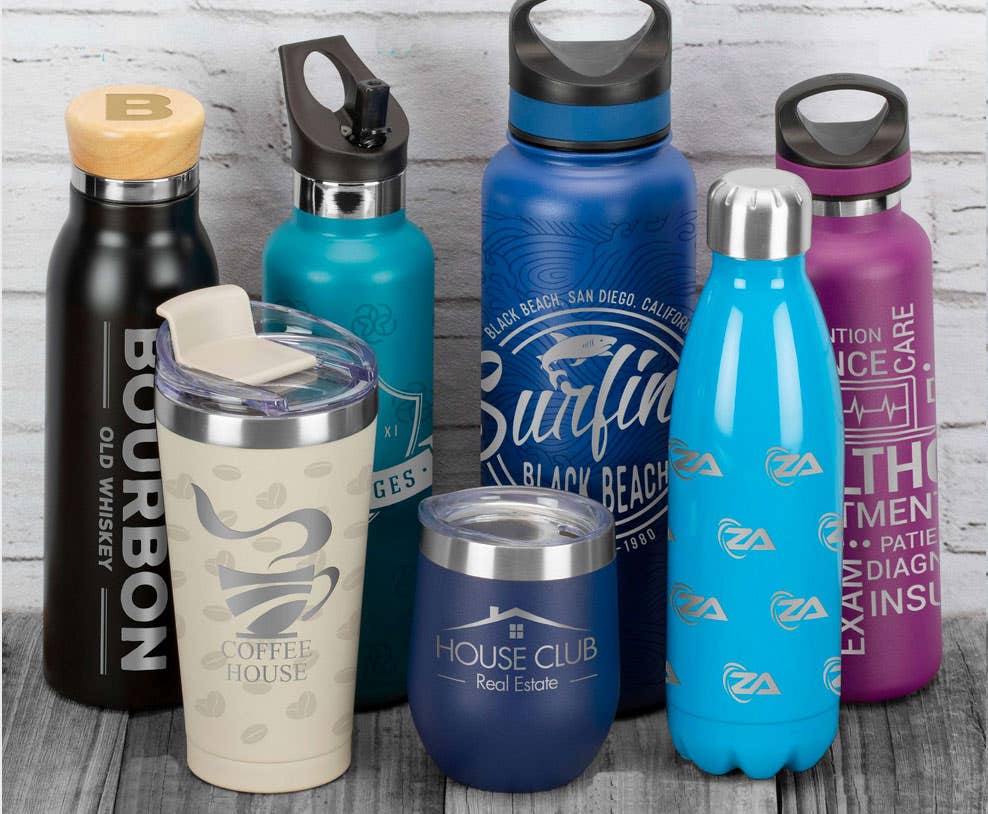 Bonus Hack: Team Up with the High-Quality Brands Employees Already Love
So now that you have plenty of winning gifts employee anniversary recognition, or any other occasion for that matter, we are going to let you in one last little secret that will really help you to knock it out of the park each and every time.
When it comes to nailing down that type of employee appreciation gifts that your employees are really going to love, co-branding with the top brands that everybody wants to get their hands on is the most surefire way to take your employee recognition ideas into a whole new realm of possibility.
When teaming up with the best of the best, you not only show your employees that their high-quality work warrants the type of gift that really shows you care but you also automatically associate your brand with names that have already developed a hard-earned reputation for providing the best.
Since the most in-demand brand names are the type of work anniversary gifts for employees that they are really going to be showing to everybody, this not only translates to tons of added exposure for your name, but also positive associations with nothing but the highest quality products. Talk about a big win!
Even better, we have all the hottest brands that everybody wants to get their hands on, whether it be custom YETI coolers and portable drinkware, Anker and Morphie portable tech products, cutting edge Google home technology or the Nike and Titleist apparel and fitness gear that everybody wants to be sporting, so you have plenty of picks out there when it comes to blowing away the competition with the type of employee recognition ideas that will be the envy of the office.
So What Are You Waiting For? Let's Get Started!
When to nailing down the best employee appreciation gift ideas, whether shopping for the ideal work anniversary gifts for employees or for any other occasion, we have everything you need to leave a memorable impression that will count.
Of course, don't forget to get in touch with your custom gift ideas to let us help bring your truly unique employee recognition ideas to life. We are dedicated to making the ordering process as simple and seamless as possible, and will even send you a free sample product just to make sure we get it right! So, don't hesitate to reach out and find out more today. We can't wait to make it happen!