What Do Cancer Ribbon Colors Mean? Awareness Ribbons by Cancer Type
We all know the color for breast cancer awareness (pink) but what about many other types of common cancers? Lung (white), prostate (light blue), pancreatic (purple), skin (black) and many others devastating cancers need more research funding and awareness for early detection
Let's dive in:
Pink Ribbon Meaning
Pink, in particular, is a ribbon color that a lot of people might have come into contact with over the years, and this is because it has been very used successfully as a symbol of breast cancer awareness campaigns throughout the past decades.
While October is officially Breast Cancer Awareness month, these types of products are used year-round by organizations like the National Breast Cancer Foundation to help encourage early screening and continue to raise money to find a cure.
As such, breast cancer awareness products like this Breast Cancer Awareness Stock Design Die Cut LDPE Bag can function as a substitute for more traditional ribbons while helping to hold any other promotional merchandise that is being used to raise awareness for a campaign, like for example, this sleek and versatile Ribbon Carabiner. Meanwhile, cool wearable picks like this Pink Ribbon T-Shirt and Youth Pink Ribbon T-Shirt are a fashionable and functional way to really turn heads for a great cause.
However, do note that peach ribbons carry a different meaning than the more popular pink ribbons that people often see around, and are used to signify cancers like endometrial cancer which may be particularly brought to light during Gynecological Cancer Awareness Month in September.
Meanwhile, a burgundy ribbon is used to signify multiple myeloma cancer which is typically brought to light during the month of March.
---
Yellow Ribbon Meaning
A yellow ribbon is traditionally used to signify sarcoma or bone cancer which affects the bones or connective tissues of the body and is often worn in July to commemorate Sarcoma Awareness Month, for example.
However, different shades of yellow can also take on different meanings. Gold ribbons are used by groups like the American Childhood Cancer Organization to raise awareness about all types of childhood cancers while amber ribbons are used to signify appendix cancer.
When it comes to promoting this type of cause, products like this Awareness Ribbon Opener or colorful products like this Unisex Cotton T-Shirt in gold can be a great way to really get the message across.
---
Orange Ribbon Meaning
Orange ribbons are used to signify leukemia, a form of blood cancer that often starts in the bone marrow.
Awareness campaigns and fundraisers might be one of the reasons that the five-year survival rate for this type of cancer has increased so significantly in recent years, so be sure to keep it up, particularly in the month of September, when the world honors Leukemia Awareness Month.
At the same time, these types of cancer ribbon colors can also be used to signify another popular cancer variety known as kidney cancer, which is promoted in March. Lifestyle changes can go a long way to preventing this type of cancer, so raising awareness is incredibly important.
Check out winning products like this 1 1/2″ Ribbon or this Breathable Poly Twill Cap in orange to really get the message across.
---
Blue Ribbon Meaning
There are lots of different cancer colors that may be symbolized by a blue ribbon, depending on the shade.
Colon cancer, which affects the large intestines, is signified by a dark blue ribbon and is typically honored during Colorectal Cancer Awareness Month in March. Meanwhile, a softer, powder-shaded periwinkle blue is used as symbol of stomach cancer, for which awareness is raised in the month of November.
Light blue signifies prostate cancer, a diagnosis that one in nine American men are likely to receive over their lifetime, so it is especially vital to promote the importance of early screening during the month of September in honor of Prostate Cancer Awareness Month.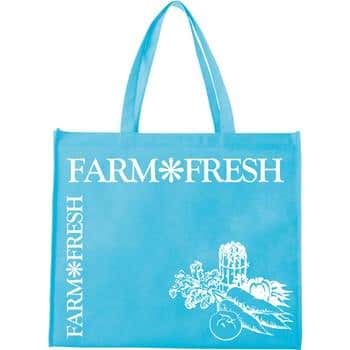 Meanwhile, teal is used to signify ovarian cancer, a disease that is unique to women. A white and teal ribbon is symbolic of cervical cancer, and awareness is typically raised during the months of September and July, respectively speaking.
Since there are so many different shades of blue to signify, working with apparel brands famous for providing high-quality, affordable items in a variety of shades, like Port Authority, for example, can help ensure that your awareness campaign is right on point. Or mobilize take anywhere eco-friendly products like this Non-Woven Landscape Tote available in a full range of color picks to be sure that you are really spreading the right message.
Meanwhile, this simple and affordable Ribbon Heart Car Sign Magnet is a great way to encapsulate all those shades into one memorable product.
---
Purple Ribbon Meaning
The purple ribbon meaning can be considered particularly important since a lavender ribbon is typically used as a universal symbol for all types of cancer.
That said, when it comes to raising cancer awareness, the campaign doesn't stop at ribbons. Products like this Aromatic Friends scented aromatherapy bear not only helps people relax at the end of a long day but will also give them a visceral reminder of the importance of cancer colors and promoting awareness.
However, different shades of purple are also used to signify different types of cancers, like for example, violet, which is symbolic of Hodgkin's Lymphoma for which awareness is typically raised during September for World Lymphoma Awareness Month.
Meanwhile, a solid purple ribbon is indicative of pancreatic cancer, which can be difficult to diagnose in the early stages and thus particularly important to promote during November when the world honors Pancreatic Cancer Awareness Month. Light purple is used to signify testicular cancer, which is the most prevalent form of cancer in males between the ages of 15-44 and for which awareness is raised during the month of April.
When it comes to promoting cancer awareness, products like this Awareness Ribbon Foam Mitt come in a full variety of shades that will really have people cheering for a cause.
---
Green Ribbon Meaning
Lime green is used to symbolize Non-Hodgkin's lymphoma, another type of lymphatic cancer that is honored during World Lymphoma Awareness Month in September. Since lime green is a trendy color right now, picks like this Adult Pocket T-Shirt will ensure the type of exposure that really stands out.
Meanwhile, emerald green has a different meaning. It symbolizes liver cancer, for which awareness is raised in October. Since everybody is looking for healthier and smarter ways to live more sustainably these days, and products like this trendy 28 Oz Blender Bottle Pro 28 comes in an attractive emerald green color option that is sure to get noticed in all the right ways.
---
Black Ribbon Meaning
Black ribbons symbolize skin cancer, which is the most commonly occurring cancer amongst the United States population. Since melanoma is also the most deadly form of cancer, it is especially important to promote screening and prevention during the month of May.
The good news is that it is easy to do that with tons of custom promotional products that will really spread the right message. You can even team up with top brands like Koozie to really spread the word,  or opt for extra affordable picks like this Bling Kan-Tastic Cooler instead.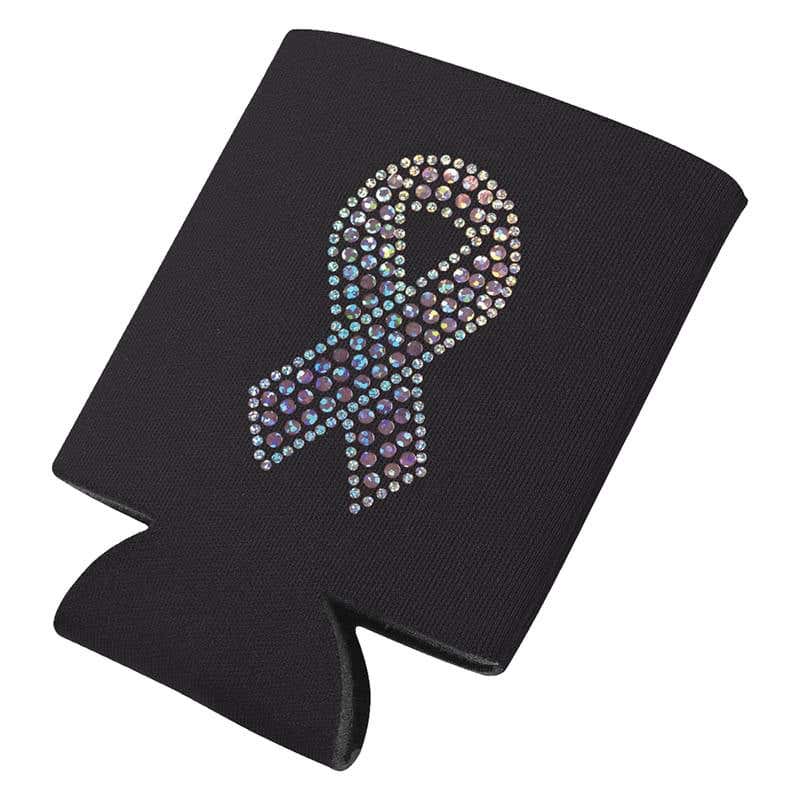 ---
White Ribbon Meaning
A white or pearl ribbon is symbolic of lung cancer, one of the leading causes of cancer death across the globe. This is why it is important to take part in year-round efforts to promote prevention raise funding for a cure, especially during the month of November, which is lung cancer awareness month.
Meanwhile, a grey ribbon is typically used to raise awareness for brain cancer, primarily during the month of May.
The good news is that these are both popular shades, so promoters have tons of great swag to choose from these cool Jumbo Awareness Ribbon Openers to classic branded t-shirts and apparel. Meanwhile, this Fused Soft Loop Handle Plastic Bag can be a great way to carry it all home in style.
---
To Sum It Up
When it comes to raising awareness for such a vital cause, it is important to do it right. We have all the swag that you need to set off those traditional cancer ribbon colors in style, and really get your cause the attention it deserves.
Don't forget that we love doing custom items, so don't be shy to reach out and let us know what you are looking for. If you are ever in a pinch, we also carry tons of 24-hour rush delivery picks to make sure you never show up empty-handed.
So if you are really wanting to get the word out with cancer colors for any occasion, be sure to come check us out today to find out more.