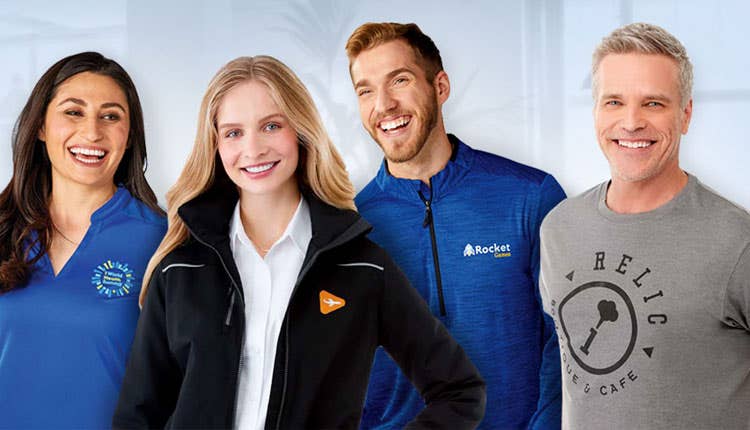 The Ultimate Branding Guide for Custom Apparel
To truly maximize your brand's exposure, you need to be "on-trend" with high-quality branded apparel and accessories that people are actually going to want to wear. How many generic branded t-shirts do you have in your closet?
hen it comes to crafting a killer marketing campaign that really leaves an impact, branded apparel is one of the best ways to do it, and you can't go wrong when you follow this handy guide for making your custom apparel-based promotional strategy a roaring success.
So, are you ready to create the type of cool branded apparel that your employees and clients will never want to take off?
We are going to show you how to dress for success!
---
---
Apparel is a Cost Efficient Way Maximize Your Brand's Exposure
It is no secret that custom apparel is one of the most tried and true ways to get your branded message out there.
In fact, no matter what generational cohort you come from, you have certainly noticed the proliferation of people proudly sporting branded apparel swag, whether it be at a corporate event or at the grocery store, park, around the home or just about anywhere else.
Branded Apparel Never Gets Old
It was the invention of the branded t-shirt that first took the world by storm back in the mid-twentieth century, spurring on what today has diversified and evolved into a 24 billion dollar industry that shows no signs of slowing down any time soon. That is simply because there is a lot more types of impactful branded swag available these days than just custom t-shirts.
Impressively enough, despite the amazing diversity of promotional branded products that you can choose from to get your message across these days, tried-and-true products like branded t-shirts still factor in as one most popular promotional items on the market, with 80% of consumers reporting having a custom branded t-shirt in their closet.
Meanwhile, with the average millennial reporting owning a whopping average of 5 promotional t-shirts each, it is safe to say that this type of classic promotional advertising medium still couldn't be hotter.
The Continued Evolution of Branded Style
While personalized branded apparel might not be a new concept, the field has evolved since the early days of promotional advertising, and this means that marketers have more winning options than ever when it comes to the type of medium that they can choose to really get their message across.
Promotional dress shirts, profession polo shirts, funky fitness gear, all-season outwear, cozy sweatshirts and swanky accessories like branded caps, sunglasses, and custom socks have all made a major showing in terms of popularity in recent years. As the emphasis on cool custom, apparel continues to shift to emphasize quality and comfort, corporate leaders, business owners, fundraisers and promoters alike have more opportunity to team up with leading brands to make sure that their branded marketing campaign really hits home.
Likewise, having all these amazing products to choose from means that you can seize the opportunity to really carve out your niche and make the right type of mark. That said, the proliferation of choices can also make the job seem a bit overwhelming, especially for those who don't know where to start.
With that in mind, we are going to walk you through everything that you need to know to create the type of custom branded apparel that hits all the bases.
Picking the Best Custom Apparel for Your Budget
One important thing to keep in mind is that promotional product advertising is the most effective and affordable way to advertise in terms of generating top returns on your investment. For instance, products like promotional outerwear generate a whopping average of 6000 views in their lifetimes, and prices start as low as 1/10th of a cent per impression. In fact, people prefer promotional product advertising almost 2.5 times more than they do newer popular mediums like Internet advertising, and most consumers under the age of 55 prefer promotional advertising over any other type of available medium out there.
So basically, it is safe to say that any type of promotional product-based marketing campaign is already a smart way to really put your advertising dollars to work for you, locking in the type of exposure and long-term consumer loyalty that will continue to pay off for years to come.
Cheaper Isn't Always Better
When it comes to custom apparel-based strategies, there are a few unique considerations that you need to be keeping in mind, and if there is one big thing to remember here, it is that cheaper is not always better.
With that in mind, it certainly nothing wrong with opting for more budget-friendly options like this classic cotton-based Port & Company Core Cotton Tee or Core Ladies Core Cotton Tee that provides a versatile and comfortable fit that almost anybody can appreciate is a huge range of fun color picks to perfectly offset your branded logo design.
That said, it bears noting that those who opt for cheaper options will probably miss out on a valuable opportunity to team up with big names like Nike, Adidas, High Sierra, Under Armour, OGIO and American Apparel that they already know and trust. After all, co-branding is one of the smartest ways to double up on the success of your campaign, and custom branded apparel is one of the best ways to invest in the type of high-quality branded apparel swag that will really turn heads.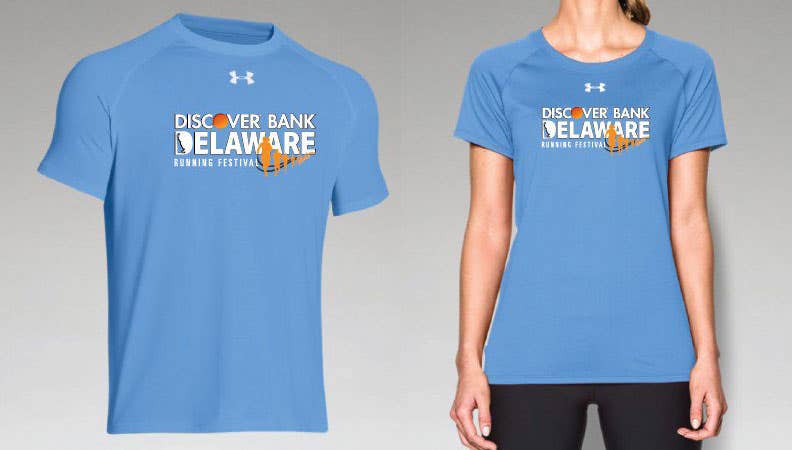 Eco-Friendly First
In addition, another major consideration to take into account is the sustainability of the materials themselves.
After all, eco-friendly products are in these days, with 42 percent of consumers already reporting being left with a more positive impression of a supplier who chooses to opt for a greener promotional marketing campaign, we can expect this trend to only continue as environmental concerns continue to become increasingly prevalent.
Meanwhile, it has likewise become more-and-more apparent that the average consumer will be more willing to shell out for brands that align themselves with eco-friendly products, particularly in terms of millennial audiences, so investing in sustainable and eco-friendly products like this Men's Hemp Crewneck T-Shirt or this Unisex Hemp Eco Trucker Recycled Polyester Mesh Cap is a surefire way to make that your branded apparel is the type of thing that everybody will be proud to show off well into the future.
---

---
High-Quality Products That Will Stand Out from the Pack
With today's custom branded apparel, in order to really make the cut, the item you choose should look as good as it feels. Attractive and versatile options that combine top-of-the-line comfort with some of the top style and logo design trends is going to be a surefire way to really hit the mark.
For instance, products like these Men's Hit Short Sleeve T-Shirts With Back Mesh Paneling don't only feature engineered seaming for superior fit and style but also include top-notch features like Dri-force stretch technology, moisture-wicking mesh on upper back and neck trim for added breathability, and wrinkle-resistant based fabric that is UPF 50 resistant. These are the type of next-level touches that your target audience will truly appreciate, and investing in the best is a surefire way to ensure that your custom apparel really stands out from the pack.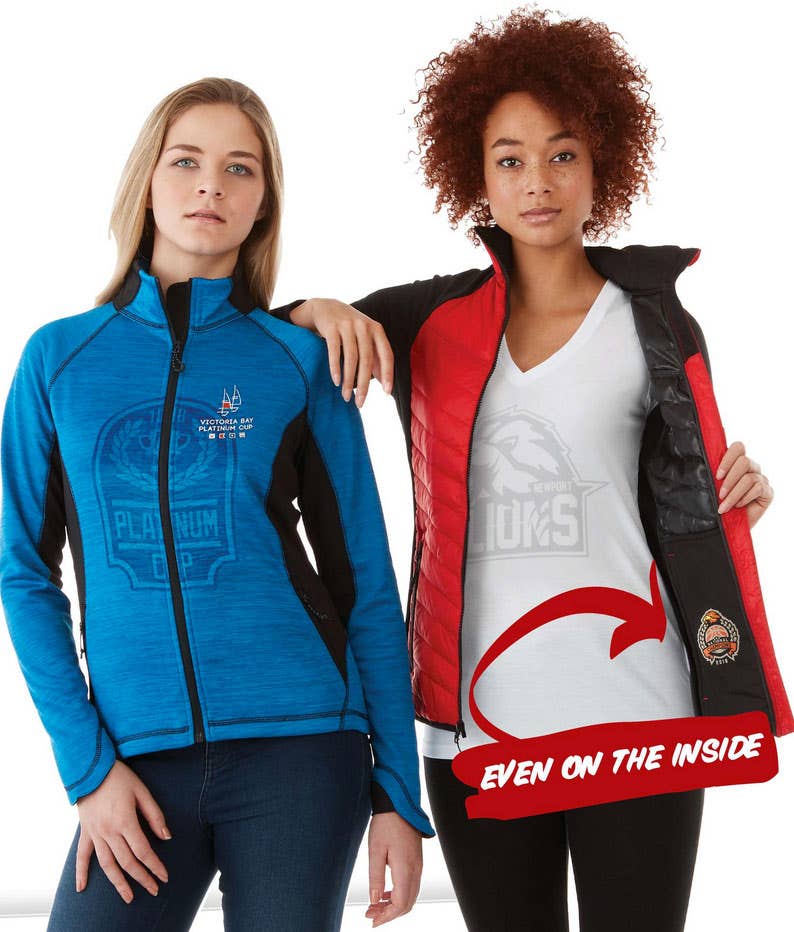 Narrowing Down the Options
We get that your branded apparel needs to be affordable to be effective, so a good starting point can be to consider the good, better, and best options for any category before making a final decision.
This way, you can give yourself some breathing room to carefully consider the added benefits that zeroing in on quality and comfort can afford you without having to worry about any of your picks falling flat.
Understanding How to Dress for Success
The key to keeping your branded apparel campaign fresh and fun is to be able to tap into the type of gear that people really want to be wearing right now. After all, trends are what drive the fashion industry itself, and if you think branded apparel is an exception you are missing the boat!
With that in mind, we are going to break down the five main categories of branded apparel as well giving you the dish on the insider trends that will help you lock down the perfect fit.
Getting the Right Message Across With Custom Branded T-Shirts
We've all seen promotional t-shirts, and this is just a testimony to what an effective form of advertising they are.
The fact that custom t-shirts give you the freedom to create a logo design that is literally front and center helps explain why they continue to dominate the promotional merchandise landscape in 2020.
One of the cool things about branded t-shirts is that they are inherently versatile, day or night, dressing down or dressing up, all-ages, all sizes. This helps explain why the average custom t-shirt clocks in an impressive 3400 views in its lifetime, not to mention the fact that they tend to be highly affordable as well.
No wonder a cool custom-tee never goes out of style.
Top T-Shirt Trends
1. Keep It Cute
Want to appeal to a younger, hipper audience?
Don't be afraid of showing a little skin with fun, edgy picks like this breezy Ladies' Poly-Cotton Loose Crop Tank Top or this super-sexy Unisex Power Washed Tank.
2. Retro-Chic Is In
Vintage and sports-inspired swag like these Unisex Poly-Cotton V-Neck Football T-Shirts or these Original Women's Tri-Blend Varsity Tees are right on the mark this year, as are warm neutral and 90s neon-inspired picks.
For instance, this Neon Tank Top is the perfect way to really turn heads at an outdoor festival or summer event with a fun splash of retro-tacky realness.
3. Softness + Style = SUCCESS
Over half of all consumers rank attractiveness and quality as the two top attributes that they seek out in a custom-tee, so make sure it feels as good as it looks.
For example, check out this timeless Ultra Cotton T-Shirt for Tall Sizes available in your choice of eight eye-catching color picks or this Adult Organic Reglan Long Sleeve Henley T-Shirt featuring a chic and classy unisex cut in 100% organic cotton fabric.
---
Keeping It Fresh and Professional with Promotional Polos
A great way to speak to a more mature or professional-level audience, promotional polos and custom company branded dress shirts are the type of smart investment that really pays off. Of course, naturally understated nature makes them great company or corporate apparel picks as well.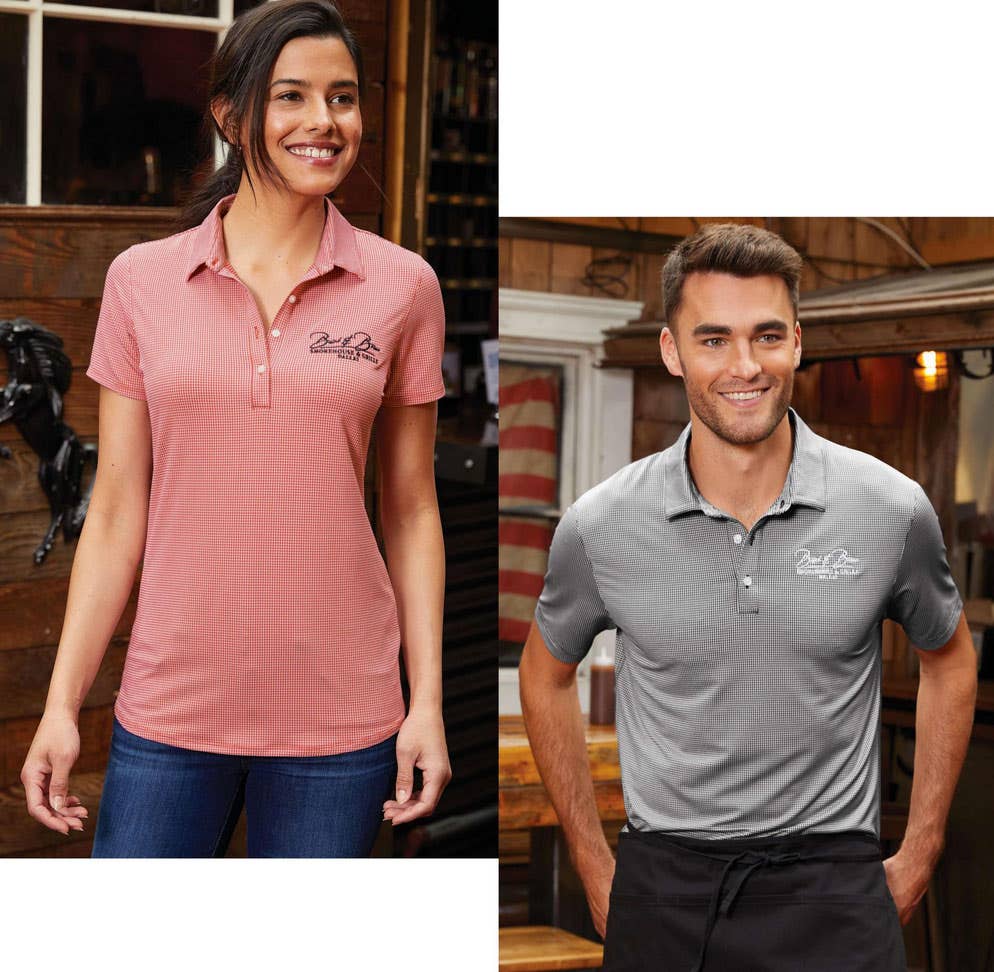 Meanwhile, they clock in almost as many views as the average promotional t-shirt and add an upscale splash of elegance that is the perfect way to offset your discrete branded logo design.
Top Promotional Polos Trends
1. Seek Out Breathable Fabrics that Are Built to Perform
These days, people are not just looking for the perfect shirt to sport in the boardroom, but also, comfortable, breathable fabrics that will transfer seamlessly from the office to the golf course in style.
Products like these Under Armour Corporate Men's Performance Polos and Under Armour Corporate Women's Performance Polos feature moisture wicking-technology to keep the fabric feeling cool, dry and uber-comfortable day in and day out.
2. Look for a Stand Out Silhouette
If you think branded polos are just for men, then you really need to think again. 76 percent of women report keeping branded polos because they like the way they look. However, unlike branded t-shirts, a bulky or boxy custom polo or dress shirt just won't cut it. This is why you should seek out the type of looks that are built to flatter different types of silhouettes.
Shoot for tailored ultra-fitted looks like the ones offered by this Port Authority ® Ladies 3/4-Sleeve Micro Tattersall Easy Care Shirt, this M-MORI Long Sleeve Polo Tall or these Under Armour Corporate Tech Polos in Men's and Women's styles.
3. Don't Be Afraid to Stand Out from the Pack
If you really want to create a standout look that still keeps it classy, don't shy away from looks that fuze more traditional polo cuts with a refreshing new cut or splash of style.
Take, for instance, this retro-chic Greg Norman ML75 Bliss Polo or this fashionable and fresh VanSport Pro Mini Gingham Polo. Don't miss out on sportier inspired looks like ones offered by this Ladies' EPerformance Tempo Recycled Polyester Performance Textured Polo.
---
---
Making the Most of Personalized Outerwear
In case you missed the memo, outerwear is in, and everybody is seeking out the type of durable versatile gear that can withstand the rigors of the great outdoors while still standing up fashion-wise in any type of urban jungle.
While branded outerwear may seem like a bit of investment, it actually generates more views than other promotional product categories out there, each item generating a whopping average of 6,100 views in its lifetime.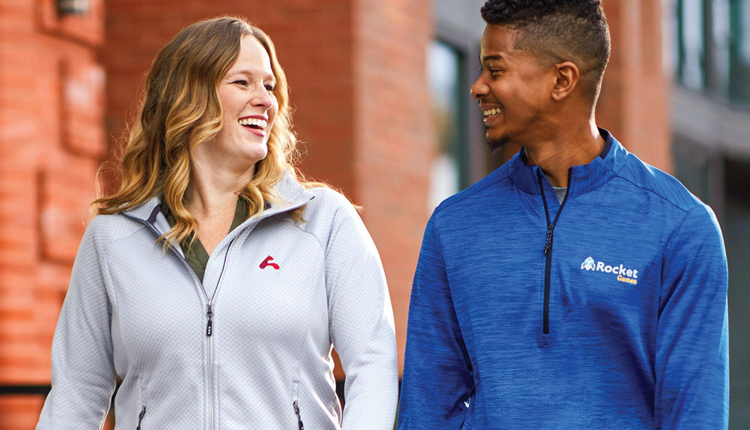 These types of durable and versatile products are the outdoor companies and corporate brands alike to get their name noticed, and makes for a great employee or client gift that almost anybody will appreciate.
Top Outerwear Trends
1. Low Maintenance, No Problems
Natural stuffing materials like down used to be all the rage, but times have changed, and advances in synthetic technology have allowed people to enjoy cruelty-free easy-to-care-for convenience that maxes out on quality and comfort.
Take, for example, this Port Authority ® Ranger 3-in-1 Jacket that relies on waterproof layering technology and an easy to clean microfiber lining to seal in warmth and maximize comfort.
2. Size Matters
If you want to create the type of outerwear campaign that really speaks to everybody, you have to think about inclusive sizing options for every type of body.
This form-fitting W-MANHATTAN Softshell Jacket is built to conform to the natural contours with seven different sizing options available to help you nail the perfect fit each and every time.
3. Look for Lightweight Gear That Can Cut It in Any Environment
Nobody loves the feeling of packing extra weight, and versatile, breathable modern fabrics make it easy to sweat it out anywhere in style.
Fashionable, lightweight picks like this Port Authority ® Ladies Digi Stripe Fleece Jacket or this Nike Sphere Dry Cover-Up make for great hiking gear and trendy office apparel alike.
---
---
Working It Out With Branded Athleisure and Fitness Apparel
Speaking of top trends, if there is one type of look that everybody is rocking these days, it is the type of products that are breathable enough to work out in, but comfortable enough to sport around the office.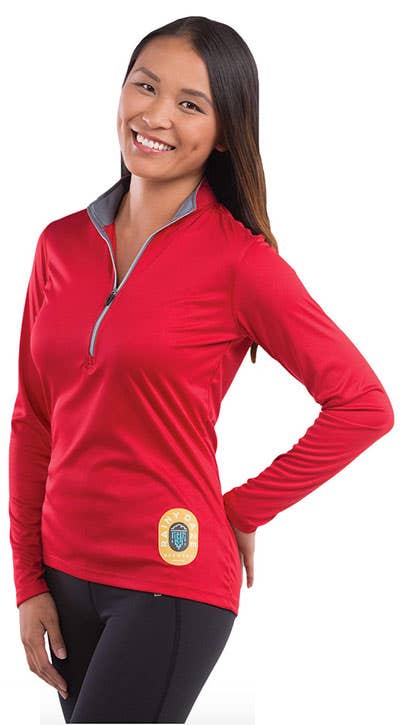 While athleisure gear naturally lends itself to more Millennial-based audiences, fitness swag is really an all-ages affair, and thus this type of gear is not only for gyms and athletic retailers anymore but also a great way to fuel a promotional giveaway event, race or fundraiser.
Top Athleisure Trends
1. Go High-Waisted or Go Home
High-waisted looks naturally lend themselves to athletic gear, particularly the performance leggings subset. However, whether working out or chilling at home, nobody likes to be caught with their pants down, so going for a high-waisted cut is the best way to make sure you nail a look that works for everybody.
However, trendy picks like this Ladies' Elite Performance Fleece Pant come with a built-in drawstring that lets your clients choose their own best fit.
2. Level Up With Head to Toe Looks
As of late, athleisure gear has been borrowing from streetwear-inspired looks to nail down put together outfits that can be sported anywhere and everywhere.
For instance, products like these trendy Ladies' Elite Performance Fleece Pants can be color matched to pair exquisitely with these Ladies Championship Jackets to create a put-together statement that is bound to turn heads.
3. Transition Seamlessly from the Office to the Gym 
Performance woven fabrics are designed with high-tech sweat busting capabilities in mind, but they also dress up just as well as they dress down.
Your employees and clients are bound to appreciate versatile and trendy picks like this Ladies' Wicking Polyester Sport Shirt With Contrast Piping that are designed to cut it in the courts or but still chic enough for a corporate environment.
---
Customized Wearable Accessories for the Win
Wearable accessories like branded headwear, funky personalized socks and custom totes, messenger bags and backpacks make for great promotional giveaways for almost any occasion, and can often serve as a fun alternative to more traditional branded apparel picks like custom-Ts.
Even better, they tend to lend themselves to all sorts of environments and age-groups, making them a killer crowd-pleaser at any kind of promotional event.
As effective as they are versatile, these types of products tend to generate an impressive average of well over 3000 views all for a pithy investment that can go as low as 2/10th of a cent per impression.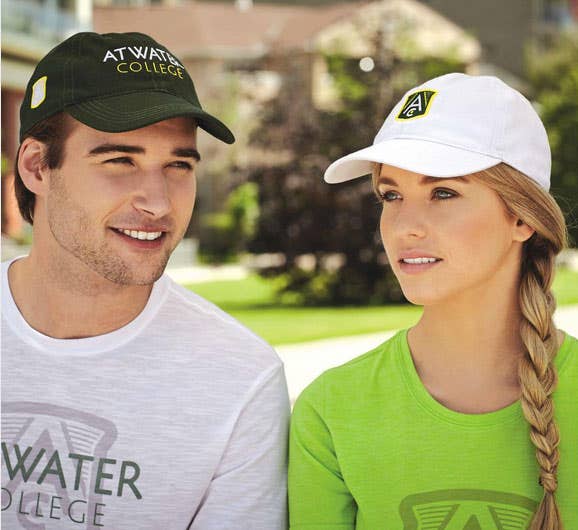 Top Trends in Wearable Accessories
1. Dad Hats are Top
When it comes to cashing in on winning trends, dad caps are the accessory to beat these days.
This means you can't go wrong with chic one-size-fits-most best-sellers like this Breathable Poly Twill With Mesh Back in a huge range of two-tone combinations or this Flight Ultra-Thin Flex Cap in your choice of seven eye-catching color picks.
2. Style It Up With Patterns and Textured Designs
When it comes to fabric and design picks, it is all about having fun with textures and patterns.
This Washed Denim Cap subverts more traditional looks in low-key style, while custom pattern socks like these Crew Full Color Custom Sock With Black Heel & Toe are a must-have item that provides the perfect opportunity to create a look all your own.
3. Get Ready Level Up Your Promotional Tote Game
Trendy totes that add stylized features like this stunning leatherette handled Accord Clear Tote Bags are the perfect way to ensure that your clients are really rocking the town in style while ensuring that your name stands out from the pack.
However, the buck doesn't stop at basic bags these days, and chic multifunction picks like this Graphite Foldable Backpack provide the improved comfort and function of a backpack while offering one-of-a-kind portable convenience on the fly.
---
Lock-In Loyalty in Style
What's good for your clients isn't always good for your employees, but when it comes to branded custom apparel we can make a notable exception.
In fact, offering your employees top of the line custom apparel will not only ensure that their looks are always on-brand but are also one of the smartest ways to build employee loyalty and boost morale.
The reasoning behind this is actually pretty simple. Receiving things cool branded apparel makes most people feel good feelings, and when they feel good about something that they get, they are going to want to return the favor.
In addition, sporting a similar look is a great way to create an insider atmosphere that will bring your employees together, so the more free branded apparel and custom swag that they are encouraged to rock, the merrier. Of course the more on-trend your campaign, the more they are likely to love it.
Needless to say, the same rules apply to your clients as well, and this helps explain why branded apparel to craft your brand and spread your message any time, anywhere.
Wrapping It Up
Whether you are looking for top-selling recommendations, get an instant quote or want to bring that one-of-a-kind branded logo design to life, our amazing team is here to make it happen.
Come check us out today to find out more.