Where to Buy Office Supplies in Bulk
Ordering office supplies in bulk can save you time, money and effort — but it can also be overwhelming to get started with buying large quantities of custom office supplies. In this ultimate guide, we're explaining why buying office supplies in bulk is beneficial and offering tips for vetting bulk office supply vendors. Then we offer our expert advice for how both large and small businesses can save money while buying bulk office supplies and, finally, give suggestions for what supplies you should consider buying in bulk.
Why Buy Office Supplies in Bulk?
If you've never bought office supplies in bulk before, you might be wondering why it's worth it to switch your purchasing habits and possibly your supplier as well. First of all, buying personalized office supplies in bulk or wholesale will save you a lot of money in the long run. While you might pay more upfront (since you are buying in much larger quantities), you will have to make purchases much less frequently, which will save you money over time. You will also pay much less per unit overall because you will be getting those bulk discounts.
Buying office supplies in bulk also means that you never have to worry about running out. If you are constantly having to place orders for supplies because you've run out of one thing or another, ordering in bulk will mean that happens much less frequently (and maybe never happens again). Since you'll have a certain backlog of supplies, you can just pull from that. Ordering office supplies wholesale will also save you time because you need to place fewer orders less frequently. If you spend a lot of time keeping track of what's left in the supply closet and placing restock orders, switching over to bulk supplies will save you time as well as money. This frees up your schedule so you can spend your efforts on more strategic tasks.
Why Buy Custom Bulk Office Supplies?
Buying office supplies in bulk is a great idea — and buying customized office supplies in bulk just takes things a step further. Custom office supplies are a great way to help spread brand awareness as promotional products for clients or prospective clients. A nice folder embossed with the company logo will make a much better first impression than a plain folder you picked up at the local office supply store at the last minute. Custom office supplies can be used as employee gifts for special events, birthdays and more, so they serve many purposes.
iPromo is the go-to supplier for customized bulk office supplies, and we give you the ability to completely personalize your office supplies. Whether it's writing utensils, USB flash drives and everything in between, you can choose to add your company logo and brand colors to fully customize your products. Contact us today to get a quote or a design proof started for office supplies!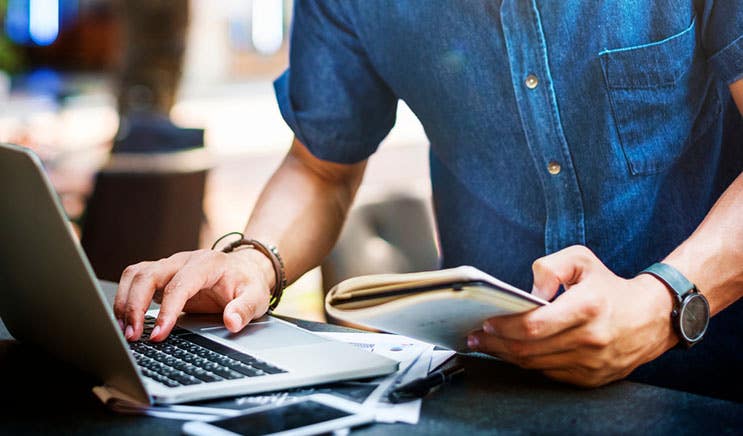 Where to Buy Office Supplies in Bulk
If you Google "bulk office supplies," lots of vendor websites will come up, and it can be overwhelming to choose between them. Furthermore, the right vendor for you will vary a lot depending on what exact supplies you need, how fast you need them shipped, where you need them shipped and more. Because of this variety and complexity, it's difficult to recommend specific bulk office supply vendors. Instead, we're going to talk about how to vet your options and make the right choice for your business.
First of all, if you find a deal that's too good to be true, then it very well might be. Just like any other sector of eCommerce, there are scammy companies out there offering products and deals that aren't what they seem to be. Carefully research any company offering prices that are drastically lower than their competitors to confirm that they are legit before ordering. Look for reviews of the company, especially on third-party websites, to see what other customers are saying.
Once you draw up a list of legitimate vendors, visit their websites to see what supplies they offer. If you have certain niche office supplies that you routinely need, then that might significantly narrow down your list of vendors. Keep in mind that if you need a wide variety of modern office supplies, not every vendor might offer them all, so you might have to place orders at a couple places.
In fact, in some cases, it might be cheaper to order certain office supplies from one vendor and other supplies from a second vendor, especially if they don't price match, which not all retailers do. If they do offer a price match, then you should definitely take advantage of that so you can consolidate your orders into as few shipments as possible.
Speaking of shipping, you'll also need to run the math to discover whether or not ordering from two separate vendors is worth it. Depending on their rates, paying twice for shipping might wipe out any savings that you thought you would gain by ordering from a second vendor with a cheaper item cost.
Some bulk office suppliers are warehouse clubs, and ordering from them usually involves paying an annual membership fee in order to get access to their deals — think Costco or Sam's Club. You will need to run the numbers to see if you will recoup this membership cost via the savings you get from ordering from them.
We also recommend checking out your current trusted vendors to see if any of them offer office supplies in bulk. For instance, here at iPromo, we're mostly known for our promotional products, but we sell wholesale office supplies as well. By buying from a vendor you've already worked with, you will save yourself from having to create a second account. 
Stock Up on Bulk Office Supplies
You will also have peace of mind, knowing that you are ordering from a reputable partner that you have worked with before. If you work for a company that requires vendor approvals before placing an order for the first time, this approach will also save you from additional red tape and waiting. 
More Tips for Buying Office Supplies in Bulk
Before placing your first bulk office supply order, we recommend keeping track of your office supply use for a period of about a month. This will give you a rough idea of how quickly you can expect to go through various amounts of office supplies. You should also take stock of your supply closets to estimate how much extra room you have to store bulk office supplies while they are waiting to be used. You can use these two factors to get a guesstimate of how much you should buy of each type of office supply.
Be careful about the quantities that you buy of office supplies that have an expiration date, such as printer cartridges. Don't buy more than you can finish before they expire or go bad, even if you are tempted to do so by a discount. Remember that throwing away a bunch of supplies won't save you money! Also watch out for items that are on clearance, closeout or some other type of serious sale. In some cases, they may be about to expire or be damaged in some way, which is why they are so deeply discounted. Always read the fine print before making your purchase.
Before placing your order, you should check the per item discount and ensure that you are getting a discount for buying in bulk. If you're not, contact the vendor and potentially consider looking for a different store to buy from. Most vendors will offer a bigger discount for greater quantities, so the more you buy, the more the per item cost will drop. Be sure not to go overboard though; only buy quantities that you will reasonably use based on the estimates you made in the first step.
Our final tip for you might be the most important: Try to do the majority of your buying in the fall, around the back-to-school period. Many office supply retailers offer major sales in conjunction with the start of school, starting in August and running into September and sometimes even October. If you can buy a year's worth of supplies at once during these sales, it can save you major money overall.
However, this does mean that you need to have both the budget and storage available in order to buy this many supplies at once. If that's not in the cards for you, don't worry: You will still realize savings from buying office supplies in bulk no matter what, and there will be other sales throughout the year that you can take advantage of.
How Small Businesses Can Buy Office Supplies in Bulk
Small businesses have special concerns when it comes to buying office supplies in bulk. For one, your company might not be large enough to qualify for a corporate discount. You might also have no reasonable way to get through large volumes of office in a timely fashion if you only have a few employees. Many small businesses also lack the extra square footage to store bulk office supplies that they are not using. However, this does not mean that small businesses have to miss out on the benefits of ordering office supplies in bulk. Instead, you can form a buying co-op — sometimes called a purchasing cooperative — with other local businesses in your area. That will allow you to get corporate discounts and to split up wholesale office supplies among the members. We recommend choosing other businesses local to you so that you can get the supplies shipped to one location, and then easily distribute them.
What Office Supplies to Buy in Bulk
If you are new to buying office supplies in bulk, you might not know what supplies you can or should buy in large quantities. Here are some ideas to get you started:
Paper and printing products: There's no denying that most offices go through reams of paper and countless printer cartridges, making this an obvious choice for office supplies to buy in bulk.

Writing supplies: Pens, notebooks, Sharpies and paper clips, not to mention dozens of other stationery supplies are much cheaper if you buy them online in larger quantities instead of picking them up at your local office supply store.

Cleaning supplies: While you might not think of cleaning supplies when it comes to ordering in bulk for the office, you can save a lot on disinfectant, paper towels and more if you buy them wholesale.

Custom promotional products

: At iPromo, the more promotional products you buy, the greater discount you get! Ordering promotional products in bulk is the most cost-effective way to get custom swag to promote your company.
Ready to get started with buying custom office supplies in bulk from a trusted vendor? Browse the office supplies that we have for sale here at iPromo, and don't forget to check out our promotional products as well. Our customer service team would be happy to assist you with placing an order of bulk office supplies or getting a quote for the perfect promotional product for your business.
Image Credits
gh s/Shutterstock.com
Jacob Lund/Shutterstock.com
Rawpixel.com/Shutterstock.com
Africa Studio/Shutterstock.com