10 Best Marketing Swag Ideas To Leave an Impression
Looking for a great way to leave your mark in a one-of-a-kind type of way? This is the best marketing swag to make a lasting impression that keeps on giving.
Making It Count
In a crowded and bustling environment like a trade show or conference, it can be hard to stand out in a sea of competitors who all are trying to get their name out there. The same goes for the boardroom, where it can be just as tough to nail down a hard client or lock-in employee loyalty in a highly-competitive marketplace.
---
---
The good news is, this is where a well thought out  promotional swag can make all the difference. Indeed, the latest research from the Advertising Speciality Institute has found that up to 85% of consumers will remember the name of an advertiser who gave them promotional swag, and as such, giving the best marketing swag is the best way to make an impression that counts.
So what type of branded marketing swag will give your company the type of edge that will have your brand's name on everybody's lips? The answer is: the items that people actually want to receive.
Give the Type of Promotional Swag That Everybody Will Remember
Looking for some great swag ideas that will help you stand out from the crowd? Look no further. Whether on a budget or looking to splurge, these are the top ten swag ideas you need to try out.
1. Happy-Hour Friendly Promotional Swag
Everybody loves a happy hour, and likewise, everybody loves the type of marketing swag that provides a safe and easy way to take those drinks on the fly.
For instance, this Phone Holder and Bottle Opener Keychain is the type of multi-tasking item that everybody needs to have around. Meanwhile, custom tumblers are yet another smart way to impress.
To offer the type of gift that is a cut above, this Welly Original Copper Vacuum Tumbler is bound to turn heads and do good for the environment. 
---
2. Personalized Water Bottles
If there is one gift that almost anybody can appreciate receiving, it has got to be a high-quality custom water bottle. After all, nobody out there can say that they don't drink water, and this is the type of marketing swag that is meant to measure up to today's busy lifestyle, no matter what kind of life a person lives.
This 10oz Lexington Stoneware Mug With a Bamboo Lid is as versatile as it is elegant, suitable for both a morning coffee or to hold a cold supply of water on the go.
Deal hunters need not fret though. This Zion 25oz PET Water Bottle is available in a choice of six fun colors, it makes for a very memorable marketing swag indeed!
At the same time, anybody wanting to prove that their brand is all about quality won't want to miss out on an opportunity to get their name on that Camelbak water bottle that everybody wants to own.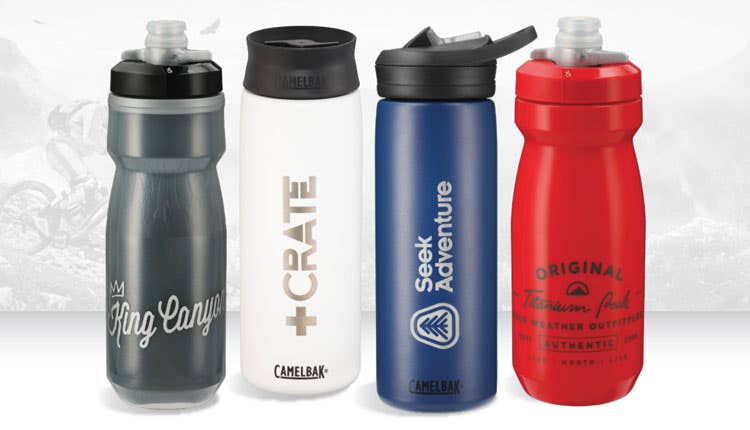 ---
3. Self-Care Goodies
Self-care is an essential component of a healthy balanced life, and everybody needs to kick back and look after number one every now and then. This is why employees and clients are likely to appreciate receiving any kind of handy portable product that makes it easier to do that whenever and wherever they are.
The super convenient massage ball kit is perfect for travel, work and home alike, and comes with your choice of full color or custom screen printed logo design mounted front on the easy to carry bag.
Of course, don't forget about custom hand sanitizers. They are a time-tested trade show favorite for a reason, and nobody wants to let germs get in their way when trying to get out and about and have a good time. Even better, they are just as affordable as they are practical.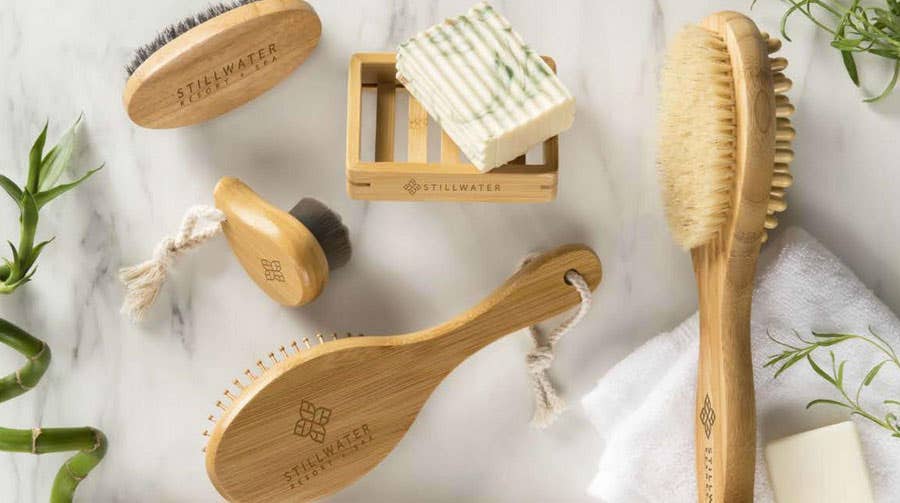 ---
4. Custom Popsockets and Phone Accessories
In 2020, Tech accessories are in, and if there is one accessory that few people will say no to, it's branded Popsockets smartphone grips and stands. Classic models come complete with one color and one impression imprint to make sure your name gets noticed.
If you are on a budget though, there is no need to sweat it. At a minimum order quantity of only 50 items, this Teardrop Ring Holder is just as affordable as it is bound to be appreciated. Or check out this nifty Manhattan Leatherette Phone Wallet. It only looks expensive!
---
5. Fitness and Outdoor Gear
2020 is all about getting fit and having outdoor fun. This is why top-notch fitness and outdoor-friendly marketing swag is a sure-fire way to win over a crowd.
For instance, this High Sierra Bright Cree Room Flashlight features a water-resistant design that is perfect for any type of outdoor exploration or adventure and comes with your choice of high-quality laser printed or screen-printed logo options.
Those who are shopping on a budget still have plenty of options to choose from. This Ceduna Sport Bag comes in ten cool color choices to make your brand pop and makes for a great one-of-a-kind trade show or conference giveaway treat.
Meanwhile, anybody who really wants to double up on their impression-making potential can seize the opportunity to team up with the type of brands like Nike, Titleist,and Adidas who have already developed a world-wide reputation for producing the types of high-quality products that everybody wants to own.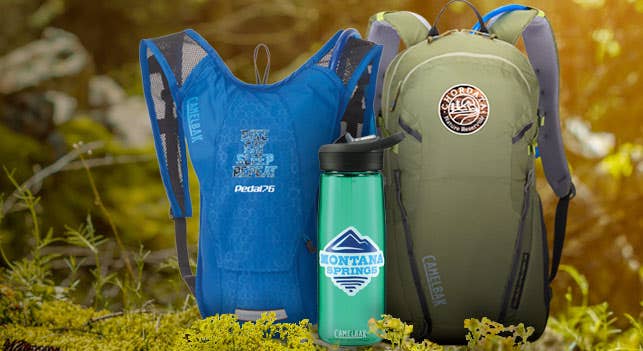 ---
6. Marketing Swag For Lunch on the Go
There are so many reasons that people love to bring their lunch with them. Not only is it a healthier way to eat, but it is also a great way to save money. This helps to explain why lunch promotional swag is so in right now.
This fully insulated Arctic Zone Flip Down Lunch Cooler has everything that your clients or employees need to take lunch with them on the fly, including a water bottle holder, two containers and an easy-access opening. You only have to order 24 items to qualify.
For cool lunch-time marketing swag on the cheap, opt instead for this Polypro Printed Lunch Tote.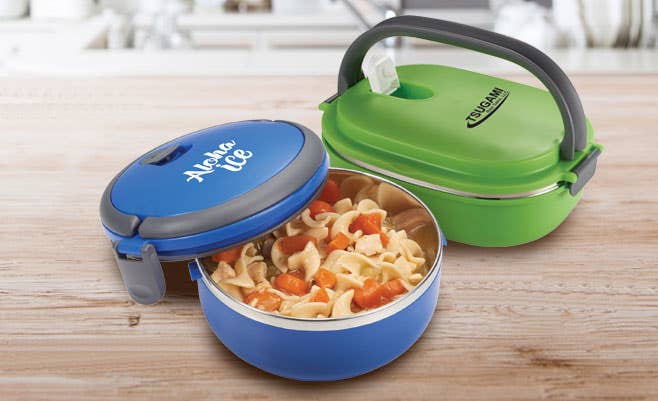 ---
7. Power Banks and Wireless Chargers
Branded power banks and personalized cell phone chargers are the types of in-demand products that are just as fun to give as they are to receive. Available in a wide range of colors and styles and price points, this is the type of marketing swag that nobody is going to say no to.
For instance, check out this cool Boost Qi Wireless Charger. Available in no less than ten stand-out color combinations, this is the type of promotional swag that is bound to get you noticed.
That said, to let anybody who really wants to impress in on a little insider secret, Morphie and Anker are the brands to beat.
---
8. Pet-Friendly Marketing Swag
Millennials love for their furry friends has created a whole new market for pet-friendly promotional items and will certainly be trending into 2020.
This Dog Walker Hydration Sling will help ensure that dog owners stay just as happy and healthy as their canine friends when out for a walk. Meanwhile, this nifty clip-on 7-Inch Pet Collapi-Bowl lets pet owners take their furry friends with them wherever they go without having to worry about them going hungry. Great news: it makes for the perfect budget-friendly promotional swag giveaway!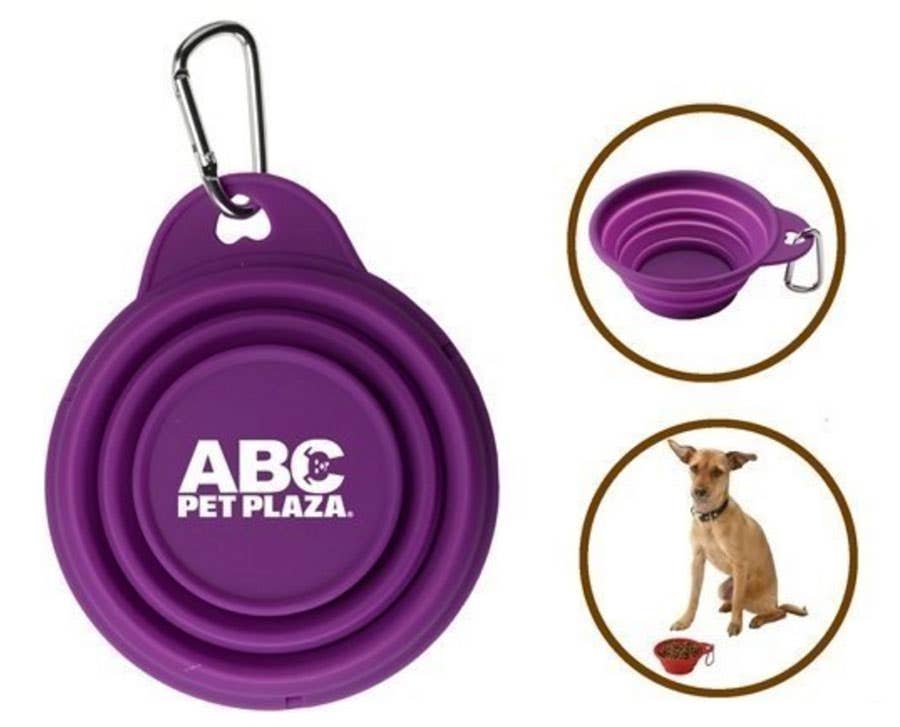 ---
9. Portable Bluetooth Products
If there is one thing that people love to be able to take on the go, it is their favorite beats. It is no wonder that why portable Bluetooth products like speakers and earbuds are such a sure-fire hit in terms of marketing swag.
Even better, from these cute Tiny Cube Wireless Speakers to this top of the line Anker SoundCore Mini Bluetooth Speaker, there are tons of variety out there to choose from. You can even have a custom Bluetooth speaker designed just for your logo or brand. Talk about memorable impressions!
Meanwhile, these compact portable earbuds are just as fun to own as they are affordable. That said, for anybody who really wants to go all out in terms of impressing, nobody is going to say no to a set of custom Apple AirPods.
---
10. Eco-Friendly Products
Almost half of all consumers will be left with a more favorable impression of a brand that aligns itself with marketing swag that is eco-friendly, and that is all the more reason to invest in promotional products that are consciously manufactured.
Looking for an affordable giveaway alternative? This Reusable Silicone Straw Keychain is just as affordable as it is handy, and is the type of thing that almost anybody will be sure to hold on to.
That said, for something out of the box, check out this gorgeous Organic Cotton Recycled Polyester Blend Eco Apron. It is sure to speak to the inner chef in anybody.
---
To Sum It All Up
The best marketing swag need not be expensive to turn heads and make a mark. However, anybody wanting to kick it up a notch and really stand out has plenty of ways to do so with top-of-the-line swag ideas that are designed to last.