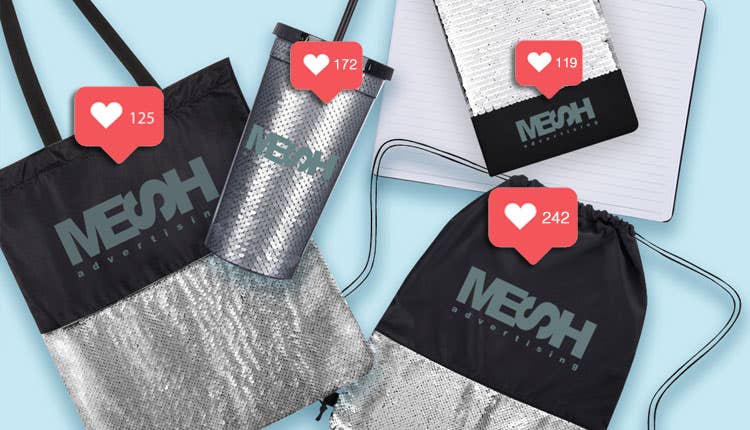 7 Steps to Creating Instagrammable Swag Bags
Get your fresh ideas for corporate event goodie bags here! We'll help you pick items to gift to your attendees and stay top of mind after the event.
With social media being a part of our daily life, people are constantly wanting to see what their friends, family, and celebrities, and influencers are doing at all times. Instagram has morphed into a force to be reckoned with, as the social media giant has over one billion active monthly users.
Instagram is the perfect place to market your company or brand in a more visually pleasing way. To do so, a lot of companies have turned to the creation of an eye-catching corporate swag bags. The quality of the bag will affect the way people see your brand, especially online. If potential customers notice that you have high-quality products being given out, they're more likely going to trust your brand in the future. 
What is a Swag Bag?
To understand a swag bag we have to go way back. The word "swag" was first documented in the Oxford English Dictionary in 1303, which referred to it as a bag. It was until the 1960s that the definition, "bag containing free items," was used to describe the modern day swag bag.
Swag Bag Items
There are a few common items that are often associated with cheaper swag bag for events. These can include reusable water bottles, t-shirts, sunglasses, and pens. All of these items can be purchased in bulk for relatively low prices and can easily be branded with your company's logo.
For the middle of the road, higher quality versions of the items previously are more likely to be appreciated. That means better water bottles and sunglasses. Also, incorporating more tech-related merchandise like a wireless charger, wireless earbuds, or a Bluetooth speaker.
On the other hand, corporate gift bag ideas are more expensive pieces that executive-level associates will be able to use and enjoy. These are on the higher end of the price range, but are well worth it. Some of these items can include briefcases, leather padfolios and wine sets.
7 Steps to Creating an Instagrammable Swag Bag
Once you've established the basics of swag bag ideas you can start creating your own. These steps will help you make the perfect bag for your next event.
1. Figure Out Who You're Buying For
Crafting the perfect swag bag can be a lot of work if you've never done it before. It's a good idea to specifically target the audience that is coming to the event in order to find products they will actually use after the meeting is over. You should try to place yourself into the shoes of your guests to cater to their interests.
Making a bag that's personal will increase the number of shares you receive online. This is often because if people can find a connection with something, they will often show their friends, family, or following through social media. This has become such a great way to increase your brand's presence in every part of the world.
Who you're buying for will also depend on your budget. If you're purchasing swag bags for a corporate event, there are certain items that make more sense over others. The same goes if you're buying products for a younger audience. Your audience will ultimately help with setting your budget and choosing items that relate best to their personalities.
2. Establish a Budget
After you've determined who is coming to your event, it's time to crunch some numbers. Try figuring out how much you're willing to spend on each bag over certain products. There are several bulk websites online that have a copious amount of promotional items for you to select from, which also include options for logos.
Locking in your budget is one of the starting points that you should stick with moving forward. This could mean spending $10, $20, $50, or $100 on a bag. It's important to keep in mind that the best swag is made of higher quality products. Your clients will be more impressed with lesser goods that are made to last rather than a handful of cheaper items. There is still a lot of wiggle room surrounding this. Essentially, you can still order t-shirts or tote bags, just ensure they're made from great materials that will make people want to use them in the future. 
3. Choose an Appropriate Amount of Items
This step goes hand-in-hand when selecting a budget. You want to select a perfect amount of items that will make the bag seem filled and still have money to go around. The most appropriate number of items that should be included in a swag bag is around four to six. Again, this depends on the budget and who your attendees are as well.
4. Select an Attractive Bag
The bag is the first thing that guests will see, so it's important to set the tone for your event right away. Using bold colors, the overall shape and the style of the bag will ensure that your brand's message is getting across clearly. This means using a brightly colored tote to represent fun, a black bag with gold lettering to represent luxury, and a backpack to represent practicality.
You should be selecting a style that attendees will want to use far after the event has finished, and also still be comfortable for them to carry around while the event is taking place.
5. Decide What Items Should Be Included
After you've selected a theme for your swag bag, it's time to finally decide what to incorporate. Cheap yet desired swag bag ideas are the best way to introduce more quantity to your bags, as long as they're things that your guest will use once the event has finished.
The products you choose should relate to your theme as much as possible. You want something that every guest will love. Each item can represent a different feeling when you pull out a new item. As an example, if your event is outdoors including sunblock may have guests feeling thankful. For a long event, try adding some snacks. Take a step in the right direction by catering your swag bag for the type of event you're hosting.
6. Get Your Design Ready
Once you've picked all the products, you must figure out how the logo will look represented on each. One of the main purposes of a swag bag is to market your company to a large group of people. You don't want to risk having your company's logo poorly displayed. If you have an art department, try contacting them to see if you can get some new designs or at least a high-quality version of the logo you want to be placed on each item.
When placing the logo onto your products, make sure it's going to fit the items properly. You should keep the design in the back of your mind whenever you're browsing through a website deciding which products to go with.
7. Important Things to Keep in Mind
There are a few extra things that are fairly important to keep in mind. Being eco-conscious with your swag bags is a great way to show that your company cares about its environmental impacts. Oftentimes, swag bags are seen as a waste because they're filled with "useless junk."
If you're hosting an event for a younger audience, they may appreciate a more eco-friendly bag that cuts down on waste. This can include discount codes, contests, reusable water bottles made from metal, or free offers. It all depends on the clientele coming to your event. 
To have your bag appeal to more people, try using bright colors or interesting fabric choices. Surprising your guests in a good way will have them sharing your gifts more than ever before. Some event goodie bag ideas you can incorporate are fun treats, face masks, wellness sets, as long as it relates to your event in some way.
At the end of the day, you want to fill your swag bag with branded products that guests are going to want to share online and use once the event is over. Using great quality branded items will have more people discovering your brand from online shares.
Social media is an extremely important marketing tool that more and more companies are embracing as time goes on. So you need to stay up to date on what's trending, what items work best for your guests, and what will they continue to use years from now to create the ultimate Instagrammable swag bag. Need inspiration or more ideas? Don't hesitate to chat with one of our swag bag experts or request get a quote today to get started.