Best Types of Hand Sanitizer for Your Business
Hand sanitizer is one of the best ways to stay healthy during cold and flu season (and really all year), which is why it's absolutely essential that businesses keep it stocked all the time. There are many types of hand sanitizers to choose from, including gel pump bottles, custom spray hand sanitizers, touchless dispensers, and more. Here are five essential types of branded hand sanitizer you should consider buying for your business:
Hand sanitizer is the perfect way to keep your hands clean on the go when you can't get to a sink, but that is only possible when you have hand sanitizer on you. That's why this 1-oz. branded hand sanitizer bottle with a handy silicone carabiner is one of our top sellers. The carabiner comes in eight different colors — yellow, orange, lime green, blue, fuchsia, red, black, and white — and attaches to a bag or belt loop for easy carrying. The front of the bottle can be pad printed with a full-color design of your choice for a lasting branding impression.
If your company has a physical office or store, then you will want large touchless hand sanitizer stations for all the common areas to encourage people to clean their hands. This hands-free model is operated by four C batteries (not included) and is easy to assemble and fill. The dispenser comes with a built-in shield to keep the floor and surrounding areas clear of spatters. The station holds a generous 40 ounces. of hand sanitizer so that you won't have to fill it too often. Your brand name or logo will be printed on a full-color print laminated card mounted to the top of the dispenser. If you need an automatic hand sanitizer station but don't want a standing model, then check out our Automatic Desktop Touchless Hand Sanitizer Dispenser.
If a 40 oz. dispenser is too much for your office, then consider getting a set of 10 oz. alcohol hand sanitizer gel pumps instead. This bottle is the perfect size for a couple of people to share in a common area, or for one person to keep a sanitizing station on their desk. This bottle is also a great branding opportunity because the entire label is a full-color print, which makes for a distinctive customer impression. Keep a stash of these in your office supply closets and replenish them as needed.
iPromo has more products to help your staff and customers stay safe, while maintaining the professional branding you've worked hard to build.
Alcohol hand wipes are a convenient way to sanitize your hands and remove crumbs all at once. They can also be used to sanitize phones, keys, wallets, and other essentials when you are in a pinch. These hand wipes are unscented and free of harsh chemicals and preservatives, making them suitable for sensitive skin. They also kill 99.99% of the most common germs that might cause illness. They come in a set of 15 wipes in a container with a full-color digital label that can be printed with any logo or graphic of your design. Coming in at under $2 a unit for even the smallest order quantity, these are a great choice for hand sanitizer gifts in bulk.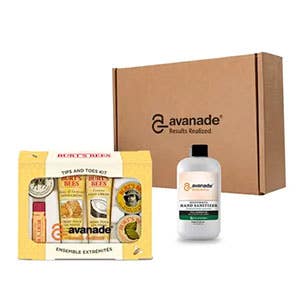 Hand washing and sanitizing are necessary for staying healthy, but there's no denying that they can dry out your skin, especially in the winter months. That's why we put together this self-care gift set, featuring a 12 oz. bottle of aloe vera gel hand sanitizer and a Burt's Bees "Tips and Toes" gift set. The Burt's Bees kit includes Almond & Milk Hand Cream, Hand Salve, Thoroughly Therapeutic Honey & Grapeseed Hand Creme, Coconut Foot Creme, Lemon Butter Cuticle Cream, and Replenishing Lip Balm to protect and replenish your skin. The entire set is packaged together in a gift box that is printed with your logo, which will also be added to the front of the hand sanitizer bottle and the Burt's Bees kit.
At iPromo, we stock many other types of hand sanitizer beyond the few we listed here, whether you need them for an external giveaway or your internal office use. Feel free to browse our selection or reach out to customer service for help finding the perfect product or for getting a design proof started.