10 Unique Green Giveaways: Recycled, Reused, Sustainable
Looking for some the best sustainable promotional product ideas to kick off your next earth-conscious marketing campaign? In 2020 (and beyond) we'll help you make the big push towards sustainably manufactured branded items and eco-friendly promotional giveaways.
Going Green For Your Next Promotional Campaign is a Win-Win-Win
For anybody who has ever been a fan of the long-running US comedy series The Office, they will know that that the lead character, regional manager, Micheal Scott, was always on the lookout for what he called 'win-win-win solutions'. Basically, these are the types of solutions that don't just pay off for the parties involved, but for a third party as well.
So why is opting for eco-friendly promotional gear to fuel your next promotional campaign a surefire win-win-win strategy?
Well firstly, people love receiving eco-friendly promotional products. Of course, people already love receiving branded merchandise, so much so, that recent research from the Advertising Speciality Institute has found that mobilizing a promotional product campaign is the most effective and cost-efficient way to really put your advertising dollars to work for you.
However, eco-friendly promotional products take the time-tested success of swag-based marketing campaigns to a whole new level, with 42% of consumers reporting that they are left with an even more positive impression of companies that choose to give out eco-friendly promotional products or recycled promotional items.
Of course, the reasoning for this is all pretty simple. With global environmental concerns ever-looming, people are likewise seeking to align themselves with companies that support more sustainable business models, and are even willing to pay more to do so.
So this means that when you choose eco-friendly promotional products for your next big marketing campaign, the clients will not only be happier with the products they receive, and likewise, feel better about showing them off and spreading the word, but you can also count on your campaign making a lasting impact in more ways than one: firstly, in terms of locking down long-term loyalty and support while actively minimizing your companies environmental impact by mobilizing sustainable swag ideas.
So, there you have it. When you choose eco-friendly products or recycled promotional items for your next campaign, you, the client, and the environment as a whole all come out on top.
Win-win-win.
With all that in mind, what are the top 10 sustainable swag ideas to get you started? Read on to find out.
10 Winning Sustainable Swag Giveaway Options
1. The Picnic Recycled P.E.T. Cooler Bag
Looking for a smart way to hit two top trends with one stone? The Picnic Recycled P.E.T. Cooler Bag is a great way to do it.
This one-of-a-kind picnic bag is made from post-consumer water bottles and other materials, all recycled to create a sustainable product that is safe for the environment and a great way to kick off that outdoor hangout in style.
It is fully insulated with a reflective-lined interior that is bound to turn heads in addition to a convenient zipper closure. It is built to collapse for easy storage and portability and features your high-quality screen printed logo design front and center over a fashionable black background, all for a super reasonable price point that makes for great sustainable giveaway options.
Meanwhile, when it comes to recycled plastic promotional products suitable for outdoor use, these XL Insulated Recycled P.E.T. Shopping bags are also a great pick.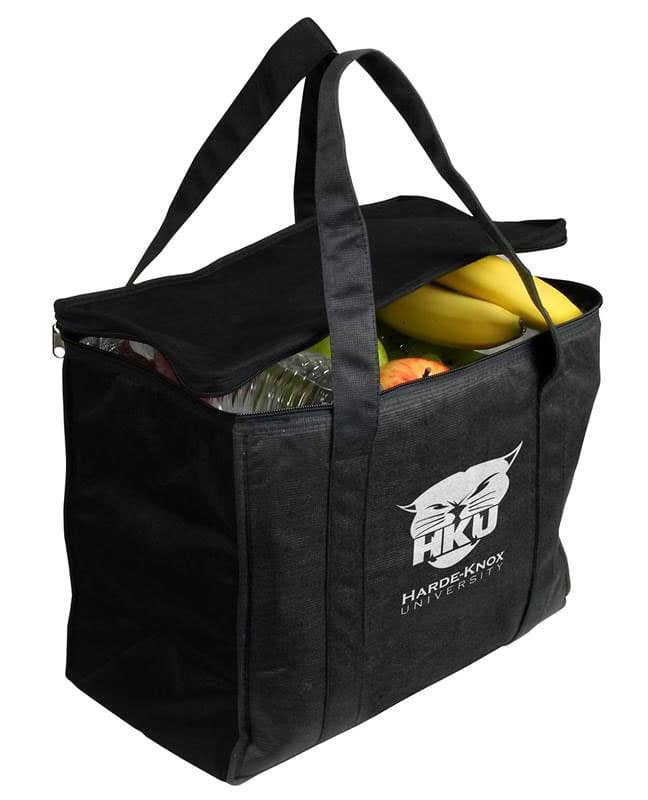 ---
2. The 5" X 7" Cork Bound Notebook
Everybody loves a good notebook, but The 5" X 7" Cork Bound Notebook is the type of versatile notebook that your clients and employees can likewise feel good about rocking as well.
Featuring an eye-catching light-weight cork-bound PU cover motif that is as chic as it is sustainable, this gorgeous notebook is the perfect way to show off your unique screen-printed logo design in style. This 80-sheet white lined paper edition comes complete with a color matching ribbon page marker and a nifty elastic closure feature easy portability.
When it comes to sustainable swag ideas, The Albany Bamboo Notebook and Pen is a stunning winning combo that will really set your campaign apart from the pack, and our super-popular Eco-Friendly Recycled Cardboard Notebook With Pen is a fantastic budget-friendly option to help you make the right type of impression at your next trade-show appearance or giveaway.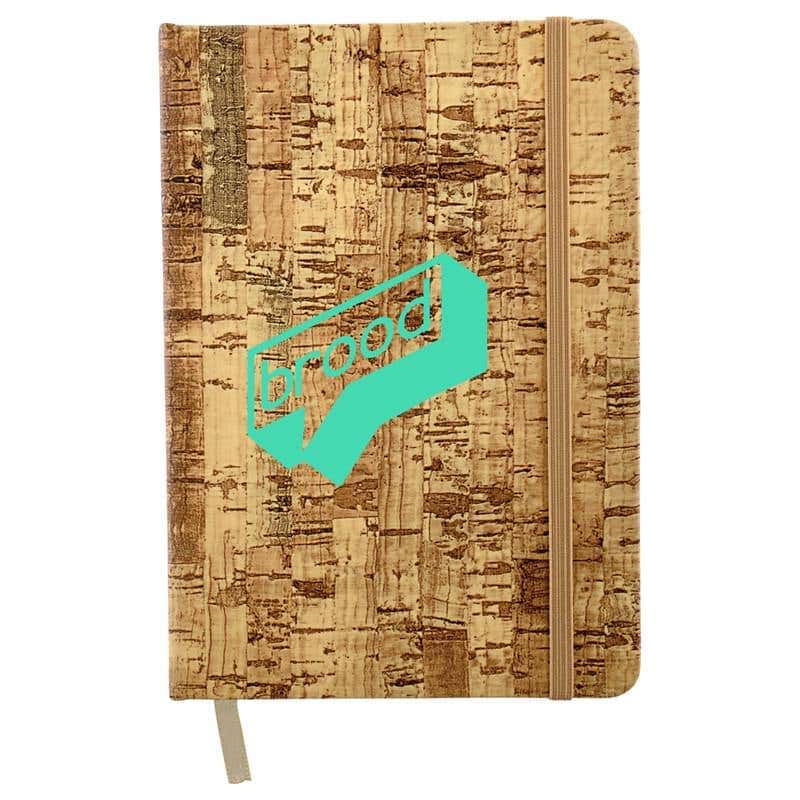 ---
3. The Arena 25 oz. PET Eco-Polyclear(TM) Infuser Bottle with Flip-Up Lid
A tea drinkers' delight. This fun-colored Arena 25 oz PET Eco-Polyclear(TM) Infuser Bottle with Flip-Up Lid is the perfect way to take your tea to go without having to rely on generating needless disposable waste just to sip your favorite infused beverage on the fly.

Even better, it comes with a handy flip lid to help prevent spills and keep your beverage hot. The bottle is made from FDA approved and BPA Free plastic materials and allows you to show off your precision screen-printed logo design over a trendy see-through motif.
However, the fun doesn't stop there when it comes to sustainable swag ideas for portable hot beverage holders. Don't miss out on winning products like this 11oz Double Wall Stainless Steel Vacuum Coffee Cup or these colorful 13 Oz. Ceramic Mugs With Silicone Sleeve as well.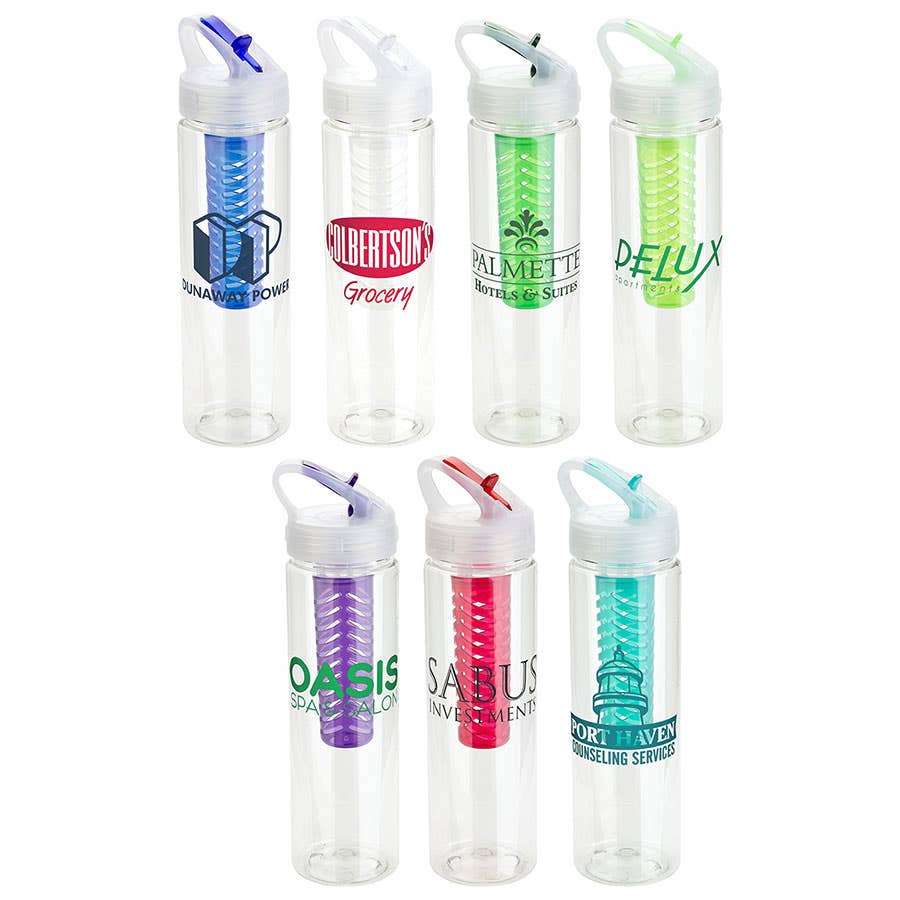 ---
4. The Eco USB Flash Drive
This clever Eco USB Flash Drive is disguised as a wine cork and makes for a super-fun conversation starter not to mention giving clients the type of portable Internet-free data-backing capabilities that anybody can appreciate.
However, cork is also the ideal eco-friendly material since its extraction doesn't harm trees. This means that if sustainability is part of your marketing campaign, the Eco-Cork is a perfect fit. This eco-USB comes in nine data options to accommodate a range of budgets and needs and comes complete with super-speedy one-week delivery as well.
That said, don't forget to check out our handy guide to The Best Eco-Friendly USB Flash Drives to learn about more great options.
---
5. The Reusable Silicone Straw Keychain
This Reusable Silicone Straw Keychain is made of food-grade silicone material which is safe for all ages to use. Eco-friendly silicone straws are durable and flexible to use on the fly, and this nifty package comes complete with a keychain friendly portable case to show off your one-of-a-kind screen printed logo design anywhere and everywhere.
These eco-friendly promotional products are available in five fun color picks and are dishwashers safe and easy to clean.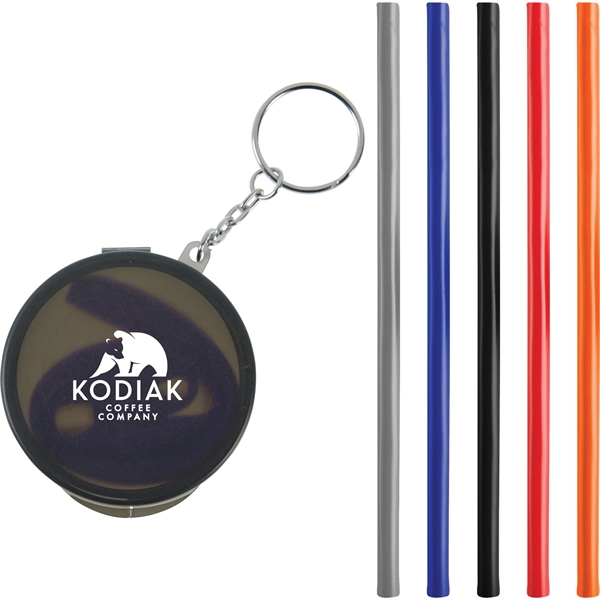 ---
6. The Parkland Academy 15″ Computer Backpack
Ready to come out top of the class with your next branded marketing campaign?
The Parkland Academy 15inch Computer Backpack is built for functionality, featuring two main compartments and an interior accessories organizer to keep your belongings in place, not to mention multiple exterior pockets, including one for your water bottle.
However, while there is no denying that this is a gorgeous high-quality product that anybody would appreciate receiving, the cherry on the cake is that the exterior is also made with 100% recycled water bottles so that you can rest assured that your clients and employees will be proud to screen printed, full-colored or embroidered logo design.
That said, those looking for a more budget-friendly alternative can always opt for this Parkland Highfield Large Pouch. Talk about keeping it classy!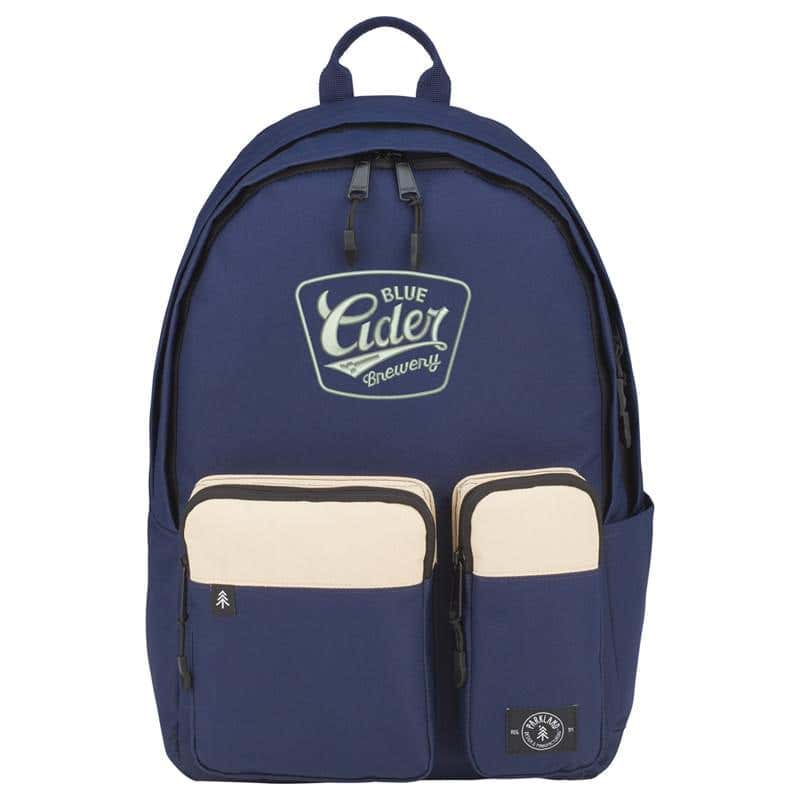 ---
7. The Unisex Hemp Eco Trucker Recycled Polyester Mesh Cap
This Unisex Hemp Eco Trucker Recycled Polyester Mesh Cap is not just versatile and stylish. It is also sustainably produced from a full range of eco-friendly materials including hemp, cotton, and 100 percent recycled polyester.
When it comes to the type of one-size-fits-all branded apparel items that everybody loves to rock, these recycled promotion items are the perfect way to make the right kind of statement in your choice of five chic color combinations.
---
8. The S'ip by S'well 15 oz. Vacuum Insulated Stainless Steel Water Bottle
When it comes to sustainable long term solutions, everybody is looking for a smart way to reduce their plastic bottle waste while garnering the added convenience of keeping hot beverages hot and cold beverages cold.
With this in mind, it is not surprising that high-quality branded water bottles are one of the hottest promotional trends of the year, and The S'ip by S'well 15oz Vacuum Insulated Stainless Steel Water Bottle is not only spill and leak-proof, but also features the highly-sought-after double-wall insulation technology that everybody wants to get their hands on these days, all for a great price point and great look.
However, don't forget to check out other great picks like the 17oz and 20oz versions, along with budget-friendly recycled plastic promotional products alternatives like this Apollo 24oz Tritan Sport Bottle as well.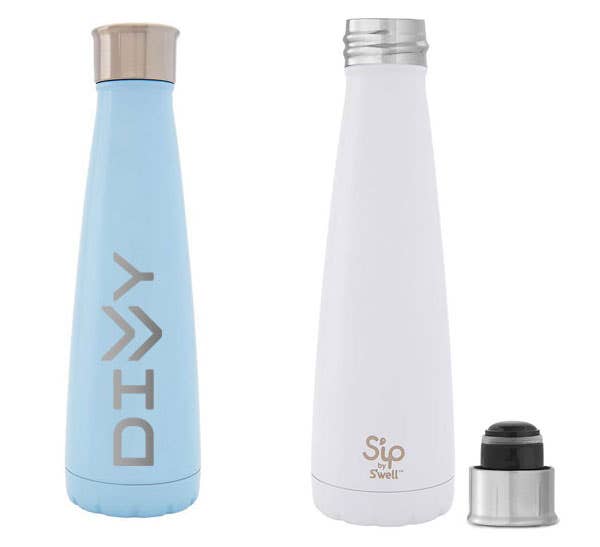 ---
9. 8 oz. Organic Cotton/Recycled Polyester Eco Apron
Whether setting off a promotional event in style or looking for the type of sustainable giveaway options that anybody can use this 8 oz. Organic Cotton/Recycled Polyester Eco Apron in on-trend color choices is a great way to make the right impression with your stunning screen-printed or embroidered logo design.
Of course, don't forget to complement it with our full range of eco-friendly cookware like this Bamboo Cutting Board or this snazzy Bamboo 4-Piece Kitchen Tool Set and Canister as well!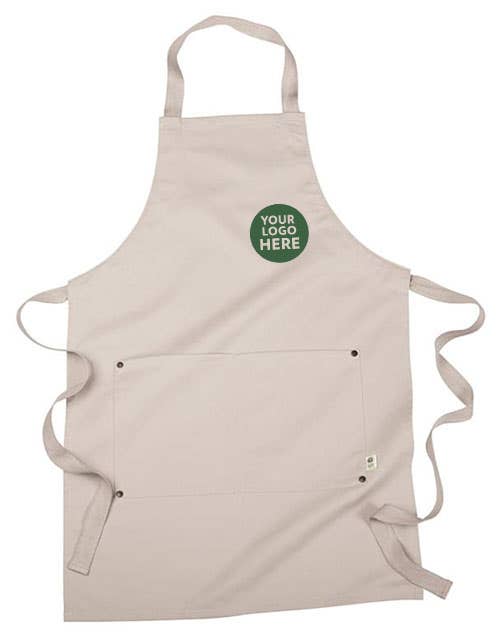 ---
10. The Eco Non-Woven Tote
What good are these great sustainable swag ideas without a bag to carry them in? The Eco Non-Woven Tote comes to rescue in two brightly-colored eye-catching combinations made from 80% post-consumer recycled material to highlight your gorgeous screen printed or full-color label in all the right ways.
However, speaking of recycled promotional items, don't forget about this Eco-shopper Brute either. Meanwhile, these eye-catching Non-Woven Two-Tone Shopper Tote Bags or Trendy Cork Tote Bag are both great ways to really knock their socks off.

---
Ready to Make a Lasting Impact? Let's Get Started!
When it comes to eco-friendly promotional products, we have everything that you need to create the type of promotional marketing campaign that really makes the right type of impact.
After all, when it comes to sustainable giveaway options, everybody wins, so don't be afraid to reach out to find out more.