Corporate apparel items are perfect for gifts or company uniforms. They are some of the longest lasting products because of the quality and durability. People also see them as higher end products and don't like to get rid of them. This gives you a longer impression period which in turn could mean more money for your business.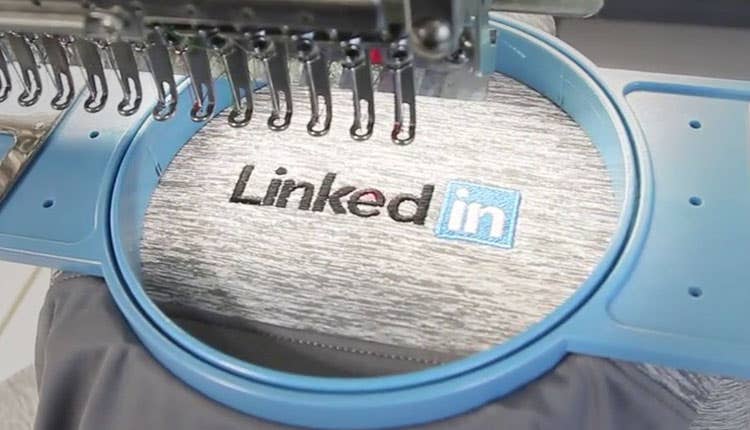 As with all promotional items, your goal is to have it used as much as possible so you get the most out of your marketing dollars. The more people use it, the more brand impressions you receive. The more brand impressions you receive, the more likely someone is to purchase something from you. You get the picture…..
Embroidered corporate apparel has a real lasting and branding power. Corporations all over the Untied States agree. Next time you are in a store, check out the employee's apparel. Chances are their shirt is custom with the company logo and maybe even the employee's name.
Companies do this because they want to give that lasting impression to their customers. They also know that you will associate such apparel with their brand.
Now, there are several ways of getting your message imprinted on corporate apparel. So why embroidery?
To answer that question, we must first take a look at what it actually is.
How Are Apparel Items Embroidered?
For those not familiar with embroidery, let's start there.
Embroidery is simply the art of using a needle to place thread on cloth in the pattern of a design. Quite simply, it is using thread to make a picture. As opposed to iron-on or other ways to place pictures on fabric, embroidery is one of the best ways to do this. Something I will touch on shortly.
You may be imagining your grandmother rocking in a chair and stitching something onto a blanket or pillow. While this is what you think it is, the technique has come a long way since hand-threading.
Technology now assists in every aspect of embroidery. Images such as your logo can be uploaded onto a computer and tweaked to perfection. Then, the computer can navigate a machine to embroider your corporate apparel item. You can have branded apparel on a mass scale as opposed to waiting for it to be done by hand.
We all know that machines can make mistakes. That's why each item embroidered is physically inspected to ensure accuracy. Only then can we ensure that your item meets the quality standards of iPromo.
So now that you understand what it is, why use it?
Why Use Embroidery for Your Corporate Apparel?
Embroidery is one of the best ways to ensure lasting impressions. There are a few main reasons why.
The first is that it lasts longer. Embroidered apparel is different than screen printed apparel. The thread is actually woven into the fabric so it doesn't wear like other transfer processes. Washing machines don't eat away at it so it and it doesn't fade with time. The durability of embroidered corporate apparel is unparalleled.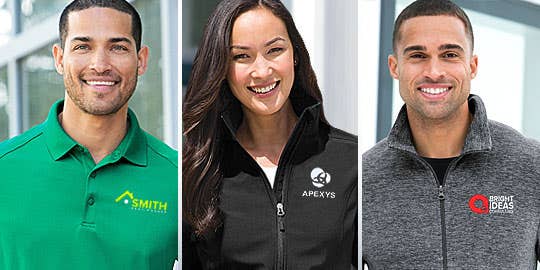 Another reason to use embroidery is that people love the raised look effect. When you customize corporate apparel items, that raised effect gives people the confirmation that the product is of high quality. People see these as higher end products and are more appreciative of receiving them.
Embroidered corporate apparel is comfortable. Since it uses thread instead of other materials, you don't have an uncomfortable rub against the skin that would make someone abandon the product. People are more likely to wear something that doesn't irritate their skin.
Small orders are great for embroidery as they are more custom. It gives people the feeling that you took the time to personalize something especially for them. So while you can get a large quantity of items in a mass order, you can also get a smaller quantity to meet your needs.
There is no limit to what you can print. Don't just think of your logo when it comes to embroidered corporate apparel. You can do just about anything you want with embroidery. Names, slogans, and different designs can accompany (or replace) your logo on anything.
Finally, embroidery can be done on a variety of different materials. You are not limited to cotton t-shirts as it can be done on hats, flannel, and variety of other apparel items. You can choose a logo for a baseball cap, a name on a shirt, or even a picture of something that would remind people of your brand. The possibilities are endless.
Name Brand Corporate Apparel
When I refer to corporate apparel, I am not just talking about your company. I am including name brand corporate apparel so that your company can be showcased next to other famous brands.
Get your employees custom shirts from Under Armour with their names embroidered on the front. How about a Nike Dri-Fit cap with your logo?
Why do this? Well, when you associate yourself with a famous name brand, people are more likely to see you as one of the top brands in your marketplace.
There are many branded corporate apparel items you can choose from with brand names. In addition to Nike and Under Armour, we have many popular brands including Titleist, Carhartt, and YETI.
People also love to wear name brand apparel. Putting your logo on a Nike shirt will ensure lasting impressions. People will also be less inclined to dispose of it which means it will be re-gifted before disposed of. That again means more impressions for you and your company.
Cost of Embroidered Corporate Apparel
Now we get to the part you've been waiting for. What is it going to cost you?
While embroidery may tend to run a little more than traditional printing, it really isn't that much higher. And the benefits of paying slightly more make up for it with the quality and longer impression period.
The quality you get out of embroidery will likely cost you less in the long run. If you buy embroidered apparel that lasts twice as long but only costs slightly more than others, you are getting twice as many impressions for only a fraction more cost.
Want to know an exact figure? Contact a promotions specialist who can help. You can also be sure to get the lowest price with iPromo as we offer a Best Price Guarantee on corporate apparel.
Now let's take a look at the different corporate apparel items you can customize.
What Items Are Available?
As stated above, you are not limited when it comes to embroidered corporate apparel. Here are just some of the products available:
Custom Embroidered Hats – There is a lot of branding potential with custom hats. First, they are some of the most visible because they are next to someone's face. You cannot miss the logo on the front of a hat when you are engaging someone in conversation. According to the Advertising Specialty Institute, hats average 3,136 brand impressions per hat. Don't forget, baseball caps are not the only "hats" available. Get a knit beanie for those who live in the colder climates.
Custom Backpacks – Custom backpacks with an embroidered logo make a great impression. While not technically "apparel," backpacks have become part of our wardrobe and are worn everywhere. Backpacks are in style so everyone will want to check out the brand someone is wearing. If your logo is front and center, you just put your name in front of someone who otherwise wouldn't know who you are.
Embroidered Shirts – This is an obvious one for many reasons. As with hats, shirts are forefront when you have a conversation with someone. In addition, they are noticed from a distance and become synonymous with your brand. Having polo or full button shirts with custom embroidery is a great way to get your brand noticed. Mix in a name brand and associate your brand with another established and trusted national brand.
Final Thoughts:
Remember that you want your promotional items to have real lasting and branding power. One of the best ways to do this is through branded corporate apparel. You can piggy back name brands like Nike and Under Armour while at the same time putting your brand in front of thousands of people.
Corporate apparel is a great way to have your employees present your brand. In addition, customers will appreciate the comfort, durability, and quality of embroidered apparel. Don't forget that iPromo gives you the best price guarantee on all custom apparel orders so you won't find it cheaper.