Amplify Awareness for Heart Health Month 2020 With Useful Promotional Items
February is American Heart Health Awareness Month and to help turbocharge awareness we curated thoughtful promotional products that show that you take your employees and clients health to heart. National Wear Red Day is February 7th, 2020 to help spread coronary heart disease awareness and detect early signs of heart disease, along with causes and prevention. Did you know that heart diseases affect over 43% of the population? We'll help you get people to actually care, and smart branded giveaways is a big first step.
Here's Why You Should be Marking Heart Health Month on Your Calendar
With Valentine's Day just around the corner, it is not a stretch to say that matters of the heart tend to take the central stage around this time of year.
However, aside from this very treasured romantic occasion, it is important not to forget that February is also Health Health Month. According to recent research by the American Heart Association, up to half of all Americans suffer from some cardiovascular-related illnesses, and these statistics are nothing to scoff at.
This is why now is a better opportunity than ever to raise awareness for heart health month while promoting healthy lifestyle choices for your valued employees and clients. Heart swag is not only an indispensable medium to promote an event or spread a message, but also an invaluable way to show people that your company cares.
No Matter What Your Goals, Heart Swag Works
While heart health promotional products are a must for any business or organization hoping to raise money, support or promote the cause, heart swag is not just for those working in the health services industries. These products are a great way for human resource departments and businesses to stress the importance of heart health in terms of both their employees and clients.
After all, when it comes to heart health promotional products, there is really no way to go wrong, and this is a great opportunity to associate your brand with a worthwhile cause while ensuring that your employees and clients really know that their health and wellbeing is one of your business's top priorities.
Even better, branded promotional products always win, and the more opportunities that you seize to get your name out there, the better. After all, the numbers speak for themselves. According to the most recent Advertising Speciality Institute Report, branded merchandise continues to beat out all other advertising mediums in terms of cost and effectiveness, even topping newer formats like Internet advertising by a whopping 2.5 times.
Needless to say, these are not your boring branded products of yesteryear. With more variety and co-branding opportunities than ever, this helps to explain why the promotional product advertising is on top of its game than ever in 2020, even clocking in record gains in recent years. Now, top that with the fact that and you have a true win-win situation!
The Best Heart Health Promotional Products to Really Make a Positive Impact
Looking to lock in loyalty or raise awareness during Heart Health Month? These are the branded heart health promotional products you don't want to miss!
Top-of-the-Line Promotional Pedometers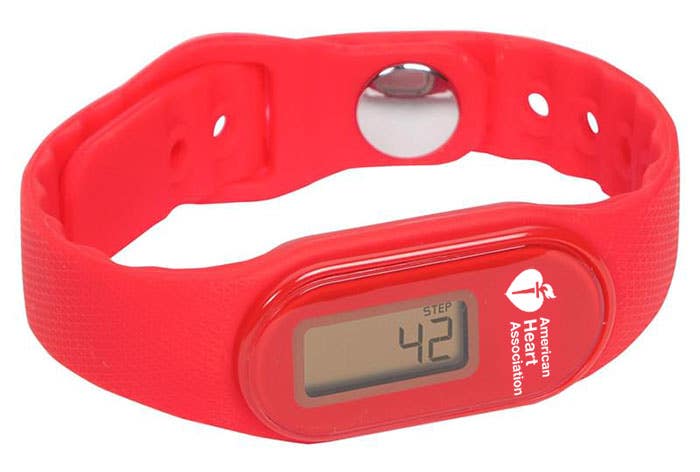 Fitness is a pillar stone of keeping the cardiovascular system healthy and strong, and in order to achieve concrete, objective targets, and ensure all those New Years' resolutions stay on track, people need accurate measuring tools to stay on top of their goals. This is why you can't go wrong with our amazing selection of custom pedometers and heart fitness monitors.
For instance, this snazzy Tap N' Read Fitness Tracker Pedometer Watch is the type of gift that people are really going to want to show off. Featuring three cool color choices, the super comfortable and water-resistant wrist strap design allows users to easily take their heart swag on the go. Even better, the cutting-edge Active-Touch Display technology means that all users have to do in touch the screen to effortless track their steps, distance, calories burned and active time whenever and wherever they want. There is no app or smartphone required and a spare set of button cell batteries included.
However, if you really want to impress your next prospective client or show your employees that your heart truly is in the right place, you will not want to miss out on the opportunity to associate your brand with the best-of-the-best. After all, co-branding with already established brands is one of the smartest ways to associate your brand with a reputation for the quality, attractiveness and utility that people really want from their heart swag.
Take, for example, this cutting-edge swim-proof amplified brightness Fitbit Versa Lite Edition Smartwatch in White. This amazing piece of technology allows users to intuitively track and monitor their all-day activity, 24/7 heart rate, & sleep stages while making use of 15 plus exercise modes to record workouts. These products are designed to sync with smartphone GPS for more precise real-time pace & distance and allow you to access your favorite apps for sports, weather & more while getting a call, calendar, text, and app alerts on the go.
Meanwhile, for those looking for a smart budget solution that people will love to get their hands on, this handsome In Shape Pedometer is a great pick. With a built-in step counter and handy belt-clip for easy portability, this LCD lit auto-off pedometer is available in six eye-catching color choices to perfectly offset your precision screen printed logo design.
---
Custom Water Bottles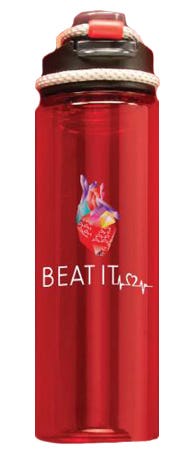 It is no big secret that promotional water bottles are in, and when it comes to promoting heart disease awareness month, these types of on-trend products are any obvious pick. Even better, custom water bottles are as eco-friendly pick when it comes to heart swag, and with environmental consciousness on the rise, this means that the average person will be even 42% more likely to be left with a positive taste in their mouth.
Needless to say, if there is one thing that everybody wants to get their hands on this year it is the most in-demand brands like YETI, Larq and Hydro Flask. Or, products like this 25 oz CamelBak Eddy® combines a name brand that people love and trust with affordable and attractive design, spill-proof and shatter-resistant technology, and no less than eight stunning color picks to ensure that your message really steals the show.
Meanwhile, there are plenty of great budget-friendly alternatives out there as well. This 12 oz H2Go Force is not only sleek and sophisticated way to put your branded logo out there, but it also is crafted with high-quality double-wall stainless steel featuring thoughtful touches like copper vacuum insulation and threaded stainless lid that are designed not only to prevent spills but to help hot and cold beverages retain their temperature for hours on end. Needless to say, these types of products are a surefire way to generate exposure for your branded message.
That said, anybody looking for a super-affordable way to max-out on convenience by hitting two birds with one stone won't want to miss out on this flashy color-accented Walking Kit including both a pedometer with a bottle and holder all in one. With a wide variety of mix-and-match color combos to choose from and three quality screen-printed logo design placements to maximize your exposure, this kit gives your clients, employees and everybody else everything that they need to celebrate Health Health Month in style.
Speaking of multi-purpose items that maximize your exposure, don't miss this 16 Oz. Tritan™ Luminescent Bottle whose color accented design is complemented with a double light option that doubles as a reflective beam and ensures outdoor joggers stay as safe as they are healthy.
---
Stress Relief Promotional Items
Staying fit is certainly an important aspect of heart health, but so is managing stress levels. According to the American Heart Association, reducing stress levels may also help to minimize the risk of suffering from heart disease or other serious heart-related complications further down the line, and that is all the more reason to encourage your employees and clients to release tension and stay healthy with these stress-relieving heart health promotional products.
A stress reliever ball is not only a great way to relieve tension throughout the day, but with tons of fun shapes to choose from, whether it be footballs, avocados or coffee cups, these types of products are bound to turn heads, all for an incredibly affordable price point to boot. Of course, when it comes to really getting the message across for Heart Health Month, what better way to do it than with a heart-shaped stress ball? That said, don't be shy to reach out to us with your creative ideas, we just love to bring one-of-a-kind custom products to life.
Meanwhile, when it comes to promoting healthy relaxing habits, nobody is going to say no to handy branded self-massager, and nifty packages like this Oasis 3-Piece Message and Recovery Kit, it comes complete with everything that your clients and employees need to decompress after a stressful day, with a soft TPE spikey ball, PVC solid ball, and muscle roller stick all packaged in convenient carrying bags emblazoned with your screen-printed or full-color logo for instant restfulness on the go.
That said, don't miss the Homedics Thera-P Total Body Massager. This easy to carry, highly portable battery body massager is obviously the kind of gift that literally anybody will appreciate.
---
To Sum It Up
When it comes to the best heart health promotional products, we have everything you need to celebrate Heart Health Month in style, including tons of top-performing best-sellers and great rush delivery options to help you bring that Heart Disease Awareness Month campaign to life in a hurry.
Keep in mind that our top-notch design team is ready and waiting to help you take your branded logo to the next level bring those custom designs to life, so never hesitate to reach out and give us a call. We can't wait to hear from you.