December 6, 2019
Gift Giveaway Ideas To Promote Your Business In 2020
Thoughtful gift giveaways promote your company's brand awareness and create positive engagement between your business and your target audience. We analyzed the best promotional product ideas to help your business grow in 2020 and beyond.
Why Organize a Gift Giveaway?
Giveaways are an effective way to engage with your clients and prospects. Who doesn't like free stuff? It's one of the ways to show customers that you appreciate their loyalty. They also incentivize customers to actively follow your company. Promoting your promotional giveaway online can encourage people to follow your social media accounts enjoy staying updated on your brand on a daily basis.
Promotional product giveaways also provide a cost-effective way to reinforce your brand. Brand awareness is an essential part of marketing because it's impossible for your company to succeed if nobody knows it exists. Yes, online ads and multifaceted marketing campaigns will help you in that regard, but it's also worth mentioning that something as simple as a single promotional pen garners an average of 3,000 potential customer impressions over its lifespan. That's nothing to scoff at, especially when budgeting is considered.
Saying thank you to your most loyal clients with unique and useful promotional gifts increases the likelihood that they will become a long time customer. According to the 2019 ad impressions study, 85% of customers who were gifted branded apparel are able to recall the business that gave them the item. The more memorable your business is, the higher the chances that your customers will think to buy from you before your competitors.
---
---
Organizing a Gift Giveaway
If you're looking for the right place for your giveaway, social media should be your vehicle of choice. Social media gift giveaways are a quick and easy way to interact with any loyal customers (and prospects) who are already following your social channels. You can use gift giveaways to encourage your customer base to share the word of your business with their followers, effectively expanding your promotional reach.
Retweeting and sharing giveaways are great ways to get your audience to share your brand with as many people online as possible. In this type of giveaway, businesses enter people that follow and share their content in a raffle for a prize giveaway format. In the end, your business will have likely gained new followers, and one or more lucky customers are happily rewarded and sharing more pictures of their prizes across the internet.
Photo contests are also an effective method for promotional giveaways. Using sites like Instagram or Facebook provide customers the chance to connect with your business on a more personal level. You get to see the faces of all the people who support what you do! You could also ask customers to pose with your products or explain the ways in which they benefit from your service.
If your company is hosting an event or attending a trade show, having a live gift giveaway will encourage tons of interaction at your booth. You could set up a ticketed raffle and announce a winner(s) later on. Better yet, you could have people sign up for your promotional mailing list and announce the winner via email.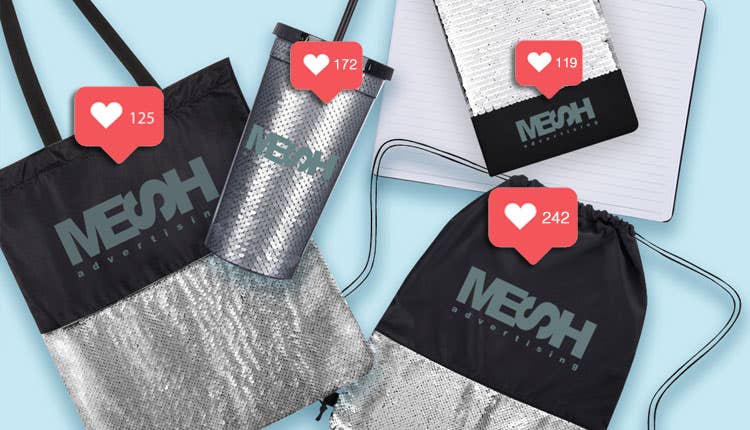 Swag Giveaway Ideas
Once you know how you want to organize your gift give away, the next step is to figure out what your prizes will be. Here are a few interesting ideas that will definitely get people to enter your promotional product giveaways.
Make Your Giveaway Gift Something Useful
Stress balls are a dime a dozen and most of them end up in the garbage can or shedded by the family dog. A great giveaway tactic is to invest in a gift that is useful to your recipients. For example, if you have a booth at a culinary convention or food festival, give attendees something they'll be able to use in the kitchen. They'll be able to use your gift all the time, and they'll have a constant reminder of your brand!
Home cooks and baking enthusiasts wouldn't pass up the opportunity to take home useful cooking items like a 2-in-1 spatula whisk. With a handy tool like this, your recipient will be able to complete a range of cooking and baking activities without ever switching their utensil. Alternatively, you could offer a custom branded apron, complete with comfortable cotton straps and a convenient front pocket. Attendees will appreciate the practicality of this gift, and your logo will spark conversation about your business when they use it to cook for guests.
Likewise, if you're a tech company, consider giving out something useful like custom power banks or Bluetooth speakers.
Our point is: whatever you choose, make sure it's a useful item that speaks to your audience—that way you're providing something of value to your client base as well as garnering exposure for your business.
Themed Giveaway Packages
Themed promotional products giveaways work well for businesses and organizations that fit under a specific niche. Themed giveaway packages show your customers that you put a lot of thought into assembling your prize basket. They wouldn't be wrong — the prizes you choose to include should be relevant to your brand, as well as the interests of your key customer base.
The items in your giveaway package should make sense together. Ideally, these will be items that your customer can use simultaneously. If you're a yoga studio running a prize raffle for your clients, why not give them an amazing yoga kit?
You could provide the winner of your draw with a yoga gym bag and mat. The winner would love this tote bag because it has a bottom compartment that stores the mat that comes with it. As an added bonus, adding your studio logo to the front of the bag works as free advertising when the wearer is out and about.
To continue the theme, you could fill the bag with other items the winner could use at your studio. A Volar Perka double steel water bottle makes a reasonable addition to this package because it would keep their water cold for the entire duration of their class.
Grand-Prize Giveaways
Grand-prize giveaways are gift-giving events in which participants apply to become the winner(s) of a major prize of high dollar value. Due to the cost and grandeur of the main prize, there is usually only one winner — this is what makes grand-prize giveaways so exciting and competitive. These giveaways typically occur at fundraising events, in which the proceeds from signing up for the main prize go towards the hosting organization's goal.
Grand prize gift giveaways are useful for drawing large audiences to your big company events or promotions. Nothing gets customers excited more than the possibility of winning an item of high value. If you're looking for a way to get people to donate to a cause or even just gain more email subscribers, offering a grand prize is the way to go.
For a truly effective grand-prize giveaway, it's best to lead up to the main prizes with smaller gift prizes. These smaller prizes will pique your customers' curiosity and keep them interested in coming back to see what's next. For the grande finale, you can use prizes like custom AirPods decked out in your company logo, or even the newest generation of the Amazon Echo Dot.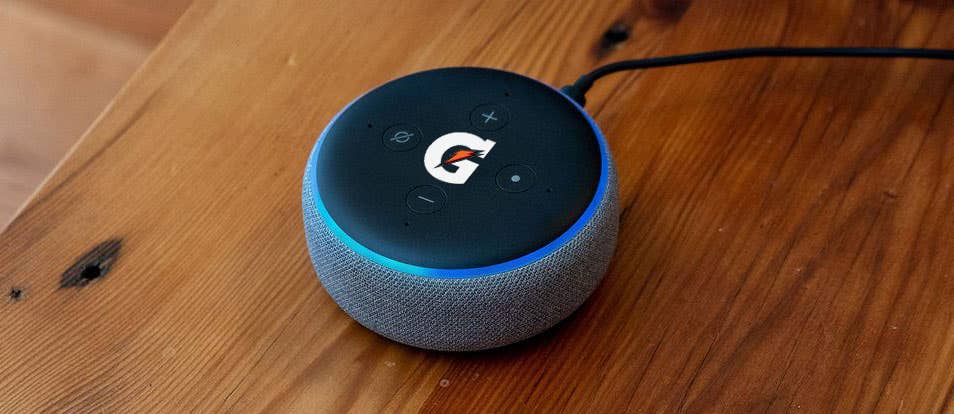 Tech Bundles
In this day and age, tech bundle giveaways aren't just for computer geniuses. Tech bundles are an easy way to create interest in your event, and interaction between your brand and your audience. The key to a great tech bundle that anyone would love is simplicity — the prize pack should consist of essential items that anyone could use. Some good tech bundle ideas include phone chargers, mobile accessories, or Bluetooth speakers.
It's also important to stay current and updated with today's newest technology. Earbuds with traditional auxiliary jacks are nice, but they are no longer compatible with all phones.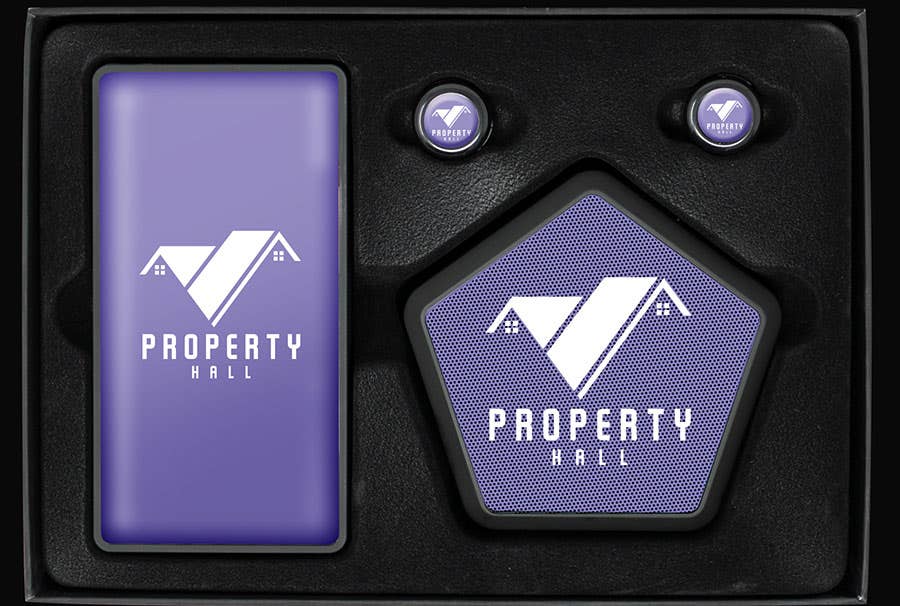 Avoid Typical Swag Items
Every day, more and more businesses are going paperless. Thanks to wireless technology and the ease of the digital cloud, even people at home are using their printers less. That being said, handing out things like paperweights and plain pencils probably isn't doing anything to keep your brand looking fresh and current. During a giveaway, it's always better to think outside of the box and offer something your customers can truly use and enjoy.
Instead of giving away typical pens, why not offer a branded stylus-pen combo instead? With this, your customer will be able to write on paper, smartphone, or tablet with just a simple spin. Thinking of giving out wallets to stay within the theme of your bank or financial investment company? Phone wallets are a more convenient and cost-efficient gift to give to today's customers who don't go anywhere without their smartphones. You can even find phone wallets with extra features, like ring attachments for added grip.
Don't bore your audience with the same old stuff. Instead, give them something that's useful, beautiful, or even makes them laugh like a piece of branded fruit.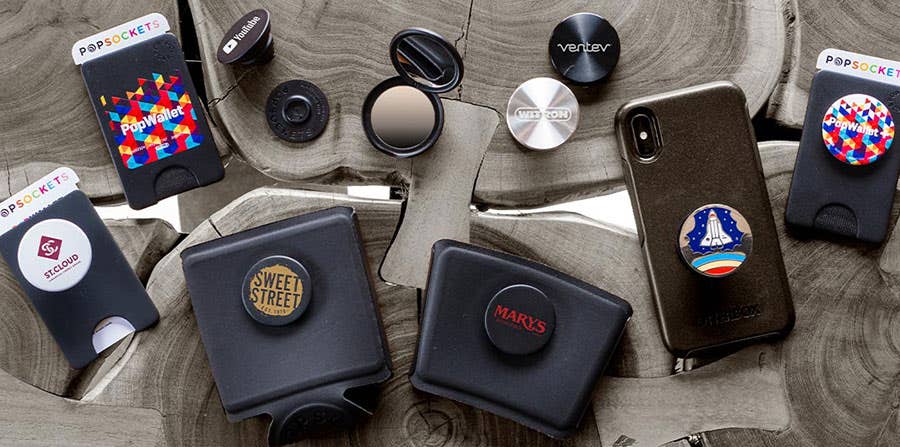 Promotional Giveaway Ideas for Your Business
An exciting prize will make your gift giveaway successful. By using any one of these ideas, you'll be able to maximize your brand awareness and keep your customers excited about what your business has in store. But with all the competition out there, even a gift giveaway can leave something to be desired. Picking gift giveaway items that truly reflect your brand and cater to your customer base will insure that your giveaway comes out on top.