June 9, 2023
What Are the Top 10 Most Popular Promotional Items?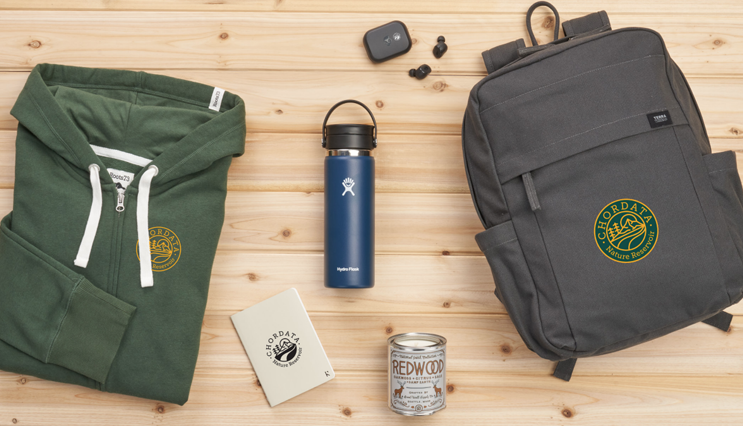 Marketers are constantly searching for the best ways to reach an audience. Promotional items are one of the best ways to get their message across. They can be used for low-cost gifts, special promotions, and event promotions. Occasionally, they are even used as a charity campaign. But how can the items help the brand?
Connect with Consumers
By handing out promotional products, not only are you marketing your brand, but you're connecting with consumers. You're creating impressions on them every time they're using or looking at your branded giveaways, increasing brand recognition and recall, and building a greater relationship with these consumers as they become more aware of and familiar with your brand. A stronger relationship will lead to increased brand loyalty.
Generate Greater Brand Exposure
When you have consumer giveaways, these items will be marketing your brand for you. When people are wearing, using, or showcasing items with your brand or logo on them, they're providing advertisements for you. Word of mouth also spreads when consumers recommend your products or showcase them to coworkers, friends, or family.
Improve Brand Recognition and Recall
When a consumer is constantly being exposed to a brand, it's natural for them to become more and more familiar with it as time goes on. For example, almost everyone can recognize the brand Nike once they see its iconic checkmark logo; that's because Nike has generated powerful brand exposure that stays in the minds of consumers. The more familiar a consumer becomes with your brand, the better they will be able to recognize and eventually recall it, which will raise their chances of wanting to do business with you.
The Top 10 Most Popular Promotional Items and Trends For 2023
Giving out popular promotional items can be an extremely effective way to increase exposure for your brand, connect with consumers and build brand loyalty. If you're asking yourself, "What are the most popular promotional items?" then keep reading to find out. We've listed some of our most popular giveaway items to give you a better idea of what consumers really like.
1. Apple Corporate Gifts
Custom Apple AirPods, AirTags and Watches continue to be some of the hottest and most sought after co-branding retail brands for corporate gifting on the market in 2023. Even better, iPromo offers various types of custom packaging to enhance the unboxing experience for recipients and your brand!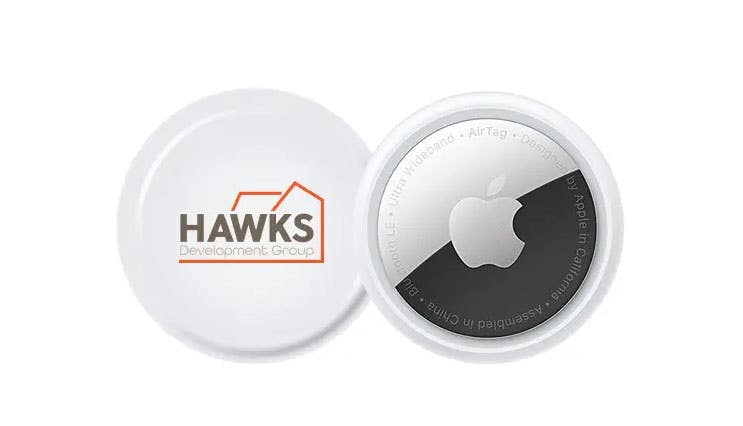 ---
2. Eco-Friendly Promotional Items
If your business or organization values sustainability, using eco-friendly promotional products are a perfect match for the most impactful message. These items are made using materials that are environmentally friendly and will help the earth. These products will showcase your brand while demonstrating your support for striving towards a healthier planet. Items include tote bags, coolers, speakers, and much more.
---
3. Self Care
Self care and mental health continue to be a top priority for employees and employers for the new year and beyond. Studies have shown that over 80% of employees whose employers are engaged in their wellness say they enjoy work. Connecting with your employees and showing you care about their health and wellness improves the morale of your team and improves the work atmosphere for everybody. From spa kits and massagers, to wellness and nutrition promotional items, iPromo has you covered.
---
4. Custom YETI Drinkware & Coolers
Custom YETI corporate gifts are still the drinkware and cooler brand that all recipients love to receive no matter the time of the year! Getting YETI with logo tumblers, coolers and mugs all offer incredible co-branding opportunities for your business to make an impact. Other trending drinkware brands to consider for 2023 are custom Stanley and Otterbox. Both are great YETI alternative and offer unique differences from YETI that your recipients will appreciate and cherish for years to come.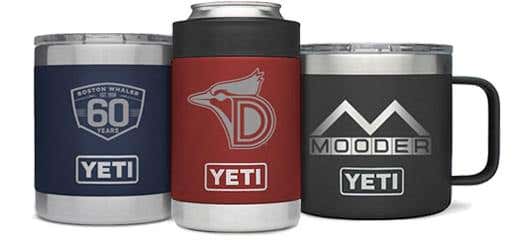 ---
5. Employee Recognition
Showing your employees you appreciate and value their loyalty is crucial in the era of quiet quitting and those looking for greener pastures. iPromo offers custom employee gifts bulk for all budgets, including gifts from top retail brands, that are sure to impress and show your organization cares about your hard working employees. With BRAGbox from iPromo, you can create a fully custom swag box from the packaging to hand selecting the items that go in the box, and all can be branded with your logo. We also carry curated employee recognition swag boxes, so you just pick the box, while iPromo handles the test. Or use SwagCloud to have iPromo store, distribute, and ship your swag throughout the year for employee anniversaries or milestones.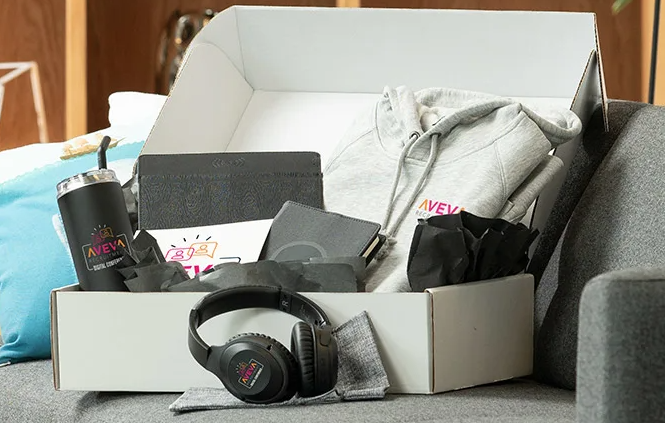 ---
6. Custom PopSockets PopGrips & PopSockets Accessories
Custom PopSockets bulk continue to be super useful phone accessories to have and your recipients will love and appreciate having them on a daily basis. They're also a good way to gain exposure for your organization since your logo is placed on prime branding real estate (The average person looks at their phone 96 times every day) since people never go anywhere without their phone.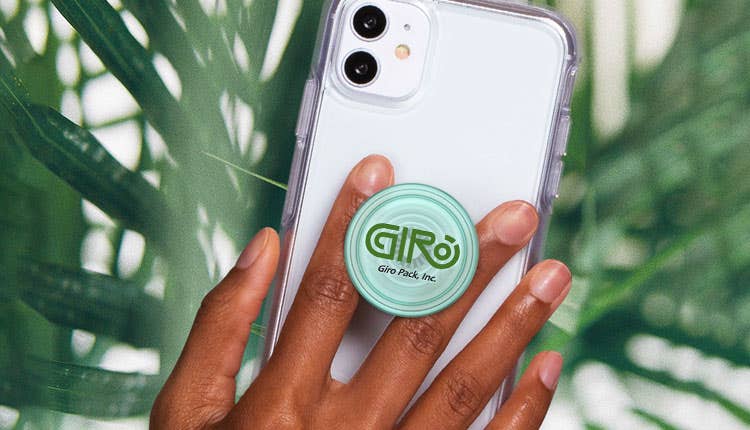 ---
7. Socially Responsible Gifts
Creating brand partnerships with shared sustainability and social responsibility initiatives will be a priorities for businesses and clients in the new year. These unique selection gifts and promotional items are designed for less waste in both product and packaging. Browse through our extensive list of brands that partner with domestic and global charity initiatives that give back with every item you purchase.
---
8. Bleisure Travel
Not only will employees continue working from home in 2023, but they are increasingly working from anywhere, mixing business and leisure into one, "Bleisure Travel". In order to do this, your bleisure employees need the newest and most advance technology allowing them to work from anywhere. They need smaller, more portable devices like wireless charging stations, and accessories like power banks and USB flash drives packed with features to allow their workspace to be mobile wherever they go. iPromo carries the latest tech retail brands and even travel toiletry bags bulk that you can print your logo on creating an ultra useful promotional gift your employees will appreciate and enjoy in their travels.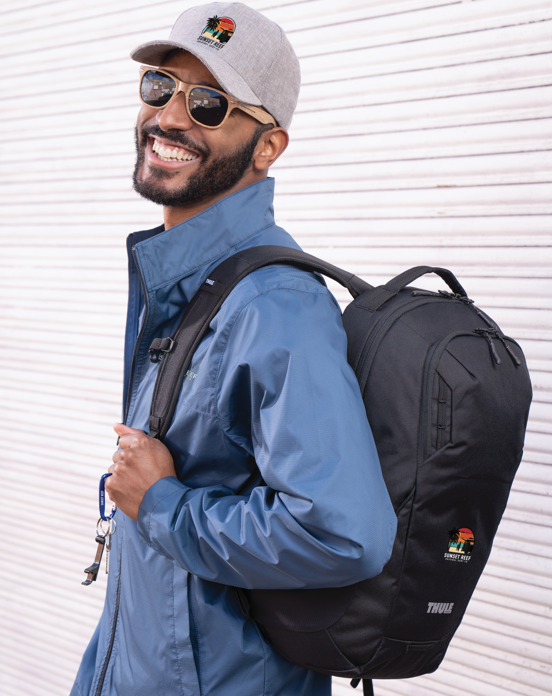 ---
9. Custom Swag Boxes
BRAGbox™ from iPromo, are bulk gift boxes curated with specific items according to a theme. Each box contains several products, all customized with your company's logo or design. These business gift boxes with logo are great to send out for virtual events or to remote and new employees, or simply given out to boost employee engagement and morale. iPromo also offers fully custom swag boxes where you can pick what goes in the box and what type of custom packaging to create the ultimate unboxing experience.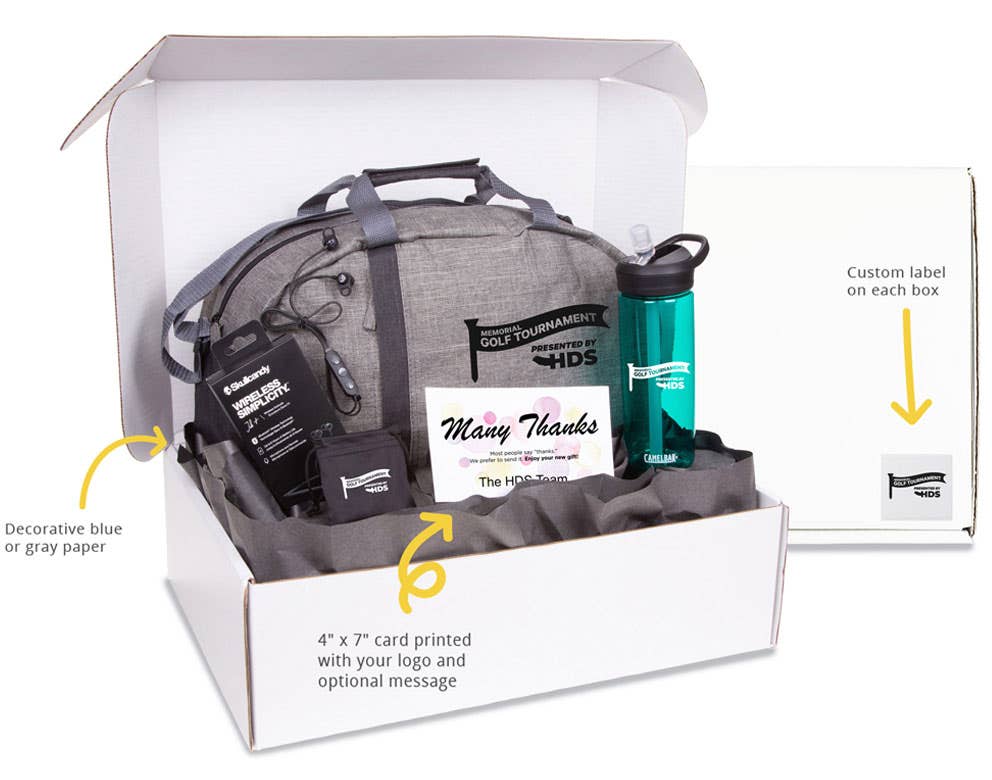 ---
10. Outdoor, BBQ, Beach & Camping Gear
The outdoor industry is the fastest growing industry globally, and for a good reason: there are thousands of products out there that help make outdoor living more accessible and more enjoyable. You can find everything in this section from promotional BBQ sets, bulk campaing chairs, to coolers to portable chargers and camping tents; plus, this year's selection of outdoor products is as big or bigger than ever. Get your team ready for the summer with any of these outdoor and recreation items while showcasing your logo.