How to Choose Golf Giveaways For Your 2020 Golf Tournament Outing
Golfing and swag are synonymous - our hand-picked golf promotional items for your event.
Golfing is truly an American past time and can be a great way to build long and fruitful business relationships on and off the golf course. Promotional golf items for 2020 are a great way to brand yourself with this audience.
There are several ways you can take advantage of branding yourself through custom golf accessories. You can give them away to your clients who you know enjoy the game. Or, you can also use them as a branding tool for a charity or corporate golf outing.
"Today, golf is enjoyed by 24 million Americans who play 465 million rounds annually at the nation's 15,200 facilities. It continues to be the game of a lifetime." – Forbes
Promotional golf items are an important tool to have in your marketing arsenal as there is an audience for these items, increasing your branding presence with a wide audience. What's great is there are dozens of items you can choose from when it comes to promotional products for golfers. This allows you flexibility with customization without breaking your budget.
Promotional Golf Items for Golf Outings
If you are organizing a charity or corporate golf outing, you need to make sure you have all the gear that participants are expecting. Traditionally, there are a few things that are given away at such events which players look forward to receiving.
I will discuss these items more in detail later in the article, but some of the most popular items include:
Outside of golf gear, you should also think about a drawing prize. If it is a charity function, maybe purchase a branded Amazon Echo or Apple iPad and sell raffle tickets with the proceeds going to a specific charity.
Not only does someone win a valuable prize for a small donation, they will also see your brand (logo, slogan, etc.) each time they use the item.
A popular raffle item that is also golf gear is a custom Titleist golf bag.
Finally, don't forget about customized bags to put all the goodies in. People will want to keep these items together as they will go through them once they finish their round of golf. You can get a sponsor to purchase the bags in exchange for having their logo on the outside; or, if it is a corporate outing, it's a perfect chance for you to keep on branding your image by using a custom bag.
Custom Golf Accessories for Golf Pro Shops
Own a golf shop? Have a golf website or any type of golf-related side hustle? Think about incorporating some promo items as part of your business.
For those of you out there who own and operate a pro shop at a golf course, you already know that having custom golf accessories is a great way to help people remember you. As a golfer myself, I am always buying a branded logo golf ball when I play a new course.
This is more of a collector's item instead of a ball I will actually use. When I display them at my house, people often ask me about specific courses they see on the balls.
Now, keep in mind that not every course I have played sells these balls in their golf shop.
Image the brand impressions they are missing out on just by people not displaying their logo. I am not the only one who buys these as souvenirs so the number of impressions they are leaving on the table run deeper than just one person.
In addition to branded logo golf balls, there are plenty of other custom golf accessories you can sell in the clubhouse or give away to people who play the course. These include items such as golf pencils, golf tees, and divot tools.
Regardless of what you decide to go with, just remember that you should always have some items to sell or give away. Customized golf accessories such as these not only bring in additional revenue, but they also lead to more brand impressions.
Now that we covered some of the ways you can use the promotional golf items, let's take a look at some of the most popular.
Customized Golf Balls
The most popular promotional golf items by far are logo golf balls. But keep in mind that you can always get more than just a logo.
So what can you get printed on custom golf balls?
"People get all kinds of things imprinted on golf balls," writes David Dusek from Golfweek, "ranging from initials to names to holiday messages. Many companies order customized golf balls that feature their logo to give out at holiday time and at golf outings."
So while logo golf balls are very popular, there are really endless options when it comes to golf ball customization. Some people choose to put individual names, slogans, or initials on each ball.
The most popular brand of golf balls is Titleist which we are happy to carry at iPromo. We can customize them with just about any message or logo. Now, the good thing with golf balls is that you do not need to give away a dozen to each person you run into.
They are purchased in boxes of twelve, but each box contains four sleeves with three balls per sleeve. It is customary to give out at least one sleeve to each person so a single box will supply at least four people with custom golf balls.
Customized Golf Apparel
Golfers take pride not only in their game, but how they dress while they play. That is why customized golf apparel gives you a chance to brand yourself while giving something useful to someone who plays the game.
The most popular apparel items for golf include polo shirts, hats, and jackets. The great thing about custom apparel is that iPromo partners with many name brands so you will have the help from a major brand while displaying your company name and/or logo.
Here are some of the major brands we carry for customized golf apparel:
Hats are also a popular item for golf outing. These are something that you will actually find many people wearing as soon as they receive their gift bags at the beginning of the outing. You will also notice that many people who show up to the outing are wearing older hats from previous outings.
Why not get a customized hat for them to replace the one that has someone else's brand name on it (and replace it with yours)?
Golf Umbrellas are the Perfect Golf Accessory
Believe it or not, golfers play in the rain. As stated earlier, those who play the game have the fever. No matter what the weather brings, they are always trying to get in a quick game before inclement weather strikes.
Golf umbrellas can be customized in a number of different ways to help expose your brand to this audience.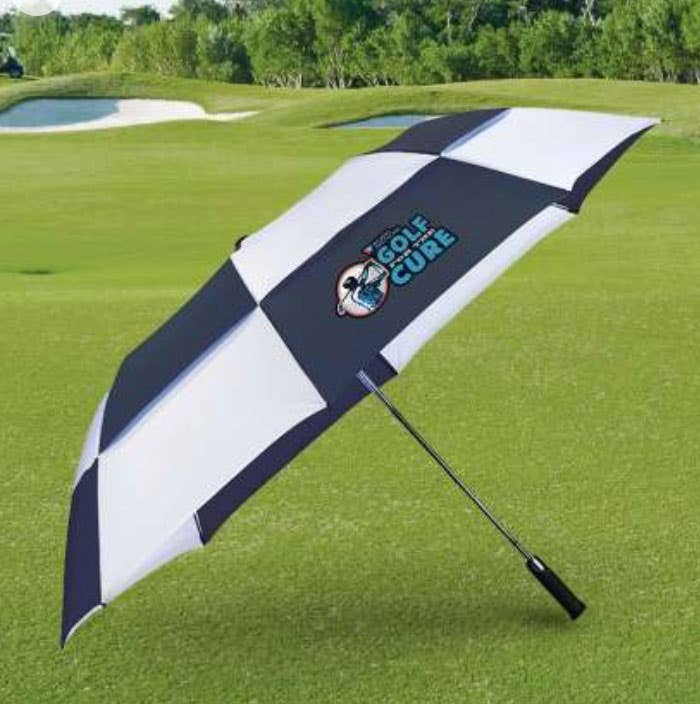 Most golf umbrellas range between 56 and 64 inches. They have different features such as auto-open and telescopic features depending on the brand you choose from. They offer one of the largest branding areas due to their size and you can even customize multiple panels for even more exposure. Because of their versatility, custom umbrellas are often underrated.
Umbrellas are also used for more than just rain. People in warmer climates use them to shield from the harsh rays of the sun. If you live in the southern portion of the United States, a golf umbrellas will be used mainly for shade, but will also come in handy for the few times each year that it does decide to rain.
Golf Kits and Custom Golf Accessories
Now that you know the various items you can get, think about getting a golf kit that will hold custom golf accessories such as tees, balls, ball markers, etc. There are a number of different kits to choose from depending on the purpose they serve.
Shoe Bags – These bags are specifically for golf shoes and can be branded on the exterior. Golfers use these to store their shoes since they often get dirty and people do not want to track such dirt into their house or car.
Valuables Pouch – There is a dual function to a valuables pouch. You can store tees, balls, and a few other accessories in these pouches. Once you remove these items to play on the course, you can use the pouch to hold your valuables such as wallet and car keys.
Golf First Aid Kit – Yes, despite not being a contact sport, there are injuries in golf. Many times golfers cut their hands or get scratches on their legs looking for lost golf balls. I can tell you from experience that very few golfers carry a first aid kit. Giving one of these out as a promotional item will work wonders for your branding as it will be the first thing people see when needing a Band-Aid or hand sanitizer.
Outside of golf kits, there are additional accessories you can choose. For instance, customized coffee tumblers are perfect as many people golf early in the morning. Another idea is a Yeti cooler that can be filled with water and juice for those hot days.
For a complete list of all promotional golf items offered by iPromo, visit this link.
Final Thoughts on Promotional Golf Items
There is a huge market out there in the golfing community. They are potential customers to your business and using customized promotional items such as logo golf balls can help earn their business and provide you with a great branding opportunity.
Regardless if you are holding a charity or corporate event, regardless of budget or quantity needed, there are items out there that will be perfect for your needs. Customized golf accessories come in a wide range of sizes and cost levels so you can get something that works perfect without breaking the bank.
Finally, if you cannot decide the best item to purchase, contact one of our experts who can help guide you the process and narrow down your choices for you.